Skip to content
4 BSD faculty members receive named, distinguished service professorships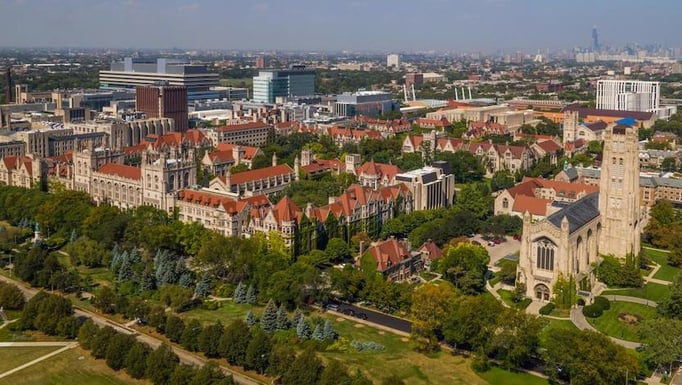 Four individuals from the Biological Sciences Division were among the 21 faculty members at the University of Chicago to receive named or distinguished service professorships.
Jing Chen, PhD, has been named the Janet Davison Rowley Distinguished Service Professor in the Department of Medicine.
Currently the Janet Davison Rowley Professor of Medicine, Chen joined the UChicago Department of Medicine in 2020, after serving as professor and R. Randall Rollins Chair in Oncology at the Emory University School of Medicine and leading the Cell and Molecular Biology Research Program at the Winship Cancer Institute there. At UChicago Medicine, he is also currently the director of the Cancer Metabolomics Research Center.
Chen's research aims to understand cancer metabolism by focusing on the relationships between metabolic and cell-signaling networks, with the goal of improving clinical outcomes. His innovative efforts in leukemia research have revealed links between mutant proteins, signaling and cell metabolism. He also explores the connections between diet and tumor-causing mutations by testing the effects of diet-derived substances on genetically distinct tumors.
His work has resulted in numerous high-impact publications, substantial funding, six patents, and honors and awards from the American Cancer Society and the Leukemia and Lymphoma Society, among other institutions. In addition to research, Chen is devoted to teaching and mentorship and in 2017 won the Winship Cancer Institute Research Mentorship Award.
Roberto Lang, MD, has been named the A.J. Carlson Professor in the Department of Medicine.
Lang joined the UChicago faculty in 1983 and is currently the Director of the Noninvasive Cardiac Imaging Laboratory and leader of the Valve Clinic. He is an expert in echocardiography, a method of studying the heart using sound waves. His research focuses on assessing heart issues, such as heart failure and valve disease, using specialized echocardiography, as well as other non-invasive methods like automated border detection. Lang's pioneering work led to the development of three-dimensional echocardiography, allowing physicians to visualize the complex shapes of the heart and its components.
Named by Chicago magazine as one of the top cardiologists in Chicago, Lang is an influential and highly regarded physician researcher. He has served as the president of the American Society of Echocardiography and won numerous awards for his clinical and academic work, including the American Medical Association's Physicians Recognition Award.
Stacy Tessler Lindau, MD,MA, has been named the Catherine Lindsay Dobson Professor in the Department of Obstetrics and Gynecology.
Lindau, who joined the UChicago faculty in 2002, is also a professor of Medicine-Geriatrics and the director of both the Program in Integrative Sexual Medicine, a program to preserve and recover female sexual function after cancer and across the lifespan, and CommunityRx, a research program focused on community-driven health. Additionally, she is the founder and Chief Innovation Office of NowPow, LLC and President of MAPSCorps, 501(c)(3), organizations that grew out of a Health Care Innovation Award from the U.S. Centers for Medicare & Medicaid Services.
A gynecologist with a degree in public policy, Lindau studies the health and healthcare of marginalized populations throughout their lives, by engaging with communities to address root-causes that impede health. In her clinical work, she also devotes herself to the prevention and treatment of sexual disorders in women and girls affected by cancer and other complex illnesses.
Lindau has been recognized extensively for her work, including as a Robert Wood Johnson Foundation Clinical Scholar at UChicago and with a 2016-18 Aspen Institute Health Innovators Fellowship.
Adekunle "Kunle" Odunsi, MD, PhD, FRCOG, FACOG, has been named the first AbbVie Foundation Distinguished Service Professor in the Department of Obstetrics and Gynecology.
Odunsi is the AbbVie Foundation Director of the University of Chicago Medicine Comprehensive Cancer Center and the Dean for Oncology of the Biological Sciences Division. He came to Chicago in March 2021 from Buffalo, New York, where he served as Deputy Director at Roswell Park Comprehensive Cancer Center. He also served as Executive Director of the Center for Immunotherapy and chair of the Department of Gynecologic Oncology at Roswell Park.
A gynecologic oncologist and an expert in cancer immunotherapy, Odunsi's research focuses on understanding the mechanisms of immune recognition and tolerance in ovarian cancer and translating these findings to immunotherapy clinical trials. He pioneered the development of antigen-specific vaccine therapy and "next-generation" adoptive T-cell immunotherapies to prolong remission rates in women with ovarian cancer.
Among numerous awards and honors, Odunsi is an elected member of the National Academy of Medicine and serves as co-chair of the National Cancer Institute's Cancer Moonshot Immuno-Oncology Translational Network (IOTN) Steering Committee.
Read more biological science articles