Skip to content
Pathologist Tony Montag, 1954-2018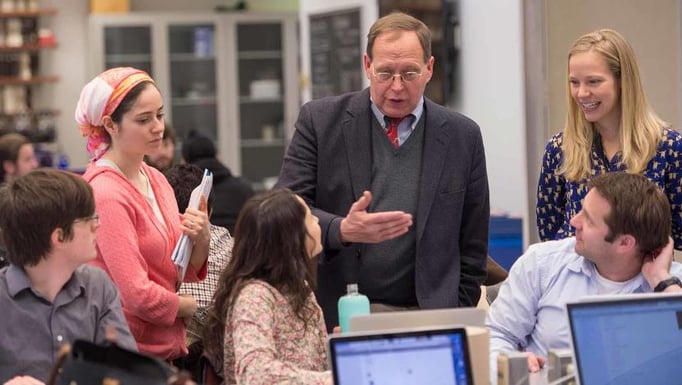 Pathologist Anthony Montag, MD, works with second year medical students in the Clinical Pathophysiology and Therapeutics Lab at the Pritzker School of Medicine in 2015.
Anthony (Tony) Montag, MD, Clinical Professor of Pathology at the University of Chicago Medicine, died surrounded by his family on Friday, Nov. 9, after a long battle with prostate cancer.

Montag joined the University of Chicago faculty in 1985 and rose to become a professor of pathology and associate dean for admissions at the Pritzker School of Medicine. His clinical focus was on bone, soft tissue and gynecologic tumors. His research focused on metastasis and the expression of steroid receptors in bone and soft tissue tumors.

He also was known for his deep commitment to students. The medical students elected him as one of their favorite faculty multiple times. He received the Alpha Omega Alpha Honor Medical Society teaching award and was recognized as a clinical peer mentor and a fellow of the Academy of Distinguished Medical Educators at Pritzker.

"Dr. Montag was a pillar of our department and university," said Daniel A. Arber, MD, professor and chairman of the Department of Pathology. "He represented all that is great about the University of Chicago. He was not only an outstanding pathologist, but also an outstanding person — a quiet, selfless role model for us all."

He was "brilliant but modest and self-effacing," said colleague Michael Simon, MD, professor of orthopedic surgery at the University. "Bone pathology can be difficult, but Tony captured it. He did it extremely well, and he could always be trusted.

"He also had a huge impact on the medical students," Simon said. "He knew them, knew their plans, their details. And he was a good teacher, with a dry sense of humor and fun to be around."

Montag also contributed to his community. He was an assistant scoutmaster for Boy Scouts of America Troop 512 and chairman of property and finance at Hyde Park Union Church. In his rare free time, he could be found cycling around Chicago.

Anthony Gerard Montag was born in Woodbine, Iowa (population at the time: 1,304) on August 21, 1954, to Maurice, a large-animal veterinarian, and Gretchan Montag.

He began his education in a one-room schoolhouse. He graduated Phi Beta Kappa from Iowa State University in three years with a degree in invertebrate zoology, followed by a medical degree with honors from the Medical College of Wisconsin in 1979. He completed his residency in pathology at the Medical College of Wisconsin in 1982, followed by a three-year clinical fellowship at the Harvard-affiliated Brigham and Women's Hospital in Boston.

He came to the University of Chicago in 1985 as an assistant professor of pathology and obstetrics and gynecology, later adding orthopedics. He was promoted to associate professor in 1992 and to full professor in 2006.
"Tony was genuinely enthusiastic about research," said Ernst Lengyel, MD, PhD, professor and chairman of obstetrics and gynecology at the University. "He had the ability and experience to dig deeper, to come up with a diagnosis that other physicians might not see." One Saturday morning, "I had a burning scientific question, so I called him. He came to my office and we spent three hours, talking about the science."

Montag was a member and chair for medical school admissions committees as well as larger regional and national committee assignments. He also was the author or co-author of nearly 200 scientific papers, case reports, book chapters and abstracts, primarily on gynecologic and bone cancers.

"Tony was a phenomenal expert on gynecologic pathology, incredibly collaborative, a reliable voice of reason and a good human being," said his colleague Diane Yamada, MD, chief of gynecologic oncology. "I worked with Tony for nearly 20 years and it was always a pleasure. He took a genuine interest in patients, not just in their pathology. He would dig in, go much deeper. He was the same with colleagues and especially with medical students."

Montag is survived by his wife, Katherine Leslie Griem, MD, a radiation oncologist; three children, Hugh, William and Caroline; four siblings; five nieces and nephews and their children. He will be deeply missed by his family, friends and colleagues.

In lieu of flowers, please send memorial contributions to: University of Chicago Medicine Comprehensive Cancer Center or the Iowa State University Foundation's Department of Ecology, Evolution and Organismal Biology Fund.

Visitation will be from 1 to 6 p.m. Saturday, Nov. 17, at Colonial-Wojciechowski Funeral Home, 6250 N. Milwaukee Ave., in Chicago. The funeral service to follow is restricted to the family. For more information, call 773-774-0366 or email info@colonialfuneral.com.
A memorial service on campus is being planned for Dec. 7 at Rockefeller Memorial Chapel.