A Safe and Minimally Invasive Weight Loss Option
The endoscopic sleeve gastroplasty or ESG procedure (also known as an endoscopic stomach sleeve) is a nonsurgical technique that reduces the size and volume of your stomach to much less than its original capacity. The ESG procedure offers a safe, minimally invasive option for patients who are not ideal candidates for surgery or who prefer a nonsurgical solution.
The University of Chicago Medicine is one of the few hospitals in the Chicago area offering this option. If you and your physician decide ESG is the right procedure to meet your weight loss goals, you can feel confident that you have partnered with experts who have the skill and experience you can trust.
Frequently Asked Questions About Endoscopic Sleeve Gastroplasty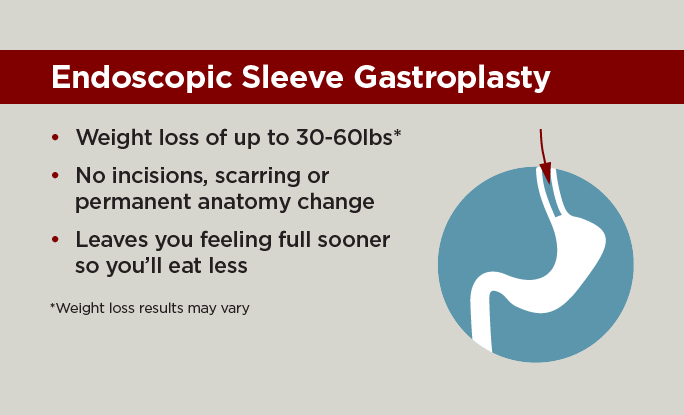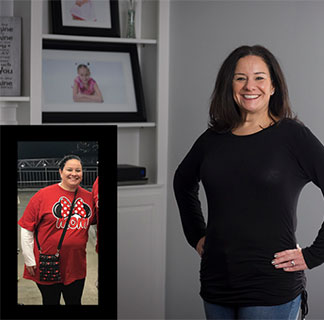 Busy consultant loses 75 pounds: Endoscopic sleeve gastroplasty success story
Looking for a minimally invasive weight loss aid that could fit into her busy lifestyle, Christina Brodzik turned to the endoscopic sleeve gastroplasty to lose 75 pounds and keep it off.
Read Christina's success story
Meet Our Endoscopic Sleeve Gastroplasty (ESG) Specialist
Request an Appointment
The information you provide will enable us to assist you as efficiently as possible. A representative will contact you within one to two business days to help you schedule an appointment.
You can also make an appointment with our providers by:
– Scheduling a virtual video visit to see a provider from the comfort of your home
– Requesting an online second opinion from our specialists
– Filling out an online questionnaire (e-visit) to get a same-day diagnosis and treatment for common conditions.
To speak to someone directly, please call 1-888-824-0200. If you have symptoms of an urgent nature, please call your doctor or go to the emergency room immediately.
Locations for Endoscopic Weight Loss Services
1101 S. Canal St.
Suite 201 & 202
Chicago, IL 60637
877-336-5667
Weight Management Articles