Our Vascular & Interventional Radiology Team
The University of Chicago Medicine is home to one of the top vascular and interventional radiology programs in the country.
With nationally and internationally renowned physicians, our team has a long-standing commitment to excellence in clinical medicine, research and teaching.
As clinical care physicians, our interventional radiologists practice coordinated care accurately and consistently to help you achieve the best health possible.
Meet Our Vascular & Interventional Radiology Team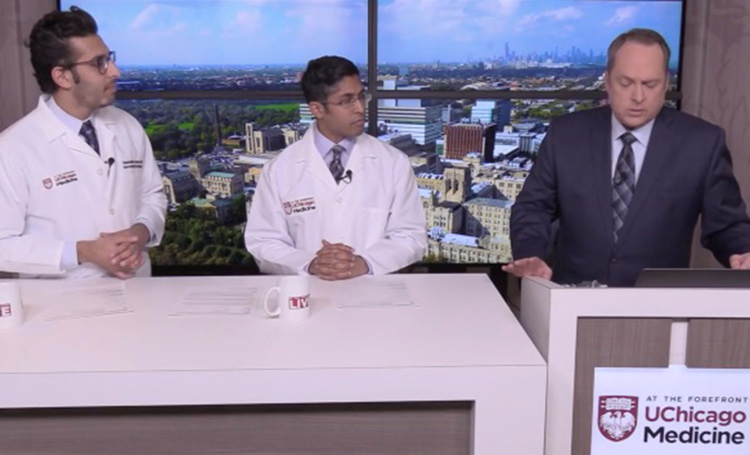 [MUSIC PLAYING]
Hello and welcome to the University of Chicago Medicine At the Forefront Live. Today our program will focus on prostate health and treatment options. Benign prostatic hyperplasia or enlarged prostate is a common condition in men as the age. Now, the condition can cause problems with urinating. It can also lead to bladder and urinary tract issues. Today, we have Dr. Rakesh Navuluri and Dr. Osman Ahmed. They'll join us to talk to us about some of the new treatments for BPH.
Now remember, we're taking your questions. So start typing in the comments section. And we'll get to as many as we possibly can. As always, we want to remind our viewers that our program today is not designed to take the place of a medical consultation with your physician.
Let's start with each of you telling us a little bit about yourselves and your areas of expertise here at UChicago Medicine. Welcome to the show.
Thank you. Thanks for having me on.
You bet.
So my name is Rakesh Navuluri. I'm a vascular and interventional radiologist. I trained here at the University of Chicago. And I've been practicing here for about 10 years or so. And this here is my colleague.
Hi there everybody. My name is Osman Ahmed. And as you alluded to, I'm also a vascular and interventional radiologist. I was also fortunate here to do my training and my residency. And I went on to do my fellowship training at Stanford.
Great, now, I think when you hear a word or phrase like benign prostatic hyperplasia, in particular if it's coming from a physician, might make you a little concerned. What exactly is that?
So benign prostatic hyperplasia or BPH is basically a benign enlargement of the prostate gland. So it's not cancerous. The prostate gland naturally enlarges as we get older in men. Roughly about 40% of men who are in their 50s will have BPH. It continues to increase. Over 70% of men in their 60s will have it. And even as you get older, to their 80s and 90s, there'll be almost 80% or 90% of men will have BPH. And as we get older, you have symptoms associated with BPH as well. So as you get older, you may notice some of these symptoms.
And the symptoms vary too. They can vary in extremity. Is that correct?
Yeah.
What are some of the symptoms?
Yeah, so the symptoms primarily revolve around urinary tract symptoms. And so the common term you might hear is lower urinary tract symptoms or LUTS. Symptoms can include urinating very frequently, having the urgency to urinate, peeing multiple times, for example, at night, so having to get up out of bed. You may also notice that there's a weak urinary stream. There can be difficulty initiating urination, a little bit of hesitancy in initiating your urinary stream, and also the sensation of maybe even incomplete bladder emptying. So a lot of these symptoms really have to do with your ability to urinate.
And that's one of those things is, as a male, if you have these things happening to you, probably one of the first things that goes through your mind is, do I have prostate cancer? And it's not necessarily that. I mean, as you mentioned, this is benign. It's not cancer. But it can be-- it is definitely something you want to get checked out.
What happens if you do leave this untreated?
So you can have some more long term complications or effects of the enlarged prostate gland. For example, you might have-- your kidney function might be affected. You might developed kidney stones. Infection is something that can happen as well. In the worst case scenario, you can develop acute urinary retention, and even blockage of the urinary stream, which can require you to place a catheter yourself to help relieve the bladder of the urine.
And Dr. Ahmed, what are some of the treatment options that we see with this?
Yeah, absolutely, so the treatment options fortunately vary. And there's a lot of treatment options available. And so, you know, a lot of it depends on the severity of BPH. And so, you know, things as simple as medications or just watchful waiting and kind of seeing if things improve over time or, you know, are tolerable. And then we can escalate all the way up to surgical, open surgical options as well.
To piggyback on what Dr. Ahmed said--
Sure.
--most patients who have kind of mild symptoms, we'll typically kind of just watch and see how they're doing. Once you start getting more mild to moderate symptoms, then we might start giving you some medications. Because we want to start with less invasive and then proceed with things that are more invasive like surgery.
Traditionally, once the medications haven't worked, that's where we've kind of jumped into the different types of surgeries. And those are things you might want to talk with your urologist about. But they can range from things like TURP, which is basically sort of our Roto-Rooter type procedure to open up the urinary stream, the urinary tract, or even having the entire prostate gland removed.
But so many new treatments have been developed as well-- laser therapies, heat therapies to open up the urinary tract, and now even prostate artery embolization as well.
And we're going to talk a little bit more about that procedure here in a few moments. But let's kind of talk about some of the more mild cases first. If someone comes and sees you and they have just very mild situation, what is some of the things they can do? Are there lifestyle changes that can be made to start with?
Sure, absolutely.
So some of the very common things to do, because nocturia is a very common symptom, for example. So limiting how much you drink at night will sort of help prevent you getting up in the middle of the night to have to urinate multiple times. Avoiding things like caffeine or alcohol, which also sort of promote the sensation to urinate more frequently, that can also help as well.
You, of course, certainly want to exercise, eat healthy. Weight loss has certainly been associated with improvement in symptoms. So all these things, lifestyle modification as you mentioned, can help with the symptoms of BPH without having to resort to medications and more invasive procedures, as we can talk about shortly.
And Dr. Ahmed, there is something called prostate artery embolization or PAE. What is that?
Yeah, so that's-- you know, that's where we specialize as vascular interventional radiologists as minimally invasive procedures. So this is a non-surgical alternative or treatment for BPH. And essentially the procedure is done either through a small pinhole in the wrist or in the upper thigh.
And that's based off of patient preference. And what we do is we guide a small tube or catheter through the arteries using X-ray guidance to navigate where we're going. And we guide that all the way down into the prostate, actually. And once we get down there by injecting dye or contrast, we can identify the arteries that supply or feed the prostate.
And we can selectively place that catheter directly in there. Once we're in there, we can slow or block those arteries by injecting what we call beads or particles. And that's, you know, in layman's terms, those are tiny grains of sand that will physically block or obstruct the arteries that go to the prostate.
The benefit of this procedure is that it typically takes about two hours. More complicated procedures, maybe three hours. And this is done as a kind of a single outpatient procedure. Often we keep patients overnight just for monitoring. But nothing specific that would allow-- that would necessitate them staying in the hospital.
And I imagine the recovery time, since it's done either through the wrist or through-- you said the groin or thigh area--
Correct.
--I imagine the recovery time is much--
Exactly.
So when we're talking about traditional surgical options, we're usually referring to procedures done with general anesthesia. This procedure is done with moderate sedation, meaning we give a cocktail of medications that sedates you. But you're able to actually speak with us, converse with us during the procedure, if you'd like, that is, and which allows for quicker discharge times and faster recovery.
I was talking with a friend of mine. We were discussing the show the other day. And we were talking about the topic. And one of the questions that was asked was, can this become cancer if it's left untreated? Is that a possibility? Or is this totally out of that realm?
Yeah, these are actually two separate disease processes. The prostate gland, you can sort of think of it as a central part and more of a peripheral part or the outside portion. And cancer tends to develop in the outside portion, whereas BPH or prostatic hyperplasia is more in the central portion.
Now, having said that, whenever we have patients with enlarged prostate glands, we do a full workup. And we're always going to work with our urology colleagues to get the appropriate lab tests and imaging, and if necessary, even biopsies. Because we want to make sure what we're treating is just benign and not necessarily cancerous.
And when we talk about treating the actual arteries, why do you do that? What's the reason there? What's happening with the arteries [INAUDIBLE]?
Yeah, that's a great question. So, you know, in our specialty traditionally, we treat a variety of conditions. And one other condition we do treat is cancer. And in treating cancer, we found that obstructing the blood flow or blocking these arteries to other types of cancers or even other benign growths in the body will cause them to shrink.
And so prostate artery embolization actually was originally done back as early as the 1970s. And it was initially done for prostate cancer that had grown so large that patients were bleeding because of the prostate. And so learning from that over time, we realized that we can actually apply it to other disease states and, specifically in this situation, BPH.
This is one of those conditions-- and I do want to encourage our viewers, if you do have any questions for our experts here, please type them in. We'll get to as many as possible during the broadcast.
But this is one of those conditions where I think there are a lot of people out there probably at home that just figure, I'm getting older. This is the way it is. I'm going to get up three or four times at night and use the restroom. But it doesn't have to be that way. That's the beauty of this. There are treatments and treatments that aren't too hard on you.
Absolutely. You know, a lot of times patients will come into our clinic. And they're sort of afraid of surgery and they're afraid of having to undergo something quite invasive. And maybe they've tried medications. And medications have helped a little bit, but they haven't really resolved their symptoms entirely.
And so this is certainly a great option. Because it's minimally invasive. It's a quick recovery time, a quick return to work. And it will improve your quality of life. And, in fact, that's one of the things that we evaluate before we do the procedure is to see how significant are your symptoms.
Because we want to make sure that they're really impacting your life before we undergo any kind of procedure. But, in particular, we can find out that this procedure can actually improve your symptoms quantitatively. Because we actually measure your symptoms on a scale. And we notice that there is significant improvement in a lot of patients.
One of the things I want to get to-- and we'll do this again near the end of the program-- if somebody is curious and they want to know more about this and they want to know how to get in touch with you, what's the best way to do that?
Sure, there's multiple ways that you can contact us. But our current website is ucprostate.com. So it's U-C-P-R-O-S-T-A-T-E.com.
And there you can find a lot of information about BPH. You can also find out information about prostatic artery emoblization. And then you can find more information about the physicians that perform the procedure here at U of C. And you'll also find contact information and how to set up an appointment.
What are some of the benefits of PAE, especially when you compare it to some of the-- maybe the older treatments.
Yeah, I mean, I think like you said, Tim, in the context of what our traditional surgical options have been, some of the kind of hesitancy from patients to kind of pursue surgical options have been some of the side effects, and namely sexual dysfunction, related side effects such as impotence or retrograde ejaculation.
What we found, at least with prostate artery embolization, kind of in our early experience with it, is that these side effects are virtually eliminated. And the side effects that we do see are very minimal in terms of the frequency in which they occur.
And they tend to be very self-limiting, so only a few days, three to five days. And those symptoms tend to be what we call pulse embolization syndrome, so just kind of like a pain, maybe some discomfort urinating and even a little bit of blood in the urine. But, again, that typically lasts up to five days or so and then it resolves on its own.
We just got a question from a viewer. And the question is, what is the next step after 20 years of treatment? So this is someone who has been fighting this for 20 years. What would you suggest?
So, obviously, the first question I would have if this patient was in my clinic would be to see what things have they tried, lifestyle modifications, what medications, maybe even what surgeries they've tried in the past. And once we've decided or talked about what they've undergone already, we can sort of explain the PAE procedure and see if that might be an option for them to try. And if not, we can also discuss other surgical options and work with our urology colleagues to see what else we could offer here at the University of Chicago.
So again, it's not something that you have to suffer with for forever. There are certainly options and there's certainly hope. And this is something that can be done even for an ongoing patient.
Absolutely. In fact, you know, this procedure is relatively new. In terms of FDA approval, it's only been in existence since 2017. Of course, it has been around, as Dr. Ahmed mentioned, since the 70s. But it's a relatively new procedure. And there are a lot of patients who are maybe seeing doctors or going to a hospital outside which don't have the expertise or are unable to offer this procedure. So it's always beneficial to seek a second opinion and come to an institution like the University of Chicago where we have specialists who can provide the full spectrum of treatment options.
Well, and here's the beauty of what we're doing today. When we talk to our patients and our customers live like this, we do get responses. And he responded. He was taking Flomax. So sounds like there's probably quite a bit more that can be done.
Sure, absolutely. Yeah, in fact, a lot of patients will be on more than one medication, sometimes combination therapy Flomax plus something like Detrol, for example, can be beneficial. You know, I don't want to prescribe a specific medication to take.
Sure.
Because certainly you would have to first see your urologist and talk with them more about. But certainly, we can add additional medications, number one. And beyond that, we can talk about some of the procedures that can be offered, not only prostate artery embolization, but there's also the more surgical options as well, prostatectomy, TURP, some of the laser therapies, the heat-associated therapies, lots of things that we can talk about that are beyond Flomax. So I think even though this particular viewer has been suffering for 20 years, I think there's lots of that we can offer that we haven't even touched upon yet.
And, again, we want to remind people, we said this at the beginning the show, this is not designed to take the place of talking to your physician. But it is great to be able to bounce some things off of you two. Because you're certainly experts. And this gives this gentleman something to talk to his physician about or maybe come and visit one of you.
Absolutely.
Absolutely, yeah.
I think one other important thing to mention also with respect to prostate artery embolization is that it is not a replacement to other procedures. Meaning if you do have a prostate artery embolization, your surgical options are not taken off the table. Your medical options aren't taken off the table. So it's a very nice complementary procedure in addition to what we already have available. So it's only increasing options for patients, as opposed to taking away options.
Absolutely.
How successful has PAE been so far?
It's been very successful. You know, it's really, again, only been FDA approved for about a year. So our long-term data isn't quite there. Although it has been done for many, many years in Europe. But the success rate is essentially equivalent to what currently is the gold standard, which is TURP or transurethral resection of the prostate gland.
So the success rate is actually on par with what is currently being offered. But it's better, in my opinion, in the sense of the recovery and the lower side effects associated with it. And TURP, it's more of-- I don't know how to phrase this correctly-- but more of a significant procedure from being more of an invasive procedure.
Sure, yeah. I sort of referred to it earlier as a kind of a Roto-Rooter type procedure. But that's a procedure where the urologist will go through the urethra, through the penis to resect portions of the prostate, to open up the passageway for urine.
So, again, it's certainly a procedure that we could offer here. It's something that should be considered. But I think one of the benefits of PAE is that we only have to go through a pinhole in the wrist or in the thigh.
Yeah, yeah. So what are some of the complications that can happen with PAE?
Yeah, so typically, you know, a prostate-- sorry, prostate artery embolization is very similar to a lot of other procedures we do in interventional radiology specifically referred to as angiography. And anytime we puncture an artery or a blood vessel, there's always going to be a risk of a bleeding complication that can occur. So those are, again, tend to be very minor.
They tend to be where we punctured the artery-- so whether that's in the wrist or in the groin. Complications specific to this procedure, again, as I sort of mentioned before was they're very low. And they tend to be very mild. But the biggest complication we try to avoid or we aim to avoid is injecting those particles or those beads to arteries outside of the prostate.
And so the reason that complication is a very low complication that occurs is because we're using live X-ray guidance. And so we know exactly where we're imaging and exactly where we're injecting. But, for example, if you inject too much, then it can kind of back up and go somewhere else. And so, overall, that, like I mentioned, was a very low rate of occurrence, but something that we always are very cognizant of or looking out for.
Now, you mentioned the FDA approval a few minutes ago, only since 2017.
So this is a new thing. And we're doing these peer UChicago Medicine, at the forefront. We like to see that. But it is true.
I mean, we do a lot of newer procedures and help lead the way with a lot of the new procedures.
Are we doing a lot of these? Is this something that people are finding to be pretty popular?
Sure, yeah, absolutely. You know, we've gotten a number of phone calls to our clinic and through our website. The pattern tends to be that we have a lot of patients who are seen at outside hospitals and they don't offer this particular procedure. And so a lot of times what happens is patients will go home. And they'll google.
And patients are very educated nowadays. We have access to Google and the internet. And so people find out about other treatment options. And so sort of through word of mouth and sort of through the internet, we've gotten quite a bit of traction. And certainly, it's becoming more and more popular.
Have another viewer question. And that's are there any risk factors that men should be aware of for prostate cancer-- race, age, lifestyle, family history, that kind of thing? I know we're not really talking about prostate cancer exclusively here, but if you could address that'd be great.
Sure, so prostate cancer is certainly something that we monitor in men as they get older. One of the common things that we do is a digital rectal examination. So you may go to your primary care physician or your urologist and they may do a rectal exam to assess how enlarged your prostate has become or if he notices any nodules.
Another thing that they may check is your PSA level. And that can be an indicator for, not only prostate enlargement, but even developing prostate cancer. So these are sort of things that we check in most patients as we get older.
And certainly, we do it as part of our standard workup when we're evaluating patients with BPH. But I strongly recommend any patient, any man-- any of the males out there to have this checked up regularly with their primary care doctor at the very least.
Is there an age when you should start doing that, your 50s, 60s?
Absolutely, I mean, some recommendations will go down to as early as the 40s. But, you know, I certainly would advise anyone 40 or older, or even younger, frankly, you should be following up with your primary care doctor and making sure all your lab work is up to date and as well as your prostate workup as well.
And family history is important with basically almost any disease.
Absolutely.
So that's certainly something to be aware of. So the FDA approval, this is, again, it's fairly recent. And why just in 2017 if this has been happening for years? Has it been happening for you mentioned prostate cancer? Is that the difference?
Exactly, so this is historically, again, we've been doing this for prostate cancer when the cancer grows so large that it bleeds. And the reason for only the recent FDA approval is that we've only recently started kind of investigating this for BPH or for a benign cause of prostate enlargement. And that dates back to about 2000.
And so really now as, you know, we're kind of gaining momentum with the research and the data kind of backing this, is what has consequently led to the FDA approval. And so we're in a really exciting time, I think, from our standpoint. Because this is a relatively new procedure really only being offered at kind of advanced medical centers. And so as we continue to gather more data, I think that we'll start seeing this becoming more of a mainline treatment option.
So if the PAE procedure is unsuccessful, what happens at that point?
So usually the way we assess success is really how patients feel afterwards. So patients are given a survey to compare before and after. And hopefully, our patients feel better afterwards.
But, as you mentioned, there are patients in whom maybe the symptoms hadn't quite improved to the level that they hoped. If that's the case, you know, we still work with our urology colleagues. And we can consider other procedures as well.
Or we can even add medications on top of the PAE procedure. So maybe a combination of treatments is maybe what you need to fully resolve these BPH symptoms that you have. But certainly, if the PAE procedure isn't successful, there's so many other things that we can offer here at the University of Chicago.
One question that just came in from a viewer, genetic testing to tell if this is something that's going to happen or prevent?
It's an issue in question in terms of preventing BPH. And we had this conversation before we came into the studio today. But there really is no test that can be done to assess whether you're at risk for developing BPH. Certainly, as you mentioned, there's a genetic component to it.
So if it's something like it runs in your family, then you may be at higher risk for developing BPH. But I think the most important thing, really, is just to kind of be wary of your symptoms and follow up with your primary care doctor on a regular basis. And should you have any of the lower urinary tract symptoms that I had mentioned earlier, by all means then, certainly see a specialist.
And, again, we've said this on the program before, but you don't have to suffer in silence. This is another one of the situations where you can certainly get treatment, get help. And it's worth doing just from a quality of life standpoint.
Right, and I think going back to also the genetic question is, you know, BPH is very common, as Dr. Navuluri alluded to and to the point where almost everyone, every male may experience some sort of symptoms at some in their life. And so, as you also just mentioned, this is not something that you need to suffer in silence from and that whether it's PAE or any other option, there are multiple options available.
Well, fantastic, well, that's about all the time we have, gentlemen. Thank you for being on the program. It was great. It was very informative.
Thank you.
We appreciate you helping us with that. If you want more information about BPH or any other disease or condition, please visit the website at uchicagomedicine.org or call 888-824-0200.
We have a full schedule of At the Forefront Live programming in January. So make sure to watch our Facebook page for more information on coming programs.
Thanks again for watching At the Forefront Live and have a great week.