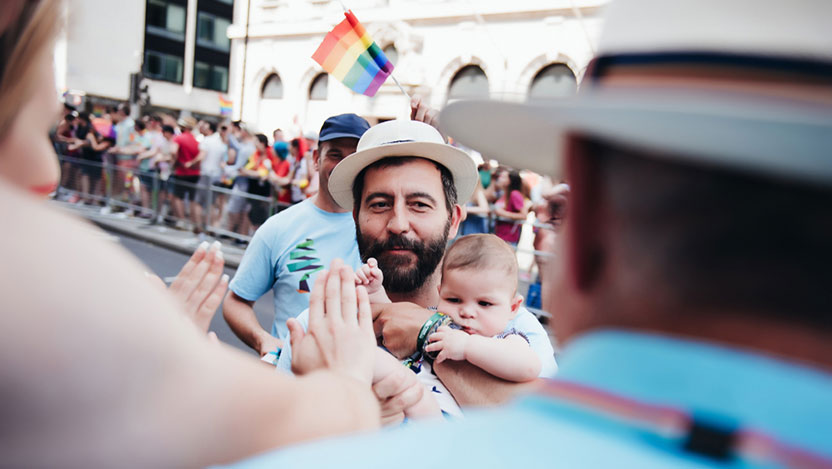 At the University of Chicago Medicine, we want you to feel like you have a home for all of your health care needs. To us, that means a place where you feel safe to be yourself and where you can count on us to plan all the services you need to reach your health goals.
When you come to UChicago Medicine as an LGBTQ+ patient, you will find:
Health care providers who understand your needs and concerns, including many health care professionals who identify as LGBTQ+
Care teams who have special training on health issues affecting LGBTQ+ patients
A welcoming place for you and your family
To support our commitment to provide affirming care, UChicago Medicine is part of the "We Ask Because We Care" campaign. This program teaches staff about the importance of collecting and correctly using information about a patient's sexual orientation, gender identity, race, ethnicity and preferred language to provide you with the best care.
A Team-Based Approach to LGBTQ+ Care
As one of the leading academic medical centers in the country, our care teams work together to provide the highest level of care to LGBTQ+ patients. Our teams include primary care providers, endocrinologists, infectious diseases experts, plastic surgeons and other specialists along with social workers, outreach workers and others connected with local LGBTQ+ organizations.
Closing the Gaps in Care for LGBTQ+ Patients of Color
At UChicago Medicine, we believe having comprehensive, compassionate care in your own neighborhood is important. We are committed to removing barriers to care for LGBTQ+ patients from all backgrounds on Chicago's South Side. Many of our outreach programs serve LGBTQ+ people of color and those from low-income communities who have not had access to as many services as LGBTQ+ residents in other parts of the city.
Some of our providers speak Spanish and other languages. We also have language and sign language interpreter services when needed.
LGBTQ+ Research at UChicago Medicine
Research is a major focus at UChicago Medicine. Our doctors and researchers are working to lessen disparities in care by having more studies with LGBTQ+ groups, including people of color. Our scientists work with community organizations like Howard Brown Health on research to improve LGBTQ+ care.
UChicago Medicine is home to several centers that provide care and research for the LGBTQ+ community. This includes:
Please call 1-888-824-0200 for more information about our LGBTQ+ services or to make an appointment.