Medical Center Main Number: 773-702-1000
University Main Number: 773-702-1234
Adult Admitting Office: 773-702-6233
Adult Emergency Room: 773-702-6250
Billing: 773-702-6664
Blood Bank: 773-702-6827
Chaplain's Office: 773-702-6246
Employment: 773-702-2355
General and Patient Information: 773-702-1000
Medical Records: 773-702-1637
Pediatric Admitting Office: 773-702-6234
Pediatric Emergency Room: 773-702-6249
UChicago Physicians Group: 773-702-1150
Numeric & Alphanumeric Paging
Operator Assisted: 773-702-1000
External Access: 773-753-1880
Internal Access (Campus or Hospital PBX): Dial 188
Hospital Mailing Address
The University of Chicago Medicine
5841 S. Maryland Ave.
Chicago, IL 60637
Why Choose UChicago Medicine
Medical Breakthroughs
UChicago Medicine physicians and scientists continue to discover breakthroughs that shape modern medicine and advanced clinical care.
Hyde Park & Chicago
Chicago is one of the greatest cities in the world. Our main campus is located in Chicago's historic Hyde Park neighborhood, an area that's home to an abundance of cultural and educational attractions.
Meet Our President
Sharon O'Keefe is president of the University of Chicago Medical Center. She has more than 30 years of health care experience, beginning as a staff nurse and transitioning to executive leadership.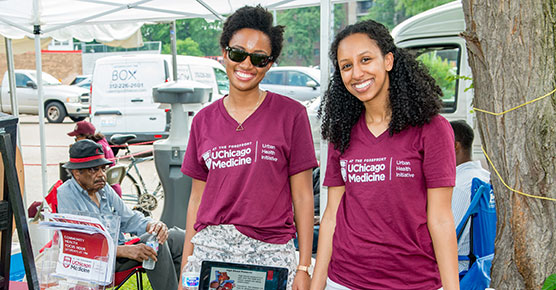 Urban Health Initiative
The Urban Health Initiative is our community health department, overseeing population health and community benefit.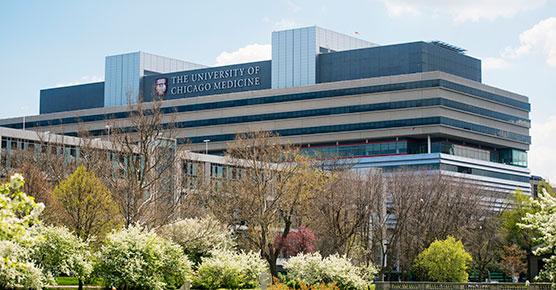 U.S. News & World Report Rankings
We continue to place highly in categories in the U.S. News & World Report annual rankings. See our full list of ranked specialties.
Classes & Events
We offer many classes, events and support groups that are designed to improve our patients' health and meet the need for health education on various topics.