Welcome to Ingalls Health Ventures Home Infusion. We are excited to provide you with all your home infusion needs.
Our staff understands that your medical needs may be complex and that there is a lot to know when working with your doctor and insurance company.
We want to provide you with the kind of personal service you need to make sure you get the most benefit from your therapy including:
Training, education and counseling
Medication refill reminders
Free delivery of your medication
Access to a pharmacist and nurse 24 hours a day, 7 days a week
Working with your nurse and insurance company to make sure your medication cost is covered
Enrollment in programs to help with the cost of your medication
Location and Contact Information
Address: 1551 Huntington Drive, Calumet City, IL 60409
Phone: 773-702-8977
Toll Free Phone: 855-825-3011
Fax: 773-702-6574
Email: homeinfusion@uchospitals.edu
We are open Monday - Friday, 8 a.m. - 5 p.m.
Our Services
We know that your medical needs may be complex and can feel overwhelming at times. We are here for you.
Our staff along with your doctors, nurses, family and friends will work together as one health care team. Our goal is to provide you with quality care.
Learn More About Ingalls Health Ventures Home Infusion
Resources for You (Available to Download)
Payment Policy
Before your care begins, a staff member will let you know your part of the cost that is not covered by your insurance or other third-party sources.
Your part of the cost may include but is not limited to: out-of-pocket costs such as deductibles, co-pays, co-insurance, and annual out of pocket limits. We will provide this information if there is a change in your insurance plan. If you ask, we will also provide you with the cash price of the medication.
Ingalls Health Ventures Home Infusion will send claims to your health insurance carrier on the date your prescription is filled.
If the claim is rejected, a staff member will let you know the reason why, and work with you to solve the problem.
If the claim is rejected because our pharmacy is not in network with your insurance, we will let you know and work to transfer your care.
You may have to pay a part of your medication cost, called a co-payment or co-insurance. If you have a co-payment or co-insurance, it must be paid at the time of shipping or pick-up.
We accept Visa, MasterCard, American Express, and Discover credit cards. We can keep your credit card information on file in a secured and safe place.
If our pharmacy is out of network, and there is any cost for you to use our service, we will let you know.
We will help enroll you in financial assistance programs to help with co-payments, and make sure there are no financial problems with starting your medication.
These programs include discount coupons from drug manufacturers and help from many different disease management foundations.
Patient Rights and Responsibilities
Ingalls Health Ventures Home Infusion knows that all patients have basic rights. Patients who feel their rights have not been respected, or who have questions or concerns, can talk to the Executive Director of Ambulatory Pharmacy.
Patients and their families also have responsibilities when under the care of Ingalls Health Ventures Home Infusion in order to help us provide safe, high-quality health care for themselves and others. The following patient rights and responsibilities will be provided to, and expected from, patients or legally authorized persons. To make sure you are getting the best care possible, as a patient getting our home infusion services, you must understand your role, rights and responsibilities involved in your own plan of care.
As our patient, you have the right and responsibility to:
Other Ingalls Health Ventures Home Infusion Patient Rights and Responsibilities
Ingalls Health Ventures Home Infusion patients also have these Rights and Responsibilities:
To know the name and job title of any program staff members, and if asked to be able to speak with a supervisor of a staff member.
To speak to a health professional.
To take care of any equipment we provide to you.
To be told in person and in writing before any care is provided, of the changes, including payment for care and service expected from third parties and an estimate of any charges that you must pay. An estimate is a quote or the best idea of how much something will cost.
This estimate will be based on information that comes from your insurance company or other third party payer.
To choose a doctor, including choosing an attending physician, if needed.
To know and be told of any financial benefits when referred to an organization.
To get supplies and equipment delivered at a time that is best for me.
To let Ingalls Health Ventures Home Infusion know if you are admitted to the hospital, if your doctor stops your therapy, if you plan to travel or if you change your address (where you live) when getting therapy.
To be informed about issues involving the care and services being provided including, patient care outcomes, treatments, services, current and future health care decisions including sentinel events.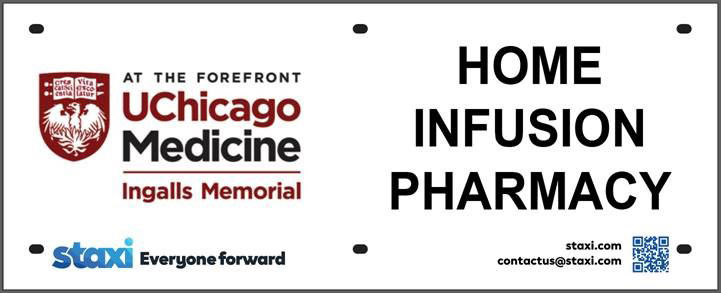 Additional Pharmacy Services
Learn more about our pharmacy services:
Ingalls Home Infusion Location