Skip to content
Researcher receives Chan Zuckerberg Initiative grant to define every cell type in the female reproductive tract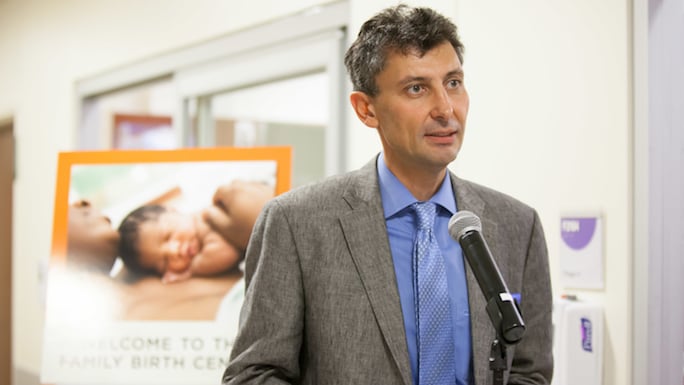 Ernst Lengyel, MD, PhD, an internationally-recognized ovarian cancer expert and chair of obstetrics and gynecology at the University of Chicago Medicine, has been awarded a three year, $1.65 million grant to research the female reproductive tract as part of the Chan Zuckerberg Initiative's Seed Networks for a Human Cell Atlas.
Lengyel will lead a group of UChicago Medicine researchers that will map and define every cell type found in the ovaries, fallopian tubes, uterus, cervix and vagina. "It's very significant because once we know the different cell types, we might be able to answer questions and find treatments for female diseases that we've so far only been able to treat symptomatically, like endometriosis, cancer, and infertility," said Lengyel.
The grant is part of $68 million in funding from the Chan Zuckerberg Initiative (CZI) to support the Human Cell Atlas (HCA), an international effort by experts in biology, computation and medicine to map all of the cells in the human body.
Lengyel is an expert in the diagnosis and surgical treatment of gynecologic cancers, specifically ovarian cancer. His ovarian cancer research laboratory in the Center for Integrative Science, which is funded by the National Institutes of Health, focuses on the biology of ovarian cancer and investigates new therapies for treating the disease.
Participants in the three-year CZI Seed Networks projects will focus on mapping specific tissues in the healthy human body. The resulting cellular and molecular maps will help researchers better understand what goes wrong when disease strikes.
"The global Human Cell Atlas effort is a beacon for what can be accomplished when experts across scientific fields and time zones work together towards a common goal," said CZI Head of Science Cori Bargmann. "With CZI's Seed Networks grants, we're excited to further support and build interdisciplinary collaborations that will accelerate progress towards a first draft of the Human Cell Atlas."
Each of the teams that received grants from CZI consists of at least three principal investigators, including at least one computational biologist or software engineer. Lengyel's team includes three UChicago Medicine faculty members, geneticist Anindita Basu, bioinformatician Mengjie Chen and cell biologist Mark Eckert.
Using the donated tissue of healthy patients, the researchers will tap the emerging field of microfluidics, in which Basu is a pioneer, to conduct single cell RNA and ATAC sequencing of the epithelial and mesenchymal compartment. The findings will be confirmed using standard cell biology techniques.
"UChicago Medicine already has a lot of the needed research components in place, including expertise in single cell transcriptomics, culturing primary cells, gynecologic pathology and expertise in cell biology," said Lengyel.
The Chan Zuckerberg Initiative's projects aim to help generate new tools, open source analysis methods and diverse data to the Human Cell Atlas Data Coordination Platform, a unified resource that will enable data sharing among researchers and research institutes around the world. All of the data, protocols and computational tools developed as part of the research will be freely available.
Founded by Dr. Priscilla Chan and Mark Zuckerberg in 2015, CZI is a new kind of philanthropy that's leveraging technology to help solve some of the world's toughest challenges — from eradicating disease, to improving education, to reforming the criminal justice system. For more information, please visit www.chanzuckerberg.com.
Obstetrics and Gynecology Articles