Skip to content
Pushing transplantation forward at UChicago Medicine: A Q&A with Dr. John Fung
John Fung, MD, PhD, FACS, recently joined the University of Chicago Medicine as the chief of the Section of Transplantation Surgery and co-director of the University of Chicago Medicine Transplant Institute. He joins UChicago after a 30-year career in kidney, liver, pancreas, islet and intestinal transplantation, most recently as director of the Cleveland Clinic Health System Center for Transplantation.
Dr. Fung plans to revitalize the transplantation program at UChicago, which has a long and storied history. Science Life spoke to him about what it's like to return to Chicago, where he earned his PhD in immunology in 1980 and medical degree in 1982.
What's it like to return to UChicago?
I look at coming back to the University of Chicago as a great opportunity to give back to the University of Chicago the things I got from here when I left. When I left in 1982, transplantation was still a relatively underdeveloped field. There were a lot of problems and challenges that resulted in suboptimal outcomes. This was seen across the country, not just here. Advances in transplantation were based on accumulating experiences and better understanding of the technical aspects of surgical transplantation, as well as the medical advances including immunosuppressive agents, have combined to improve outcomes. I'm really excited about coming back to Chicago to bring experiences and knowledge that I have learned since I left in 1982 back into practice here, as well as all of the innovations that I think the University of Chicago is poised to take advantage of.
Do you have a vision for transplantation at UChicago? What kinds of things are already in place here that are part of your plan going forward?
The University of Chicago has always had a great tradition of innovation and understanding the basic science of discovery, so there are a lot of opportunities that I really haven't been able to utilize in the positions I've been in before. There are both clinical as well as basic science opportunities that I think the University of Chicago can provide in the scheme of advancing this knowledge, as well as clinical application in transplantation.
A good example is the islet cell transplant facility we have here, which was one of the original such facilities in the country – however when you look around the country, the academic medical centers that are really taking advantage of it are still relatively limited. I think we can put the University of Chicago in a leadership role in terms of really looking at cellular therapies and new ways to monitor patients for rejection, and improve outcomes.
Finally, the University of Chicago provides important services for patients from all walks of life and is an important community partner.
One of the biggest challenges in transplantation is organ shortages. How does any transplant program this problem, and what can UChicago do?
Clearly, organ shortages are one of the biggest issues that we face in transplantation. The University of Chicago was actually involved in some of the early attempts to expand the donor pool by using technology. Fields like normothermic perfusion—that's taking organs out of the body and perfusing them with warm, oxygenated blood to get the organs to recover better—is an area of rapid growth internationally. This is an opportunity for us to take advantage of organs that aren't currently being utilized, or aren't functioning up to par. Where I came from at the Cleveland Clinic, we had been working in that area, and we plan to bring that technology to the University of Chicago.
A lot of the practices have perfected over the past 20 years, for example, using what we call "donation after cardiac death or DCD" and split liver and living donor transplantation. Applying those practices here into the Chicago region can improve our access to organs, so there are many things we can do here to improve the chances of our patients getting transplanted.
As a long time surgeon, what is it about UChicago that makes you want to come back and be a part of it?
Part of the excitement about coming back is the reputation of the University of Chicago as one of leading medical schools in the country. The other factor is the recognition of the importance of transplantation to the academic mission of this institution by the Departments of Surgery and Medicine, as well as UChicago Medicine, and prioritizing transplantation as one of its major service lines. I think their desire to accomplish this, along with understanding what it's going to take to get there, combined with experience and the energy that many of the transplant physicians that are here or are going to be recruited here, can launch this program as one of the leading programs in the country.
Coming back to the Chicago area has also been really exciting because it is a great city. The community support for academic medicine is strong here. While I am told there are a lot of regional competitors, I'm actually looking forward to collaborate with them, because it is in the best interest of our patients to push transplantation forward.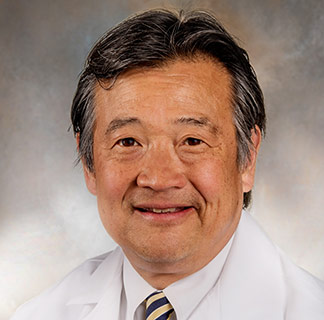 John Fung, MD, PhD
With more than 30 years of experience, John Fung, MD, PhD, is a renowned leader in the field of organ transplantation, including liver, kidney, pancreas, islet and intestinal transplantation.
Learn more about Dr. Fung