Skip to content
Facebook, and a little luck, brings two strangers together for a kidney transplant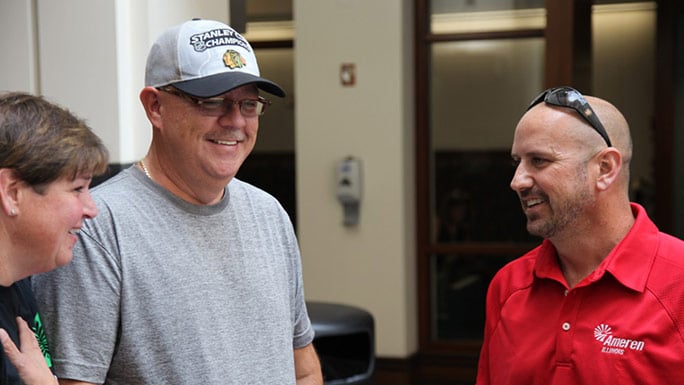 Kidney transplant patient Stewart Botsford (grey shirt, hat) meets his donor, Justin Maduena (red shirt) for the first time on August 11, 2016
When Stewart Botsford and Justin Maduena greeted each other at the University of Chicago Medicine on August, 11, 2016, they were already bound together. Justin, from downstate Dawson, Ill. near Springfield, would soon be donating a kidney to Botsford, from suburban Arlington Heights. But the two were meeting each other in person for the first time.
Botsford was placed on the waiting list for a kidney transplant last year, after he was diagnosed with renal failure. His family began advertising for a potential donor, placing window decals on their cars that said "My husband needs a kidney" for his wife, Laura, and "My dad needs a kidney" for their daughter. Someone took a picture of one the cars, posted it on Facebook, and through the random series of acquaintances now made possible by social media, Justin's wife Melinda saw it. She sent it to him, and he immediately called Stewart to see if he could help.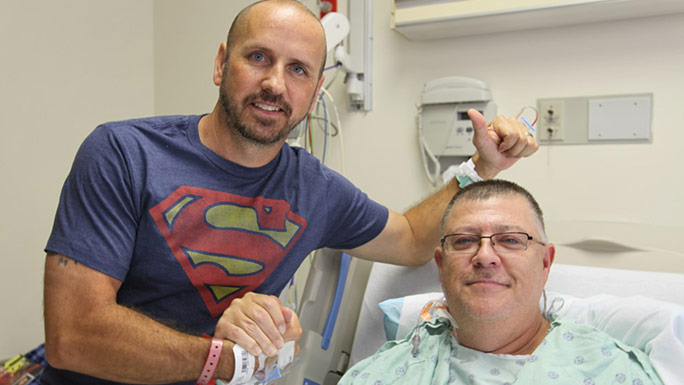 The transplant took place on August 16, 2016. Since then, they have become lifelong friends. "There aren't enough words to thank him," Laura Botsford said. "He's our angel walking on earth."
Stewart and Justin's story generated quite a bit of media interest both before and after the surgery. Here's a roundup of some of the coverage:
Kidney Transplant Program
UChicago Medicine's Kidney Transplant Program is dedicated to offering the highest level of care. We continue to improve transplant medicine through our research, providing patients access to the newest therapies and treatments.
Learn more about the kidney transplant program