Skip to content
UChicago Medicine surgery team completes 10,000th robotic procedure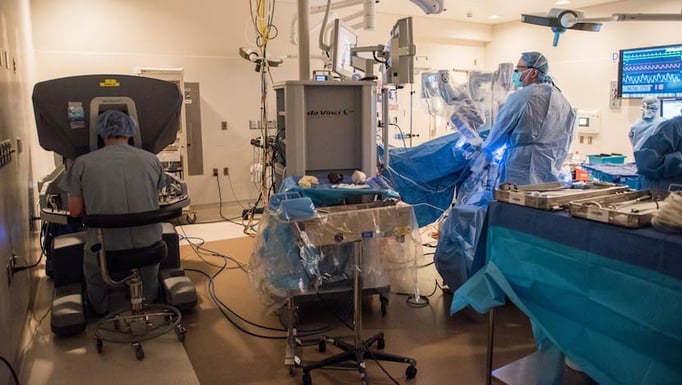 The University of Chicago Medicine's robotic surgery team, led by Arieh H. Shalhav, MD, director of minimally invasive urology, hit a milestone last month when they treated their 10,000th patient. In the 16 years since its induction to the urology department in 2002, robotic surgery has expanded to include gynecology, thoracic, general surgery, ENT (ear, nose and throat) and cardiology.
"Not a lot of institutions have such a breadth of people doing robotics. It's rare," said Shalhav. "I've been pushing it really hard into other sub-specialties. I believe in it."
And if the 10,000 figure is any indicator, the program remains busy. Word of mouth and positive patient outcomes have gone hand-in-hand in the program's expansion.
"Robotic gynecologic surgery is associated with less blood loss, shorter hospital stays, and faster recovery times," says Nita K. Lee, assistant professor of obstetrics/gynecology. "The faster recovery allows patients to return to work and normal activities sooner."
Faster recovery times and shorter hospital stays can be directly linked to the surgical improvements of using a robot. The machine enhances the surgeon's precision, which allows a smaller incision to be made. This in turn leads to smaller wounds, less trauma and faster recovery times.
"The ability of the surgeon to do complex things is enhanced about five times with the robot," says Shalhav. "Now a surgeon that could not adopt laparoscopy, which is a complex surgical procedure, can learn to do it minimally invasively."
We want medicine and surgery to constantly move towards being a gentler intervention into the patient's life to achieve a cure.
According to Shalhav, that is exactly what robotic surgery is about.
"We want medicine and surgery to constantly move towards being a gentler intervention into the patient's life to achieve a cure, without interrupting the patient's life as much as we did before," he said.
The dedication and pioneering spirit of the UChicago Medicine team has made the program a referral site for complex cases. UChicago Medicine is one of the only hospitals in the country to provide a wide variety of robotic surgical procedures.
Husam H. Balkhy, MD, director of minimally invasive and robotic cardiac surgery, has been a national leader of cardiac surgical procedures for more than five years. Balkhy is one of the most experienced surgeons with multi-vessel totally endoscopic robotic coronary bypass (TECAB) and developed the Connector TECAB procedure. TECAB is a highly advanced approach to coronary bypass surgery that avoids opening the chest.
"The advances in technology have allowed surgeons like me to execute cutting-edge heart procedures," said Balkhy. "Being able to offer unique and selective services to patients who come to us from all over the country is a highly rewarding part of the robotic program."
To be a leader also means adopting the latest technology. In order to continue the success of the program and stay as current as possible, four new robots have arrived. UChicago Medicine has just replaced its third generation Da Vinci robotic fleet with the fourth generation X/XI, and according to Shalhav training is already complete. 20,000 procedures seem to be on the horizon.
News from UChicago Medicine