Skip to content
UChicago surgeon gives cochlear implants to two generations: A father and his infant son
10-Month-Old Dennis Hill Hears for the First Time
Hi! That mommy talking? Hear mommy talking? That mommy talking?

Dennis? Dennis!

It was a very special day. It was Dennis's hearing birthday, and what you witnessed today was the activation of his cochlear implant. So you saw the very moment that he first heard sound, and that his brain started processing sound. Basically, I implant the internal device initially, let everything heal, and then the activation is really-- putting on the external device that connects to the internal device, and takes sound from the outside world, changes it from acoustic to electric energy, and stimulates the nerve. But you saw something else that was really quite incredible-- you saw an amazing family who both uses sign language and spoken language begin to really feed Dennis's brain with both sign and spoken language. Dennis is very lucky.

Papa.

Mama.

He's all right. Bit chatty. Chat chat chat. Uh-huh.

[DENNIS SQUEALS]

It was pretty amazing for us to see his reaction. Look at his ears. He's really happy with it. Yeah, he was very shocked, even looking around, trying to figure out where the sound's coming from.

I hear yelling, talking. He's like, oh, OK. And then he's-- constantly doing it. He likes the sound. I was emotional at first. Yeah, it's really shocking that he got cochlear implants, just like us. It's really amazing. Now we have the same thing-- deaf family now. It's really cool.

So all I can say is it is such a privilege and an honor that Dennis's dad and mom would bring him to the University of Chicago Medicine and to myself to get his implant.
The audiologist clicked a link on her computer screen, and 10-month-old Dennis Hill perked up. His eyes began to dart around the room.
"Denny?" his mom said.
"Can you hear me?" his dad said, as a smile spread across Dennis' face.
Born with hearing loss, Dennis' new cochlear implant had just been turned on and he was hearing his parents' voices for the first time. Minutes later, he was smiling and babbling, possibly hearing his own voice for the first time, too.
She did such a great job for me, and for a friend of mine, that I knew she would do a great job for my son.
It was an emotional moment for his parents, Michael Hill, 23, and Jenna Jones, 24, of Roscoe, Ill., who are both deaf and have cochlear implants — an electronic device that's implanted in the ear and uses a microphone and transmitters to provide sound.
Nine years earlier, University of Chicago Medicine surgeon Dana Suskind, MD, performed Michael's cochlear implant surgery when he was 14. It changed his life, and he wanted his son to have the same surgeon.
"The surgery itself hasn't changed in nine years," Suskind said. "It's the external software components which have advanced, improving both the sound quality and speech and language outcomes."
This was not the first time Suskind performed cochlear implant surgery for members of two generations in one family. But she said this was a special case because Dennis' parents made the "bold and admirable" decision to raise him bilingual. That means he'll be able to hear and speak, thanks to his cochlear implant, and he'll also be fluent in American Sign Language (ASL). Both parents are bilingual themselves.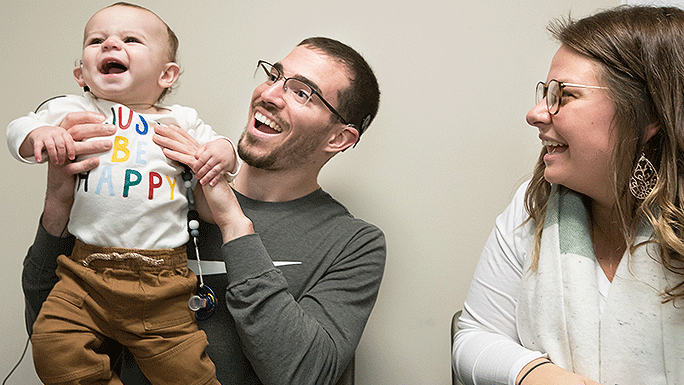 Being part of both the hearing and deaf worlds is a sensitive topic in the deaf community. Some believe a deaf person should proudly own the identity and embrace deaf culture and language. Giving a cochlear implant to a deaf or hearing impaired child becomes an inflection point, changing the trajectory ahead.
Suskind emphasized that rich early language exposure in any language, spoken or signed, is paramount to a child's development.
"The earlier you expose kids to rich language development, the better it is," said Suskind, a pediatric otolaryngologist and author of the book "30 Million Words: Building a Child's Brain."
Children born deaf to deaf parents who are fluent in sign language have the benefit of being exposed from day one to a vibrant and stimulating early language environment. Those who receive cochlear implants and access to sound from the device become bilingual, and part of both worlds.
Research has proven bilingualism has positive benefits on a child's executive function.
"Dennis is incredibly lucky," Suskind said. "His parent's choice will allow him to be fluent in American Sign Language and have mainstream spoken language trajectories."
Dennis' parents based their decision on personal experience.
Jenna Jones, Dennis' mom (and Michael's fiancé), got her cochlear implant when she was 18 months old, a contrast to Michael, who used hearing aids until he got his implant at age 14. Because she was able to hear all her life, Jenna can speak and hear more clearly than Michael, making it easier for her to do things like talk on the phone.
Michael remembers struggling to adjust to his cochlear implant as a teenager. The implant surgery takes about 2 to 3 hours, and the cochlear implant is turned on a few weeks later.
"I hated it at first. I didn't want to wear it. I can't explain it, but the sound was different than it was when I wore hearing aids. It takes a lot of getting used to. But once I did, it was life changing. Now I wish I'd gotten it a long time ago. I'm sure Dennis will be able to hear and talk a lot better than I can," Michael said.
Jenna and Michael are confident people will accept their decision and welcome Dennis into both communities, just like they were.
"ASL will always be Dennis' first language. We've been signing with him since birth," Jenna said. "The deaf community has amazing and intelligent people. I am so blessed to have wonderful friends who do and don't have cochlear implants or hearing aids, and we all accept who we are. I look forward to Dennis meeting more people in the deaf community and finding his own path."
In the months and years to come, pediatric audiologist Michelle Gozdecki said Dennis will still need regular check-ups to make sure the implant is working at the proper level.
Dennis's parents were willing to make the 2 ½ hour drive each way just so the cochlear implant could be performed by Suskind, co-founder of UChicago Medicine's Pediatric Cochlear Implant Program and founder of the TMW Center for Early Learning + Public Health.
"She did such a great job for me, and for a friend of mine, that I knew she would do a great job for my son," Michael said.
Read More About Otolaryngology