Skip to content
Wildly popular Pathoma course creates an unlikely celebrity in medical education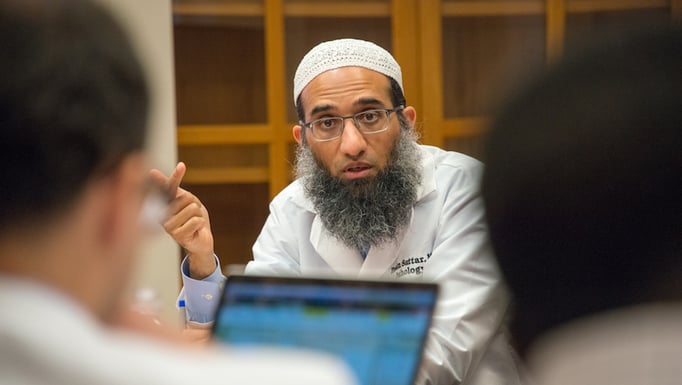 When Husain Sattar, MD, took a leave of absence from medical school to study Arabic and Islamic spirituality in Islamabad, Pakistan, he spent his days in a classroom that had walls made of clay and would heat up to 120 degrees in the summer. In the winter, the unheated classrooms were freezing — Islamabad sits at the foothills of the Himalayas — and Sattar, who was born and raised in the Chicago suburbs, sat on the floor with the other students shivering and dreaming of summer.
It was a far cry from the University of Chicago, where he earned his undergraduate and medical degrees and later did his internship, residency and fellowship. Besides the lack of creature comforts, his instructors did not have fancy diplomas from prestigious universities. But there was a Pakistani teacher who made an impression on Sattar — one that planted the seed for Sattar's wildly successful textbook and video series on pathology known as Pathoma.
"This teacher always came to class without notes," Sattar said, recalling the instructor with the gray beard who smiled often and dressed in the traditional Pakistani garb of loose pants and tunic-like shirt. "He would say, 'If I can't tell you about it from the top of my head, then I shouldn't be telling you about it at all.'" The man lectured passionately, as if there were 3,000 people in the room instead of eight, but what the young American medical student found most impressive was his skill distilling colossal amounts of material. "He had this ability to take vast amounts of information and summarize it in the most eloquent, simple, principle-based method," Sattar said.
He has this amazing way of explaining concepts. He simplifies things to the most basic elements.
Fast forward nearly 20 years and that is exactly what thousands of medical students who use Pathoma say about Sattar. "He has a remarkable gift for clarity," said Palmer Greene, a third-year student at the University of Chicago Pritzker School of Medicine. "He can take the pathophysiology of any organ system and present the information in a way that makes the entire mechanism click in your head." Lucy Rubin, a fourth-year at Tufts University School of Medicine, has similar praise: "He has this amazing way of explaining concepts," she said. "He simplifies things to the most basic elements."
It took years, Sattar says, to get to that point. After two-and-a-half years in the Middle East — he also spent time in Syria — he returned to Chicago to start his fourth year at Pritzker, worried that he had forgotten what he had learned while he'd been away. "When I came back, that was the hardest month of my life," he recalled. "I remembered very little and I was thrown back into that medical school environment, in which there's not much forgiveness for not knowing things." Each night he focused on what he needed to know to get through the next day, eventually catching up.
At the same time, he started to look at his medical knowledge differently, realizing he had been memorizing details but missing the big picture. "I began to think, 'Why don't I rearrange this and reprocess this in this way?'" he said. "I did a tremendous amount of reading so I could see how different people were saying the same thing until I had it organized into different folders in my mind." For example, he said, understanding the pathology of the different anemias was challenging until he came up with this method: "The way I think about anemia is I go back to biochemistry and focus on hemoglobin. That's what a red blood cell is. It's just a ball full of hemoglobin with a membrane around it. So I teach anemia based on hemoglobin and talk about different things that can happen to hemoglobin from a biochemistry perspective, how it relates to anemia, and how you can organize much of anemia through this overlying principle of understanding the biochemistry of hemoglobin."
Building a career, writing day and night
At the same time Sattar was reorganizing his understanding of medicine, he was also building his career. In his fourth year, he completed a pathology rotation and decided he liked the specialty, in part because patient interaction was minimal, affording him more time for reflection. "I'm someone who needs to digest something before I can feel comfortable with it," he said. "Pathology sort of lent itself to that."
Sattar completed his residency at the University of Chicago Medicine, eventually joining the faculty as a surgical pathologist specializing in breast pathology. He is associate director of Clinical Pathophysiology and Therapeutics, a second-year course at Pritzker. He has earned a number of teaching honors — including Outstanding Basic Science Teaching and Favorite Faculty awards — and became a top-ranked instructor for Kaplan Medical, where he taught review courses for the United States Medical Licensing Examination (USMLE) Step 1.
It wasn't until 2010, however, that he decided to try out the techniques of his Pakistani mentor combined with his own hard-won pathology knowledge. He asked Dean Holly Humphrey, MD'83, if he could teach an elective course for Pritzker students preparing for Step 1.
He sent out an email, imagining he might get 30 students to sign up. Instead he got 90. "I was teaching it the way I felt pathology should be taught, just me sitting and chatting with the students, no notes, nothing," he said. "Just me talking about how I think about different principles of pathology and how I tie different basic science principles in with disease states. It's about memorizing less and understanding more."
After that, he decided to write the textbook that would become part of the Pathoma course, Fundamentals of Pathology. "I began writing day and night," he said. "I literally hired someone to drive me back and forth from home to work so I could sleep in the car." In his basement, with his wife and children upstairs asleep, he recorded the videos, turning off the furnace or air conditioner, depending on the season, so the noise wouldn't affect the sound quality — he wanted to keep expenses low so that Pathoma would be affordable (it sells for about $100).
Nine months later, he published the book and videos — and no one bought them.
"I was so sad," he recalled. "I hired my own editor, my own layout person, my own reviewers, I did everything on my own — to the extent of sampling the paper stock — because I wanted this to be exactly my vision." After a few months, a student suggested that Sattar give sample lectures from Pathoma at other medical schools. The advice worked. Soon news of Pathoma went viral. Since 2011, more than 6 million hours of video lessons have been viewed online through the portal on pathoma.com. And students from all over the country and the world praise it on message boards, blogs and in social media:
Pathoma is the best thing i have ever done, i was an avg student that almost failed pathology in med school .. took step1 a month ago and ended up with above avg in path with star on the performance scale.
I'll say it loud and clear: Pathoma is the best single patho(physio)logy system out there . . . It is well-organized, informative, and is as digestible as lactose to a baby.
The guy who made pathoma gets my kidney if he ever needs it.
'A real deep need for something like this'
So why do students love Pathoma? Well, there is Sattar's serene speaking style. "He has this air of benevolence, this calming presence in the midst of a year when everyone is stressing out about Step 1," Greene said. There are his basic, yet effective diagrams — some students joke that a stick figure would be complex for Sattar. "There's this picture he drew when he was describing everything that was going on in the heart — a 2 by 2 grid of four boxes — and I never stopped thinking about it that way," Rubin said.
And students appreciate that he doesn't waste time with extraneous details. "I never felt like he was giving me information I didn't need to know," said Courtney Lattimore, a fourth-year student at the University of Louisville School of Medicine. "In medical school being taught by so many different professors, you're often muddling through, trying to figure out what's important. You know, 'What do I really need to know?' But everything in his book was useful and appropriate."
Now that Pathoma is so popular, medical publishers have flocked to Sattar's office eager to learn what he did. Sattar is proud he was able to illustrate a new way of teaching medical concepts. "I think the fact that it got big so quickly shows there's a real deep need for something like this. Others are now picking up on that, and that's great. We need to advance medical education as much as we can."
Meanwhile, he continues to feel grateful for the influence of that Pakistani teacher back in Islamabad at the bottom of the snowcapped Himalayas. "I like to think a few months of sitting there, on that dirt floor, has now affected tens of thousands of medical students."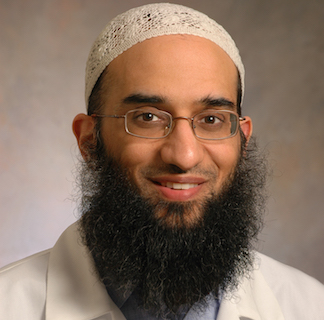 Husain Sattar, MD
Husain Sattar, MD, is a surgical pathologist with particular skill and experience in breast and gynecologic pathology. Also an active educator and lecturer, Dr. Sattar is the associate director of the clinical pathophysiology and therapeutics course at the Pritzker School of Medicine.
Learn more about Dr. Sattar
Patient Care Articles & News