Skip to content
​UChicago Medicine named 'LGBTQ Healthcare Equality Leader'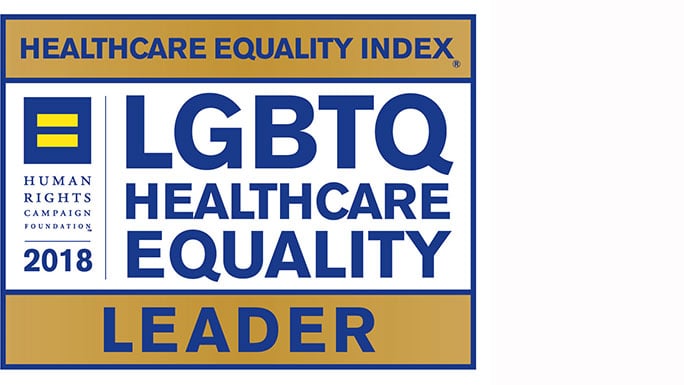 The University of Chicago Medicine was named an "LGBTQ Healthcare Equality Leader" by the Human Rights Campaign Foundation (HRC) for the fourth year in a row for the academic medical center's inclusive policies and practices related to LGBTQ patients, visitors and employees.
The designation was awarded in the 11th edition of the Healthcare Equality Index (HEI), released today. A record 626 healthcare facilities actively participated in the HEI 2018 survey, with the HRC Foundation proactively researching key policies at more than 900 additional non-participating hospitals.
"Receiving this designation demonstrates UChicago Medicine's continued commitment to ensuring we are an organization that welcomes diversity and understands its benefits in providing quality care for our patients and a safe, inclusive work environment for our employees," said Brenda Battle, BSN, MBA, RN, vice president, Urban Health Initiative and chief diversity and inclusion officer.
UChicago Medicine was one of 418 facilities nationwide to earn the "LGBTQ Healthcare Equality Leader" designation, including a total of 10 in Illinois.
The 11th edition of the HEI marks the second year that participants are given a numerical score based on their LGBTQ-inclusive policies and practices. HEI participants are given scores in four criteria:
Foundational elements of LGBTQ patient-centered care
LGBTQ patient services and support
Employee benefits and policies
LGBTQ patient and community engagement
UChicago Medicine received the maximum score in each section, earning 100 points and the coveted "2018 LGBTQ Healthcare Equality Leader" status.
"With some of our biggest battles still ahead of us, it is crucial that institutions continue to demonstrate that the march toward full equality is not slowing down," said HRC President Chad Griffin, in a statement. "The 626 participants in this year's HEI continue this march in lockstep with the LGBTQ community."
News from UChicago Medicine