Skip to content
Renowned diabetes expert Louis Philipson receives Illinois' highest civilian honor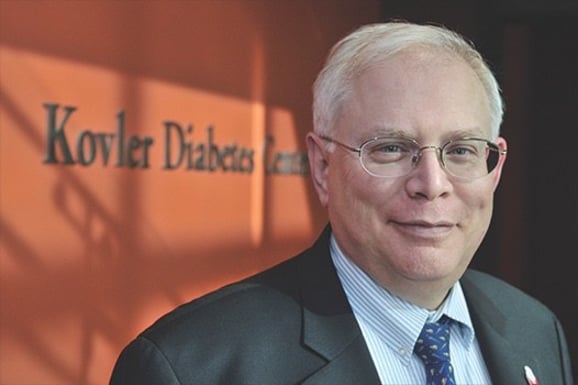 Louis H. Philipson, MD, PhD, director of the University of Chicago Medicine Kovler Diabetes Center, is a recipient of the 2018 Order of Lincoln Award.
The Order of Lincoln, established in 1964 by Illinois Gov. Otto Kerner Jr., honors individuals whose "contributions to the betterment of humanity" have been accomplished in Illinois, and whose public service responds to what President Abraham Lincoln called "the better angels of our nature." The award is now considered to be the state's highest civilian honor.
"This year's Order of Lincoln recipients are an extraordinary group of individuals that truly embody President Lincoln's relentless and passionate spirit for public service," Gov. Bruce Rauner said in a statement. "They have positively changed their communities in numerous ways, and their contributions will impact Illinois and the world for generations to come. It is my honor to award them the Order of Lincoln."
Philipson, a professor of medicine and pediatrics at UChicago Medicine, is a world-leading authority on diabetes. He is the founding director of the Kovler Diabetes Center and president of the Chicago Community Leadership Board of the American Diabetes Association. He and his colleagues have discovered insulin gene mutations that cause neonatal diabetes, and he has helped make UChicago Medicine the national leader in the study of monogenic diabetes. He also directs research in preventing and treating type 1 diabetes. Philipson completed his PhD and medical training at the University of Chicago, and is a graduate of Harvard College.
"It is a tremendous honor to receive this award in the name of one of my heroes, Abraham Lincoln, and I am grateful to be included among people who have made such significant contributions," Philipson said.
Philipson is one of eight people to receive the honor this year. He will receive the award during a formal ceremony in early May when the Lincoln Academy of Illinois holds its annual convocation at the historic Coronado Theatre in Rockford. The latest laureates will join a group of 340 distinguished Illinois citizens who've been inducted into the order during the past 54 years.
Read more about the other 2018 Order of Lincoln recipients at thelincolnacademyofillinois.org.
Patient Care Articles & News