Skip to content
Public safety team earns 'Program of Distinction' status from industry group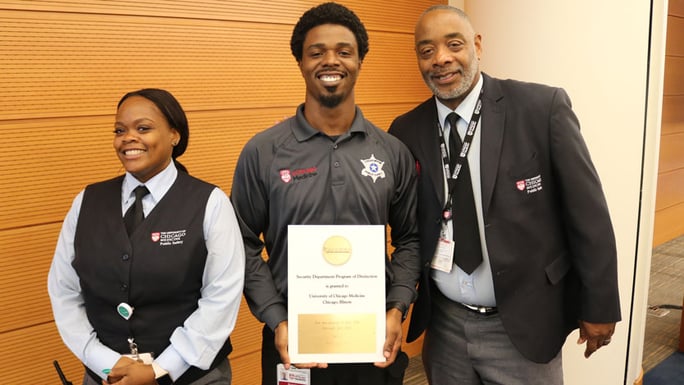 Members of the public safety department pose with a plaque from the International Association of Healthcare Security & Safety.
The University of Chicago Medicine public safety department has earned a "Program of Distinction" designation from the International Association for Healthcare Security & Safety (IAHSS).
The team of more than 100 employees is the second hospital in Illinois — and the 45th in North America — to receive the top honor, which is given to exemplary hospital security programs. UChicago Medicine's public safety team is responsible for maintaining a safe environment for patients, visitors and staff at the 811-bed medical campus in Hyde Park.

"Our officers made the commitment to learning the fundamentals of health care security through this rigorous certification process," said Scott Levy, director of public safety and parking at UChicago Medicine. "Many places have security guards. We don't have guards — we have officers. The difference is clear in our team's commitment to service excellence."

So far, 95 percent of the department's public safety employees have successfully passed the IAHSS Certified Healthcare Security Officer examination — exceeding the 70 percent required for the designation. The group also required Levy to become a Certified Healthcare Protection Administrator.

Levy said the public safety team was inspired to pursue the designation after the hospital's nursing staff spent years earning Magnet recognition for exemplary patient care. Since passing the initial exam requirement, many public safety employees have earned additional advanced certifications.

"As an academic medical center, learning is at the heart of what we do, which is why I am pleased to see the commitment made to training and development within our public safety department," said Sharon O'Keefe, president of the University of Chicago Medical Center. "Training and continuous improvement is at the core of our security mission."

Since opening a new adult emergency department in December and launching Adult Level 1 trauma services in May, UChicago Medicine's public safety team has tripled its staff presence in the emergency room. In July, UChicago Medicine also began requiring visitors to check in and receive passes to access inpatient units. The public safety team issues about 1,800 passes a day.