Skip to content
UChicago Medicine's Philipson highlights challenges in diabetes care, sees benefits in precision medicine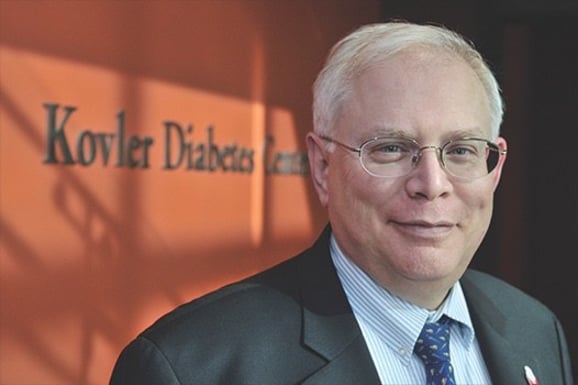 Difficulties in securing adequate funding for research and the affordability of critical drugs, such as insulin, are two of the significant hurdles that must to be addressed to confront the growing "epidemic" of diabetes, said Louis H. Philipson, MD, PhD, the James Tyree Professor of Medicine and Pediatrics and the director of the University of Chicago Medicine Kovler Diabetes Center.
"The challenges facing the diabetes community, people with diabetes, the medical professionals, advocates, have never been greater," said Philipson, in his presidential keynote address to the American Diabetes Association's 79th Scientific Sessions, held June 7-11 in San Francisco. Listen to his presentation and see his slides here.
Philipson, a world-leading authority on diabetes, is the 2019 president for Science and Medicine of the ADA and is the founding director of the Kovler Diabetes Center.
UChicago Medicine's Kovler Diabetes Center is one of the preeminent research and clinical care centers in the world. Its expertise in genetic testing enables a better understanding, diagnosis and treatment of patients with all types of diabetes, but particularly those with so-called atypical diabetes that is neither Type 1 nor Type 2.
Precision Medicine Can Play Positive Role in Diagnosis and Treatment
Philipson's presentation centered largely on the benefits of precision medicine and the key role genetics can play in the diagnosis and treatment of all people with diabetes, not just atypical diabetes. The goal of precision medicine is to use a deep understanding of the mechanisms behind disease and biomarkers to develop the best therapies to produce the superior outcomes.
"While we often rightfully focus on the millions of people who have or will have diabetes, there are times when an interaction with a single person with diabetes is transformational, both for the patient and the physician," he said.
He recounted a chance meeting with Mike and Laurie Jaffe, whose daughter Lilly was diagnosed with neonatal diabetes and began taking insulin at two months old. When she was six, Philipson and his team discovered that she had a particular genetic mutation that was causing the diabetes. This type of mutation responds to another treatment, sulfonylurea glyburide. She has not taken insulin for more than 12 years. The Jaffes recount Lilly's story in the documentary, "Journey to a Miracle – Freedom from Insulin."
"There is nothing I can think of in my professional life that is more rewarding than telling a person with diabetes that they no longer have to take insulin, no longer have to check their blood sugar – or that we can replace insulin with tablets, and sometimes, with no treatment at all, using the insights from human genetics that have been developed over the last 25 years," he said. "That is the ultimate promise of precision medicine - finding an inexpensive drug that exactly fixes a problem to simplify and improve treatment."
A fundamental component of precision medicine is a detailed family history – something he exhorted the gathered clinicians and researchers to do on multiple occasions.
Detailed Family Histories, Genetic Testing Can Drive Improved Treatments
Philipson recommended physicians identify which patients would benefit from genetic testing and recognize that more effective treatments could be guided by the discovery of specific mutations. He also said that the use of such approaches to diagnosis and treatments can have a significant impact on entire families for generations to come.
"Clinicians can start now to use biomarkers, family history and genetics to push the use of precision medicine in diabetes today," he said. "You will be rewarded if you do so."
The ADA's 79th Scientific Sessions is a five-day conference that attracted about 15,000 researchers and clinicians from around the world. There are about 180 sessions during the conference with more than 2,000 original research presentations.
Many UChicago Medicine physicians and researchers presented results to studies or provided insights into various aspects of diabetes at the many sessions spread out over the conference.
Kovler, which is part of the UChicago Medicine's Dept. of Endocrinology, is one of very few sites around the world that treats both pediatric and adult diabetes patients in one center. This approach enables physicians to provide a continuum of care for pediatric patients as they develop into adulthood, and also provides treatment and counseling for whole families.
For more than 25 years, Philipson has tirelessly explored the biophysical, molecular and genetic aspects of insulin secretion, and the genetics of diabetes. He and his colleagues discovered rare insulin gene mutations that produce beta cell ER stress and, in turn, cause neonatal diabetes. In addition, he and his colleagues are among the nation's leading experts on monogenic diabetes, following more than 100 patients diagnosed with neonatal diabetes and many others with maturity-onset diabetes of the young (MODY) type diabetes.
Kovler's research team consists of University of Chicago faculty working in diabetes-related research areas, including genetics and epidemiology, immunology, islet biology, signal transduction, obesity, sleep and stem-cell biology.
Philipson also directs research in preventing and treating type 1 diabetes. He completed his PhD and medical training at the University of Chicago, and is a graduate of Harvard College.
Patient Care Articles & News