Skip to content
UChicago Medicine leads Illinois hospitals in consumer loyalty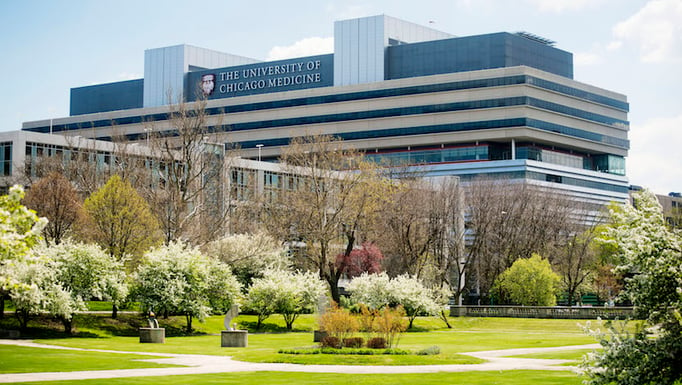 The University of Chicago Medicine ranked among the top 10 hospitals nationwide in the 2017-2018 NRC Health Consumer Loyalty Award for providing a high-quality of care that makes patients want to return to the academic health system for future health care needs.
NRC Health conducts ongoing national surveys of consumer and patient insights into the quality of care they receive from their local and regional health care providers. UChicago Medicine was the only Illinois hospital ranked among the top 20 medical providers in the firm's inaugural consumer loyalty award program.
The award is based on the NRC Health Loyalty Index which includes data from seven aspects of patient care: access, brand score, engagement, need, motivation, experience, and Net Promoter Score (NPS). The loyalty data is sourced from the Nebraska-based firm's nationally syndicated Market Insights survey, which measures the opinions and behaviors of 310,000 consumers annually.
In order to qualify for the Consumer Loyalty Award, each medical facility had to secure at least 150 top of mind mentions on the Market Insights survey from June 2017 through May 2018. Only the top 100 facilities were recognized with the Consumer Loyalty Award.
Here are the top 20 hospitals receiving the award:
CHI Memorial Hospital Chattanooga
New York-Presbyterian Weill Cornell Medical Center
Hospital of the University of Pennsylvania
University Health Care
McLeod Regional Medical Center - Florence
Nebraska Medicine
University of Chicago Medicine
University of Iowa Hospitals and Clinics
UW Health
Hoag Memorial Hospital Presbyterian
St. Vincent's Birmingham
Iowa Methodist Medical Center
University of Michigan Hospitals & Health Centers
Kaiser Permanente South Sacramento Medical Center
University Hospital
Brigham and Women's Hospital
Lafayette General Medical Center
Methodist Le Bonheur Germantown Hospital
Duke University Hospital
Cleveland Clinic Hospital – Cleveland
To view NRC's' full results, go to nrchealth.com.