Skip to content
Evolving definitions of health in older people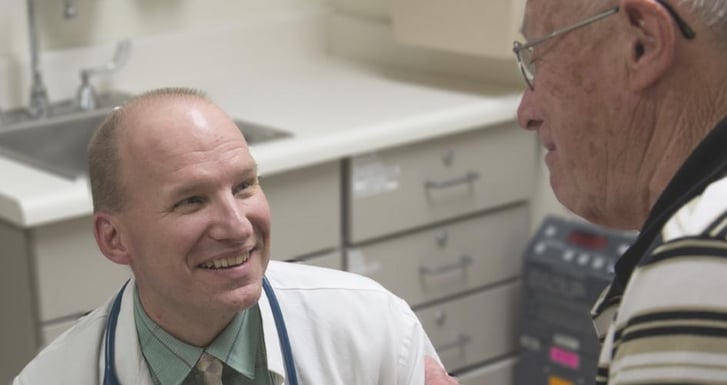 A UChicago research team including Assoc. Prof. William Dale has published research that provides new perspectives on how to define the health and well-being of aging Americans. Medical care for older patients traditionally tends to focus on individual ailments--things like cancer, heart disease, diabetes, high blood pressure, and high cholesterol. While this so-called "medical model" addresses the immediate needs of the patient, it can miss the bigger picture of their overall health and well-being.
In May, a multidisciplinary team of researchers from the University of Chicago published a study of thousands of people aged 57 to 85, and found that a "comprehensive model" of health and aging that includes other factors such as psychological well-being, sensory function, mobility and health behaviors can better predict mortality than the traditional medical model.
"The new comprehensive model of health identifies constellations of health completely hidden by the medical model and reclassifies about half of the people seen as healthy as having significant vulnerabilities that affect the chances that they may die or become incapacitated within five years," said Prof. Martha McClintock, the David Lee Shillinglaw Distinguished Service Professor in Psychology at UChicago and lead author of the study.
Co-authors on the paper, published in Proceedings of the National Academy of Sciences, included Linda Waite, the Lucy Flower Professor in Sociology, geriatrician William Dale, associate professor of medicine, and chief, Section of Geriatrics & Palliative Medicine at UChicago Medicine; and sociologist Edward Laumann, the George Herbert Mead Distinguished Service Professor in Sociology.
The study suggested that there should be a shift in how we deliver health care to seniors, and a viewpoint published in the Journal of the American Medical Association today picks up on that theme. Referencing the UChicago team's work, William Applegate and Edward Ip from Wake Forest say that this new definition of health for older patients should extend to payment models for health care as well. A reimbursement system that took a broader view of health would allow physicians to take a more balanced approach to care as well.
"Less emphasis could be placed on expensive procedures and more time spent assessing and advising patients and their families," they write. "Care teams could be redesigned to provide the type of medical, physical, and counseling services a comprehensive model would require. Sites of care would evolve to a broader model of care delivered more efficiently through a combination of clinical site, electronic, and home-based care."
Read more on the initial study by McClintock and team from UChicago News.
Patient Care Articles & News