Skip to content
Collaboration with Almoosa Specialist Hospital to bring UChicago Medicine's clinical expertise to patients in Saudi Arabia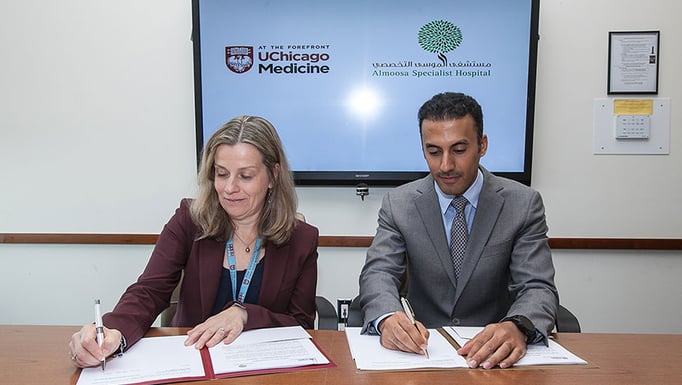 The University of Chicago Medicine and Almoosa Specialist Hospital, a private hospital in the Al-Ahsa region of Saudi Arabia offering comprehensive medical care, have signed a collaboration agreement.
UChicago Medicine has been a leading academic medical institution in the United States for more than 90 years, and operates four major inpatient facilities, eight ambulatory care facilities and 1,286 beds. Twelve Nobel Prize winners in physiology or medicine have been affiliated with the University of Chicago.
Under the agreement, UChicago Medicine will provide advisory services to Almoosa Specialist Hospital to help enhance several clinical and non-clinical areas, including, supply chain management, quality & reporting, strategic planning and clinical and executive training and education.
"On behalf of the Almoosa family, I welcome the opportunity for our hospital to work closely with the University of Chicago Medicine," said Malek Almoosa, CEO of Almoosa Specialist Hospital. "Together, we hope to introduce new platforms in the Saudi market that reflect the current and future needs of our community. Our agreement is an important step in realizing our hospital's vision of becoming a world-class health system that champions wellness and healing."
As part of the collaboration, UChicago Medicine will work with Almoosa leaders to develop more comprehensive clinical programs in areas such as cardiology, oncology, and orthopaedics. In addition, both organizations will explore opportunities for telemedicine to bring UChicago Medicine's clinical expertise to patients in the region. UChicago Medicine specializes in surgical management of heart failure, particularly among high-risk cardiac surgery cases. That includes a history of more than 1,000 heart transplants, as well as national acclaim in the United States for complex valve reconstruction, bloodless cardiac surgery and cardiovascular imaging.
Among areas to enhance Almoosa's health-system development, UChicago Medicine will share best practices in patient experience, which typically includes clinical quality, ease of access to care, patient satisfaction, and person-centered care.
"This agreement is going to allow UChicago Medicine and Almoosa Specialist Hospital to work together to open channels for transferring knowledge and enhancing the delivery of care in the Kingdom of Saudi Arabia," said Audre Bagnall, Executive Vice President for Business Development and Chief Strategy Officer. "UChicago Medicine is excited to be collaborating with such an innovative and mission-driven organization. We look forward to working with Almoosa Specialist Hospital to bring UChicago Medicine's expertise to the region."
About Almoosa Specialist Hospital
Established in 1996 as the first private hospital in Al-Ahsa, Saudi Arabia, Almoosa Specialist Hospital is a leading integrated health services provider, focusing on patient centered care, with highly qualified medical, technical and administrative staff using the latest equipment, thus keeping pace with the needs of visitors from all regions of the Kingdom and neighboring Gulf. Almoosa Specialized Hospital is one of the largest hospitals in the region with 240 inpatient beds. Another 220 beds will be added upon completion of the new North Tower which is due to be completed in 2020 and be the home of 4 centers of the excellence (Bone and Joint Center, Heart Center, Cancer Center, Neuroscience Center). Almoosa Specialist Hospital has long offered specialty medical services, and is adding a major service line expansion with a new 300 bed rehabilitation and long term care facility. The hospital employs more than 2300 caregivers with more than 700 nurses and 250 full-time physicians. It is accredited by major international and regional accreditation bodies such as Joint Commission International, CBAHI, and College of American Physicians. It hosts a Bariatric Center of Excellence and was the first hospital in Middle East to receive the Planetree Golden Certification for excellence in patient centered care. It is a teaching hospital accredited by the Saudi Commission for Health Specialties to train physicians under the Saudi Board program.
Visit Almoosa Specialist Hospital at almoosahospital.org.
News from UChicago Medicine