Skip to content
Meniscus tear is treated with robotic-arm assisted total knee replacement surgery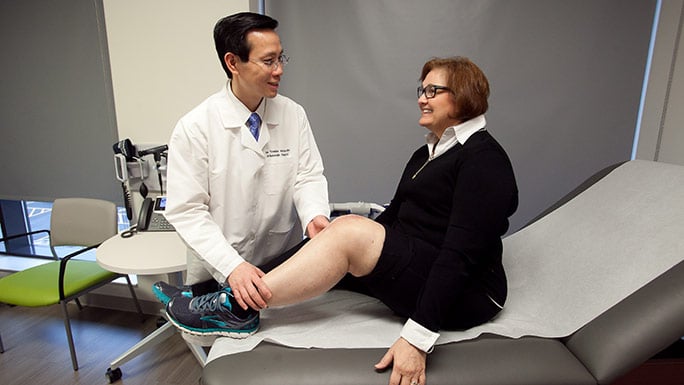 Hue Luu, MD, and Karen Gamperl during a follow-up appointment.
Michael and Karen Gamperl both needed knee replacements.
The husband and wife from Homer Glen, Ill., had been seeing University of Chicago Medicine orthopaedic surgeon, Sherwin Ho, MD, for treatment of knee pain related to meniscus tears and arthritis for several years.
"Over time, we had arthroscopic surgery, gene therapy and cortisone injections," said Karen, "but we both got to the point that knee replacement surgery was the next best option for relieving the pain."
Ho referred the couple to colleague Hue Luu, MD, an expert in knee and hip replacement. Luu recommended robotic-arm assisted total knee replacement surgery, a less invasive option than the traditional joint replacement procedure.
"Working with the robotic arm technology has many advantages for patients," Luu said. "For example, the surgical team can do a more precise alignment of the implant leading to a more natural motion of the joint after recovery."
Karen volunteered to go first. Luu performed a robotic arm-assisted replacement of her right knee in November 2016. Within a few months, she was out walking her three dogs, Zoe, Maddie and Macy on a trail near her home.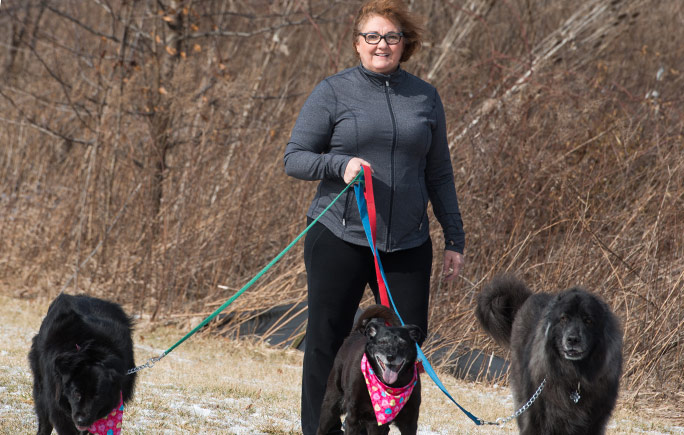 Karen Gamperl can enjoy walking again after knee surgery.
"The range of motion is normal," she said. "I can't tell it's not my real knee. It was a fantastic procedure for me."
Seeing his wife's success, Michael scheduled robotic surgery to replace his right knee in January 2017. "He's also doing great," Karen said. The couple had planned to sell their split-level house, but have decided to stay in their home longer now that they can more easily climb the stairs.
Karen is considering getting the same procedure done on her right knee.
"My results were so good, that I want Dr. Luu to do exactly what he did with the left knee," she said.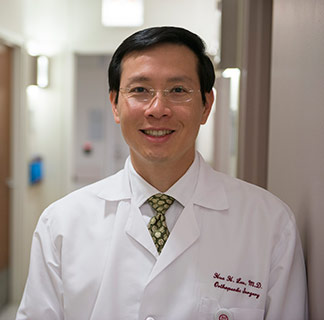 Hue Luu, MD
Hue Luu, MD, is skilled in the surgical care of bone and soft tissue tumors. He also specializes in joint replacement surgery, including both direct anterior and posterior-lateral hip approaches for hip replacements.
Learn more about Dr. Luu
Orthopaedic Knee Care
The orthopaedic specialists at the University of Chicago Medicine offer comprehensive non-operative, arthroscopic and joint replacement care for patients with knee injuries and knee pain.
Explore our knee services
Learn more about orthopaedic care