Skip to content
University of Chicago Medicine named Center of Excellence by Cure HHT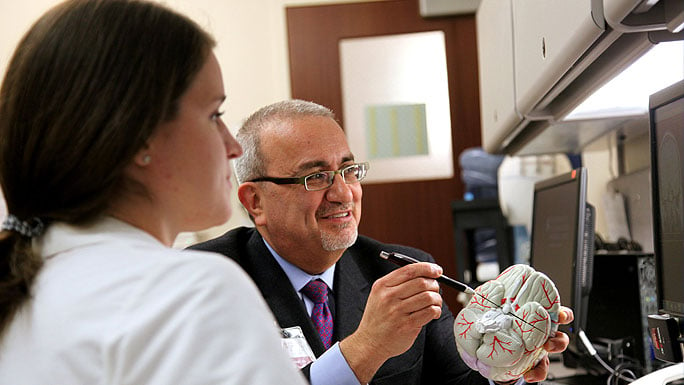 Patients with hereditary hemorrhagic telangiectasia (HHT), a rare genetic disorder that causes abnormal blood vessel formation, wage a lifelong battle against skin lesions, frequent nosebleeds and potentially life-threatening malformations in vital organs. But a major obstacle can be simply finding doctors who are familiar with the disease.
For HHT patients and their families in Chicago and beyond, the University of Chicago Medicine is now designated as an HHT Center of Excellence by Cure HHT, the worldwide advocacy group for the disorder. This honor recognizes UCM as the 22nd center in North America and the only facility in Illinois that specializes in the diagnosis and comprehensive care of HHT.
Modeled to deliver the latest evidence-based evaluations and treatments, the HHT Center of Excellence at UCM brings together experts from every medical subspecialty required to manage the many facets of the disease. Under the leadership of Issam Awad, MD, John Harper Seeley Professor of Surgery and Director of Neurovascular Surgery, UCM has assembled a team of leading physicians with the knowledge, resources and expertise to address the specialized needs of HHT patients.
"The University of Chicago Medicine is uniquely equipped to treat HHT," said Awad, who serves as medical director for the HHT Center. "Here, there is no extra effort required to find specialists who are familiar with HHT, and who can access the most advanced infrastructure in their specialties to serve the disease for both adults and children."
HHT is a genetic disorder that affects more than 1.4 million people worldwide. An estimated 90 percent of people with HHT are undiagnosed. Formerly known as Osler-Weber-Rendu Syndrome, it causes varying degrees of abnormal blood vessel formation throughout the body, usually manifesting in the form of skin lesions on the lips, nose, fingers and other areas. Lesions in the lining of the nose cause frequent nosebleeds, a common hallmark of HHT. Patients also typically suffer frequent nasal complications and severe anemia. Many patients harbor blood vessel malformations known as AVMs in organs such as the lungs, liver and brain, some of which can be life threatening if untreated.
When a Chicago-area HHT patient was diagnosed with AVMs in her brain and lungs, she had few places to turn. But her doctor had previously worked with Awad and knew of his expertise in HHT. After a quick call and referral, she arrived at the University of Chicago Medicine. Highlighting the complex nature of HHT care, Awad arranged for a number of tests and evaluations by a multidisciplinary team of specialists. She was genetically screened by Darrel Waggoner, MD, Medical Director for Human Genetics, to verify the precise genetic mutations that caused her disease. Neurosurgeon Bakhtiar Yamini, MD, oversaw her neurosurgical care, and Seon-Kyu Lee, MD, PhD, Director of Interventional Neuroradiology, treated her brain AVM through embolization. Brian Funaki, MD, Section Chief of Vascular and Interventional Radiology, helped screen her and rule out a life-threatening pulmonary AVM.
"This is a disease that affects multiple organs," Awad said. "Patients need treatment for anemia and nosebleeds. The skin lesions require dermatological input. Every patient needs to be screened for lung and brain AVMs. They need genetic screening, and checked need to be checked for colon cancer or liver AVMs if they have particular mutations. In order for patients to live chronically with HHT, we have to identify all potentially fatal problems and eliminate the ugly features of the disease."
Delighted with her treatment, the patient and her family spread the word to other Chicago-area HHT patients. Soon, awareness swelled in the HHT community, and the University of Chicago Medicine was invited by Cure HHT to establish a HHT Center. "We are delighted that HHT multidisciplinary care will now be a reality in Chicago and the surrounding states," said Cure HHT Executive Director Marianne Clancy.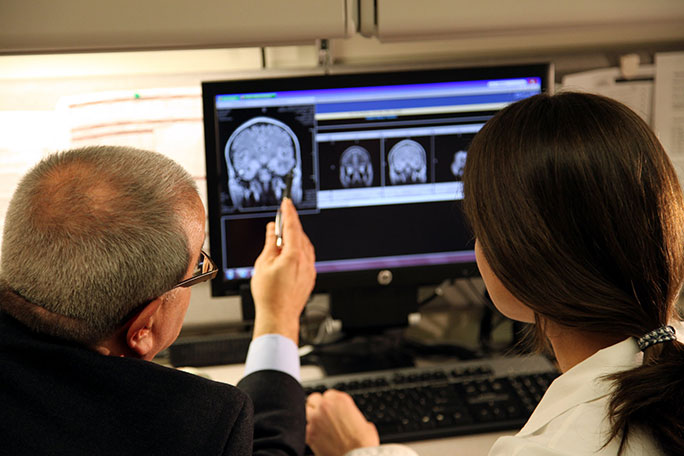 The Center deploys a uniform screening and triage protocol, ensuring that each patient receives the needed testing and is connected with appropriate specialists. Each patient is seen in initial comprehensive multisystem evaluation by the Center's Medical Director. Subsequent care is coordinated with the appropriate specialists at UCM and patient's physicians in the community. Nine of the doctors on the HHT team have been named as "Top Docs" by Chicago magazine.
In addition to comprehensive clinical care, many UCM physicians involved in the Center have dedicated their research careers to vascular malformations such as those seen in HHT, including Jessica Kandel, MD, Surgeon-in-Chief of the University of Chicago Medicine Comer Children's Hospital and Chief of the Section of Pediatric Surgery.
"It was almost a 'no-brainer' for us to make the decision to come together and establish an HHT center," Awad said. "The team culture is well established here. It's in our DNA to work together."
For preliminary screening or to access our HHT Center specialists, patients or referring doctors should call 773-702-4452 For more information on HHT, visit http://www.uchospitals.edu/hht
For more information on the HHT team at UChicago, visit http://www.uchospitals.edu/hht/team.html
Neurology & Neurosurgery Articles