Skip to content
University of Chicago Medicine and Peking Union Medical College Hospital sign MOU to enhance clinical and academic exchange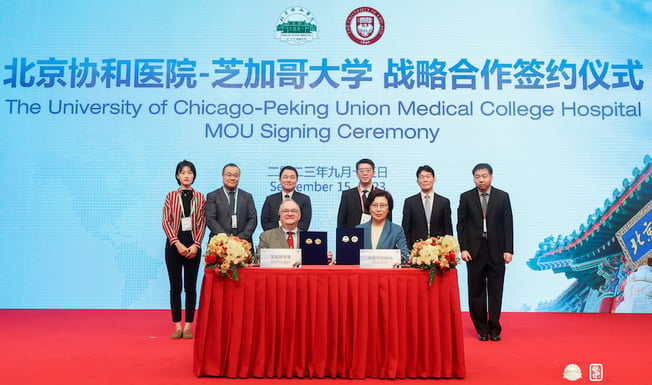 University of Chicago Medicine and Peking Union Medical College Hospital signed an agreement in September 2023 to enhance their clinical and academic exchange.
The University of Chicago Medicine and the Peking Union Medical College Hospital (PUMCH), a Class A tertiary comprehensive hospital committed to delivering state-of-the-art clinical care, innovative scientific research and rigorous medical education, signed a memorandum of understanding (MOU) to enhance mutual areas of interest and collaboration.
The newest agreement between the two institutions is expected to deepen and elevate the collaboration, and support collaborative international activities and projects, with an emphasis on internationalization in medical development. A range of programs will be developed including personnel exchange, academic exchange, collaborative research, joint seminars or symposia and talent cultivation as well as other areas.
The signing ceremony was held at the 2023 Medical Education Innovation and Development Forum, a series of activities for the 102nd anniversary of the founding of PUMCH.
Michael Millis, MD, University of Chicago Medicine Professor of Surgery and Faculty Director of the University of Chicago's Center in Beijing, attended the signing ceremony on behalf of Mark Anderson, Dean of the Division of Biological Sciences and Executive VP for Medical Affairs.
"The signing today of the MOU outlining new areas of cooperation between PUMCH and the University of Chicago is the second such MOU we have signed together in the past 10 years," Millis said. "Each one has become the blueprint for our collaborations and has focused on medical education at every level."
"I am delighted to be able to build on these important training and exchange programs with the PUMCH team and our joint efforts to improve practice in clinical quality and operational effectiveness," he continued. "The University of Chicago Medicine is one of the leading American academic and medical institutions and we highly value the partnership with PUMCH where our shared history can be traced back over 100 years. We were both founded by John D. Rockefeller and PUMC was founded through a commission that chronicled medicine in China in the early 1900s that was led by the University of Chicago's then-President Harry Judson."
Zhang Shuyang, President of PUMCH said: "PUMCH and University of Chicago have a rich historical tie. The University of Chicago has consistently been a reliable friend and collaborator throughout the PUMCH's more than 100-year history. To carry out extensive cooperation in resident physician training, teacher capacity building, discipline construction, etc., we inked a signing agreement in 2017 based on mutual development goals. Six years later, PUMCH and the University of Chicago have renewed the agreement, which will strengthen and expand their current areas of collaboration. We have made a commitment to cooperating so that we can contribute more to the high-quality advancement of medicine, research, and medical education."
News from UChicago Medicine