Skip to content
UChicago to support NIH million-person precision medicine study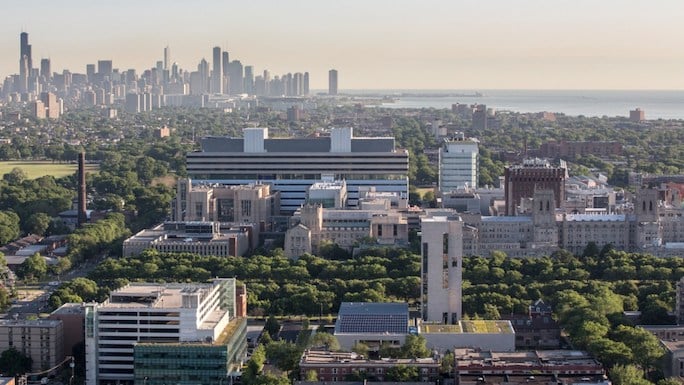 Consortium with Northwestern and UIC to enroll 150,000 Illinois participants
The University of Chicago is one of three Illinois academic institutions that will work together to help launch President Obama's Precision Medicine Initiative (PMI) Cohort Program to enroll 1 million or more participants in a national research effort designed to find better ways to prevent and treat disease based on lifestyle, environment and genetics.
A group of health care provider organizations led by Northwestern University, University of Chicago, University of Illinois at Chicago, Ann & Robert H. Lurie Children's Hospital and the Alliance of Chicago Community Health Services LLC - to be called the Illinois Precision Medicine Consortium - have signed on to enroll at least 150,000 participants, including healthy people and those with pre-existing diseases, over the coming 4.5 years. Precision medicine is a growing area of study that looks at how an individual's genetics, environment and lifestyle influence disease treatment and prevention.
"This range of information at the scale of 1 million people from all walks of life will be an unprecedented resource for researchers working to understand all of the factors that influence health and disease," said Francis S. Collins, MD, PhD, director of the National Institutes of Health (NIH).
"Over time, data provided by participants will help us answer important health questions, such as why some people with elevated genetic and environmental risk factors for disease still manage to maintain good health, and how people suffering from a chronic illness can maintain the highest possible quality of life," Collins said. "The more we understand about individual differences, the better able we will be to effectively prevent and treat illness."
In the first year, the NIH will provide $55 million in awards nationwide to assemble the partnerships and infrastructure needed for this unprecedented health care effort, called the PMI Cohort Program.
The Illinois consortium will receive $4.3 million in fiscal 2016, part of a five-year award that will total $45 million, pending progress reviews and availability of funds. The five consortium members, led by Northwestern, will work with their own partner institutions to enroll 150,000 participants. UChicago's partners include Rush University Medical Center and NorthShore University HealthSystem.
The Illinois consortium is one of four nationwide to receive an award from the NIH for this study. The other consortium leads are Columbia University Health Sciences, University of Arizona and University of Pittsburgh.
PMI Cohort Program volunteers will be asked to contribute a wide range of health, environment and lifestyle information. They will also be invited to answer questions about their health history and status, share their genomic and other biological information through simple blood and urine tests, and grant access to their clinical data from electronic health records. Mobile health devices and apps will provide additional lifestyle data and environmental exposures in real time. All of this personal information will be protected by privacy and security safeguards.
"Scientifically, this award will enable our teams to build an unprecedented research resource that will help us answer critical questions about how all aspects of our biology and lifestyle affect health and disease. This extends to multiple segments of the U.S. population and for many years to come," said Habibul Ahsan, MD, principal investigator for the University of Chicago consortium.
"Practically, this award provides an opportunity for the major institutions in Illinois to work together in this historical effort."
As partners in this research, study participants will provide input into study design and implementation. They will have access to a wide range of their individual and aggregated study results. The program will focus not just on disease, but also on ways to increase an individual's chances of remaining healthy throughout life.
"What potential participants need to know is that we are equally interested in learning how we can prevent illness in the first place, but when we do get ill, which treatment options are going to work best for each of us individually," said Eric Dishman, director of the PMI Cohort Program.
The four networks of health care provider organizations will ensure that participants in the PMI Cohort Program represent the geographic, ethnic, racial and socioeconomic diversity of the country. The networks will include regional and national medical centers, community health centers and medical centers operated by the U.S. Department of Veteran Affairs. Participants also may enroll directly through the Participant Technologies Center later this year.
The NIH is on course to begin initial enrollment into the PMI Cohort Program in 2016, with the aim of meeting its enrollment goal by the end of 2020.
The Illinois Precision Medicine Consortium and its health care provider organizations and community partners intend to recruit, consent, examine and collect biospecimens from 10,000 people from diverse ethnic, social and economic backgrounds in 2016. They hope to recruit at least 35,000 additional participants a year from 2017 to 2020.
Visit the NIH's PMI Cohort Program website to learn more about the program and sign up for updates.
Prevention & Screening Articles