Skip to content
UChicago Medicine opens major outpatient clinic in Orland Park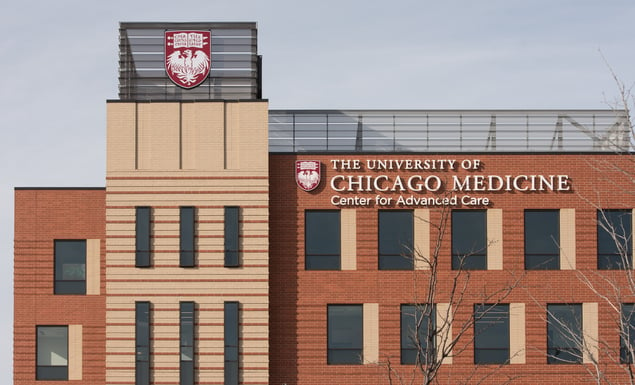 The University of Chicago Medicine opened its new outpatient facility in December 2016, bringing exceptional academic medicine to patients in Chicago's south and southwest suburbs.
The $61 million Center for Advanced Care at Orland Park is UChicago Medicine's largest off-site facility and the first of several dedicated outpatient locations operated by the Hyde Park-based academic medical center. The health system is in the midst of an ambitious expansion effort that's bringing care closer to patients' homes. It merged with Ingalls Health System, which has a dozen outpatient locations in Chicago's Southland, earlier this fall. It opened the Center for Advanced Care at South Loop in February 2017.
"About 120,000 patients who travel to our Hyde Park campus call Chicago's Southland home," said Sharon O'Keefe, president of the University of Chicago Medical Center. "We know they want to be able to access our nationally recognized care without having to travel so far. That's why we're particularly excited to open this new Orland Park location. It will provide our brand of exceptional, specialized medicine in a community setting that's closer to home."
The Orland Park ambulatory location includes "centers of excellence," which will be staffed by experts in cancer treatment, comprehensive diabetes care, orthopaedics, cardiology, women's health and primary care. All told, more than 100 employees work at the facility, including doctors, nurses, social workers, radiologists and other clinicians.
The clinic provides unparalleled experience, offering extended daytime and weekend hours, an on-site pharmacy and same-day appointments in some specialties. Other amenities include complementary parking, self check-in kiosks and a patient-friendly operating model.
"We're dedicated to supporting and investing in the Orland Park and the Southland community," said Theresa Quinn, interim vice president of ambulatory services for UChicago Medicine. "And we're doing that bringing greater health care options, easier access and increased convenience to our new neighbors."
The Orland Park project was approved by the Illinois Health Facilities and Services Review Board in August 2014. Construction on the 108,000-square-foot space began a year later. The building's fourth floor remains shell space in order to accommodate future growth. An attached 530-space parking garage was developed in conjunction with the Village of Orland Park.