Skip to content
UChicago Medicine announces South Side Pediatric Asthma Center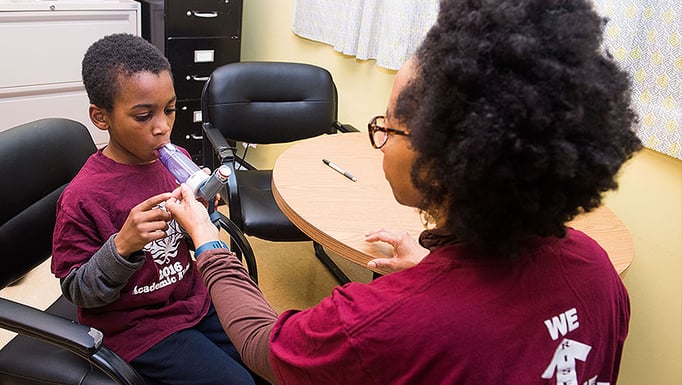 Recognizing that asthma affects children on Chicago's South Side more than most other communities in the city, UChicago Medicine's Urban Health Initiative and the Department of Pediatrics will lead a collaboration of health providers to develop the South Side Pediatric Asthma Center. The objective of the center is to develop and advance a collaborative, innovative and high-quality system of care for pediatric asthma management on the South Side.
The Urban Health Initiative and the Department of Pediatrics will be joined by La Rabida Children's Hospital, the Friend Family Health Center and St. Bernard Hospital and Health Care Center. These partners intend to adopt a pediatric asthma management model with first-year goals to standardize patient education, establish one-stop asthma care on the South Side, and host provider and community education events.
According to Professional Resource Consultants, which conducted the Community Health Needs Assessment for UChicago Medicine, and the Chicago Department of Public Health, approximately 20 percent of children in the University of Chicago's service area suffer from asthma compared to 10 percent in Illinois and 12 percent nationally. Children with asthma are more likely to miss school days, be hospitalized and visit the emergency department.
"African-American children visit the emergency room for asthma twice as often as all other children," said Brenda Battle, vice president of the Urban Health Initiative and chief diversity and inclusion officer for UChicago Medicine. "In this day and age, children shouldn't die from asthma. This center takes a multidisciplinary, multi-provider approach to attacking this problem, and we believe will have immediate and long-term success."
"In this day and age, children should not die of asthma."
— Brenda Battle
The center will receive initial funding of $750,000, which includes a $500,000 matching grant from the Chicago-based Coleman Foundation to encourage other donors, and a $250,000 gift from another donor. These donations, plus additional funding to be sought, will be used to hire nurses and community health workers who will provide training to asthma patients, their parents, school nurses, teachers and others.
Initially, the center will identify children with asthma and then help lead them to primary care physicians for treatment. Currently, the Community Health Worker program, a collaborative effort of UChicago Medicine, South Side community hospitals and community health centers, identifies high-risk pediatric asthma patients. The Community Health Worker program was developed with a generous gift from University of Chicago Medical Center Trustee James Reynolds Jr.
"The University of Chicago Medicine's South Side Pediatric Asthma Center stood out not only as a product of a world class academic medical center but because of its collaborative and comprehensive approach to treating children with asthma," said Michael Hennessy, president and chief executive officer of The Coleman Foundation. "We are excited to work with all the organizations involved, and we hope this will make a significant impact on the health of the South Side communities it will serve."
Urban Health Initiative
The Urban Health Initiative (UHI) is UChicago Medicine's community health department through which population health and community benefit are administered.
Learn more about the urban health initiative