Skip to content
To break cycles of violence, UChicago Medicine strengthens connections with street outreach workers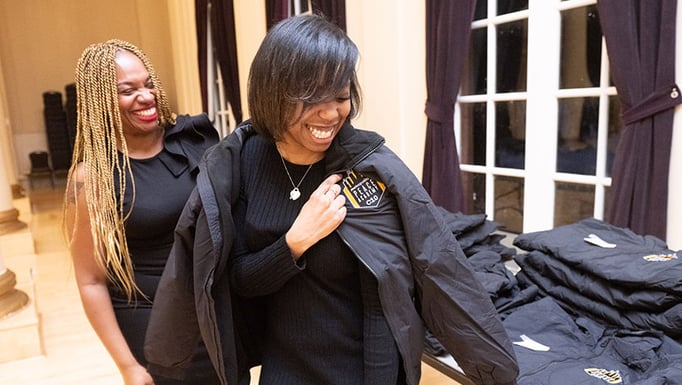 Tierra Lemon, a violence recovery specialist at UChicago Medicine, celebrates her graduation from the Metropolitan Peace Academy alongside training manager Tara Campbell. Held at the South Shore Cultural Center, the January 26 ceremony formally marked the end of an 18-week program focusing on street outreach and violence prevention.
When a victim of gun violence arrives at the University of Chicago Medicine, Tierra Lemon's mind starts to dart: Which part of the city are they coming from? Do I know someone there who can help?
As a violence recovery specialist providing support for patients, making these connections can create a support network that reduces a person's chances of reinjury.
"Seeing someone come in from a particular neighborhood, it's like a light bulb," said Lemon, a native of Chicago's South Side. "I've been building relationships, and I have a resource for them."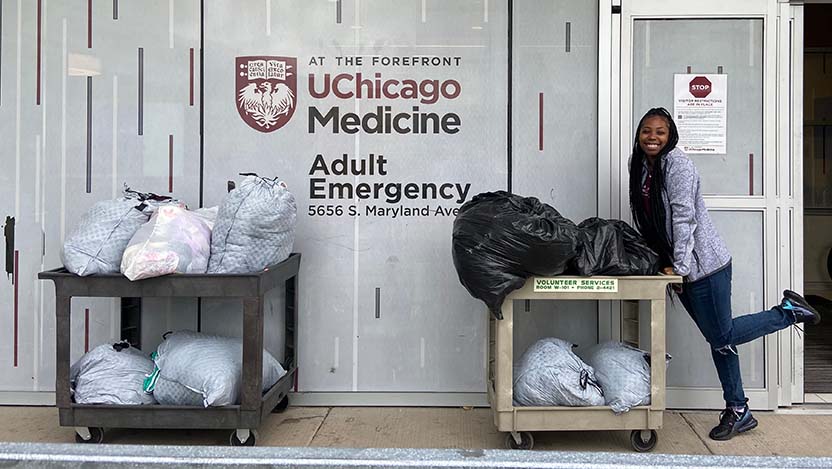 Such moments are the result of her participation in the Metropolitan Peace Academy, an 18-week, 144-hour program that focuses on trauma-informed services and the principles of restorative justice.
The Peace Academy has helped Lemon — who graduated from the program in January — better understand the work of street outreach and the network of organizations that exists across Chicago, especially on the West and South Sides that are home to much of the city's Black and brown populations.
Street outreach workers are people with a "license to operate" in their neighborhoods — in other words, the relationships and credibility to intervene in disputes before they turn violent. The individuals vary in age but all have experience desisting from violent responses to conflict.
"These men and women have lived that life," said Franklin Cosey-Gay, PhD, MPH, director of UChicago Medicine's Violence Recovery Program. "They're not asking individuals to make changes they haven't made themselves."
Lemon added: "Knowing what street outreach workers do has helped me do my work in a more beneficial way."
Unlike the rest of her Peace Academy cohort of nearly two dozen people, Lemon's violence intervention efforts are hospital-based. As part of her role in the Violence Recovery Program, she comforts victims and families in the midst of traumatic moments and connects them with resources that can help reduce the likelihood of future violence.
These duties are intertwined with UChicago Medicine's mission to break the cycles of intentional violence. Bridging the gap between hospital-based and community-based programs, however, can be easier said than done.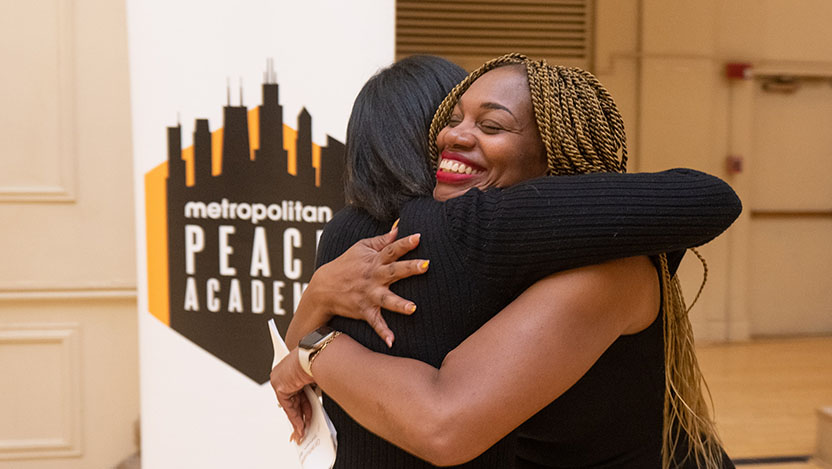 Building a stronger team
For too long, community organizations had struggled to work effectively with hospital staff members, said Cosey-Gay.
Outreach workers, for example, would hear about violence in their neighborhoods and rush to the emergency department. Without the benefit of established relationships, these encounters created frustration and confusion on both sides.
For example, advocates would have to navigate complex healthcare systems amid missteps in communication. In some cases, a patient they sought would be receiving treatment at a different hospital.
"What we want to do is partner with street outreach organizations, so survivors of violence can see us as a team that's dedicated toward their overall goals," said Cosey-Gay.
Thanks to recent funding from the Illinois Department of Human Services, the Violence Recovery Program has been able to expand its existing partnership with Metropolitan Family Services, which convenes Chicago outreach organizations through a network called Communities Partnering 4 Peace.
The new grant has helped UChicago Medicine and community organizations discuss more concrete benchmarks to address social determinants of health: If patients have more ways to access food, housing and financial assistance after being discharged from the hospital, they are at a lower risk of reinjury.
The funds have also gone toward strengthening the ties between violence recovery specialists, who work in concert with physicians and clinicians, and street outreach workers who live in the same neighborhoods as the patients being treated.
"We now have these links, and we're embedded in the space," Cosey-Gay said.
Lemon is the second violence recovery specialist from UChicago Medicine to participate in the Peace Academy. Both she and her predecessor, Dwayne Johnson, have left an impression on Steve Perkins, director of field instruction for the Metropolitan Peace Academy. Along with others at UChicago Medicine, their openness to learning and working with street outreach organizations has fostered a mutual respect.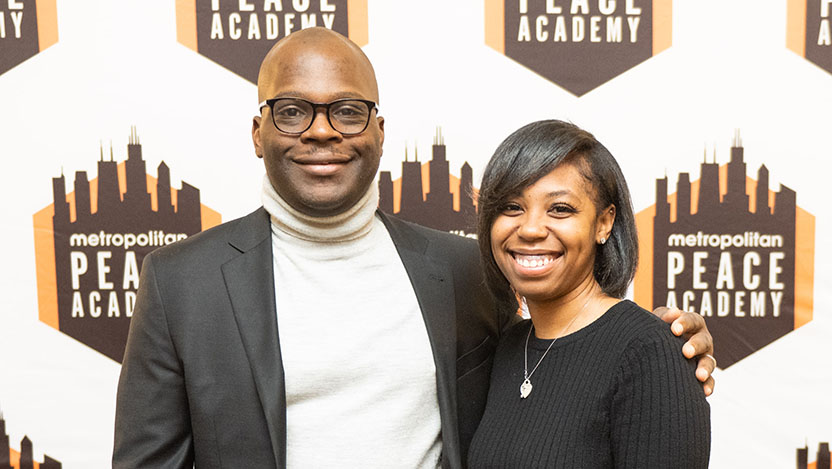 "I really appreciate their level of humility," said Perkins. "It's palpable. You can sense that from them, and I think that has really ingratiated the group to them."
The Peace Academy also seeks to professionalize the work of street outreach. This type of community work, Perkins said, should be one that people can aspire to as a career—not a way to fill time between jobs. Being able to nurture social bonds is a skill that can build up communities. "That's what I see the Academy being: that beacon of hope and light," Perkins said.
A higher level of trust
The crisis of gun violence and trauma can sometimes seem insurmountable. Lemon's work includes crisis intervention, which means providing emotional support to grieving families. She often sees people on the worst days of their lives.
"It's very easy to feel like you are not doing anything to fix the problem, because the problems are so big. They're systemic," said Lemon, who first experienced gun violence as a 13-year-old in the Ashburn neighborhood. "It's very hard to navigate these different systems and feel like you are doing something that matters."
"But it's also important to keep in mind that the littlest things can make someone's day," she added. "The littlest things impact someone's life forever."
Working in the emergency room, she can sense when someone begins to open up to her. Those moments can be as simple as accepting a bottle of water or a snack. "They become more open to the possibility of us being that support for them," said Lemon. She keeps in touch with many patients, some of whom reach out to her to share life updates — an ongoing job search, a new baby.
Knowing what street outreach workers do has helped me do my work in a more beneficial way, Lemon said.
As community partnerships continue to develop, Cosey-Gay hopes to address deeper issues of public policy and practice. "The level of trust is much higher than it was four or five years ago, but I also want to be mindful of the power of structural racism," he said.
Systemic problems require collective solutions, which is why institutions like UChicago Medicine need to work as a part of their communities.
Cosey-Gay is optimistic about the recent launch of Recovery Legal Care, a novel program which embeds two full-time lawyers within UChicago Medicine's Level 1 adult trauma center. The attorneys help assess patients' legal needs and navigate access to public benefits such as housing and employment.
Cosey-Gay is also eager to see more violence recovery specialists enter the Peace Academy, and to expand the partnership's impact across a wider stretch of Chicago.
"When individuals are harmed, the hospital is where they come," he said. "This is an opportunity to intervene. We all need to be communicating, and this type of coordination that's happening is actually one of the few things that inspires me to do this difficult work."
Community Outreach and Health Equity Articles