Skip to content
Ting-Wa Wong, faculty in Department of Pathology and the College, 1932-2019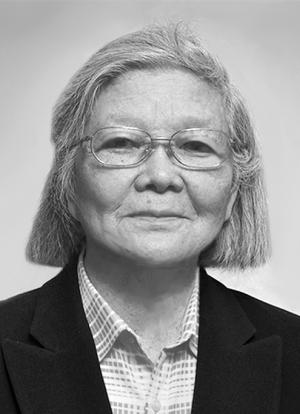 Ting-Wa Wong, MD'57, PhD'68, a highly respected member of the faculty who was consistently honored by medical students for her superb teaching, died at the age of 86 on Jan. 4, 2019, at the University of Chicago Medicine.
Her students appreciated the clarity and precision with which she explained even the most complicated medical concepts.
"She had a vast knowledge of pathology, pathophysiology and human disease and an uncommon ability to convey that knowledge into basic concepts that we could easily understand," according to fourth-year medical student Sarah Peters. "Her lectures went far beyond pathology. She honed in on the most basic pathophysiologic processes at play, then used that foundation to explain an entire disease process."
Third-year student Hanna Vollbrecht appreciated Wong's selfless dedication to educating second-year medical students.
"She would spend her evening hours with us reviewing pathology slides and clarifying challenging pathophysiologic concepts," Vollbrecht said. "It was clear how invested she was in our education and how meticulously she had considered the best way to present the material. Her dedication to teaching led so many students to admire her over the years."
Ting-Wa Wong was born on Oct. 15, 1932. She grew up in Hong Kong but came to the United States for college, enrolling in the City College of San Francisco in 1949. In 1950, she transferred to the University of California-Berkeley, where she was elected to the Phi Beta Kappa Society in her junior year. In 1953, she graduated with honors at age 20.
Dr. Wong entered the University of Chicago School of Medicine in the fall of 1953 and graduated, again with honors, in 1957. She completed an internship at Barnes-Jewish Hospital, at Washington University in St. Louis, followed by a pathology residency at the University of Chicago.
She stayed at UChicago for the rest of her career, starting as a pathology instructor from 1961 to 1964, then seeking and receiving a PhD in organic chemistry from 1964 to 1968. She returned to the faculty as an assistant professor in 1968 and was promoted to associate professor in 1973.
You would be hard pressed to find someone that students liked better ... She was one of the best educators we've ever had.
Dr. Wong was devoted to teaching medical students in their pre-clinical years. She was course coordinator of General and Cellular Pathology for nearly a decade, and continued to participate as a faculty member in the course.
Her major interest, however, was teaching Clinical Pathophysiology, a course that she began to teach in 1990. This all-consuming course is known for its carefully organized lectures and handouts. It is one of the highlights of the Pritzker School of Medicine curriculum. She also initiated and directed an accelerated summer histology course to help students in the medical scientist training program begin their PhD research much earlier.
Dr. Wong received numerous teaching awards, including election to the Alpha Omega Alpha Honor Medical Society. She also received the Humanism and Excellence in Pre-Clinical Teaching Award, the Basic Science Teaching Award (at least five times), the Distinguished Basic Science Teaching Award (at least four times), and the graduating seniors' Favorite Faculty Award (more than 25 times).
"She was totally dedicated to the medical students," said Scott Stern, MD, professor of medicine at UChicago. "You would be hard pressed to find someone that students liked better. They routinely gave her a standing ovation at the end of a course. She was one of the best educators we've ever had: very clear in her teaching, precise, up to date. She took as much time as needed to make sure all of the students got it, that they understood."
In recognition of her excellence in teaching, Dr. Wong was elected three times to Who's Who Among America's Teachers. In 2006, she was named one of six inaugural members of the University of Chicago Academy of Distinguished Medical Educators. A scholarship award was established in her name in 2012. The Ting-Wa Wong, MD, PhD Scholarship is bestowed each year on a student who has demonstrated exemplary performance and achievement in pathology.
Dr. Wong was a "pioneering woman in medicine," said Peters, "someone who had gone to medical school and started practicing at a time when there were not many women doing so. Her dedication to us as her students impressed me a great deal. But she also had a lovely sense of humor. She would insert a few jokes in her lectures to break up the dense material we had to cover. These moments of personal engagement helped bridge the generational divide."
Dr. Wong's dedication to teaching even lured undergraduate students outside the field of science to pursue careers in medicine. She developed a popular course for college non-biology majors on the origins of cancer. The course inspired several non-biology students to switch from social sciences or humanities to premedical studies. Many of them were subsequently accepted to medical schools, including Pritzker. Those students credit her teaching for having re-directed their life-long career paths.
"Dr. Wong will be fondly remembered and missed by her colleagues and the thousands of graduates of the Pritzker School of Medicine whom she helped prepare for careers in medicine," Stern said.
News from UChicago Medicine