Skip to content
Sharon O'Keefe retires as UCMC president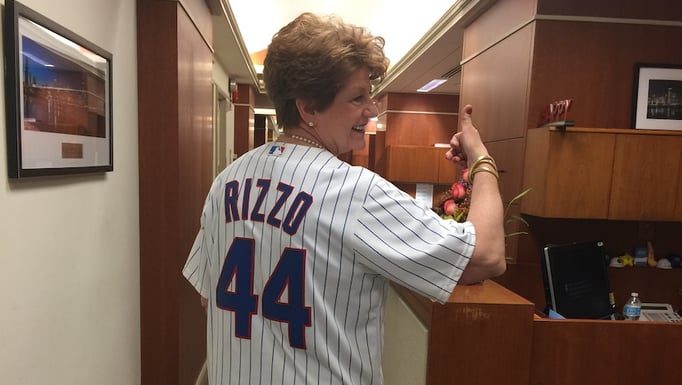 After a distinguished 46-year career in healthcare that took her from a critical care nurse to the top position at two different academic medical centers, Sharon O'Keefe has retired from the University of Chicago Medicine, where she has served as President of the Medical Center since 2011 and as Chief Operating Officer of the health system since 2017. Her last day with the organization was August 24, 2020.
O'Keefe had a profound impact on UChicago Medicine and is leaving a rich and meaningful legacy.
"Sharon has been a superb clinical and organizational leader, driven by a passion to provide superior patient care and an ability to work effectively with physicians, nurses, other healthcare professionals and other members of our staff," said Kenneth S. Polonsky, Dean and Executive Vice President for Medical Affairs at the University of Chicago. "Under her leadership and with the terrific team of colleagues she has built, our organization has grown and achieved significant milestones in clinical program development, quality and service outcomes, financial performance, and hospital and ambulatory operations."
A fiercely proud Chicago native, O'Keefe received her bachelor of science in nursing from Northern Illinois University in 1974. In 1976, while working as a nurse at Loyola University Medical Center, she earned a master of science in nursing from that university's nursing school. She came to UChicago Medicine in February 2011 from Loyola University Medical Center, where she had served as president since April 2009. Prior to that, she served as executive vice president and chief operating officer at Boston's Beth Israel Deaconess Medical Center and in leadership roles at Barnes-Jewish Hospital in St. Louis and the University of Maryland Medical System in Baltimore.
Among O'Keefe's most notable accomplishments during her 9½-year tenure has been the focus on improving the quality, safety and experience of the clinical services. This yielded 17 consecutive "A" grades for hospital safety by the industry watchdog Leapfrog Group, one of only 32 hospitals nationally to consistently receive the top mark. In addition, in 2018, the Medical Center received the prestigious Magnet Recognition from the American Nurses Credentialing Center, a designation recognizing healthcare organizations with the highest standards for nursing excellence and professional performance.
Among the most visible achievements has been the successful opening of the Center for Care and Discovery in 2013 — on budget and with significant participation by women- and minority-owned business contractors — which involved physically moving about 150 patients into the new facility. The Medical Center also constructed a new parking facility to serve patients and their families and opened a new expanded adult Emergency Department in December 2017 and Level 1 adult trauma center in May 2018 to better serve the community.
O'Keefe also made major contributions to the growth of the UChicago Medicine health system. She led the integration process with Ingalls Health System, following the merger in 2016 and helped in the development of the Care Network and Clinically Integrated Network of community-based physicians. Her tenure also saw the opening of a number of new ambulatory sites, including Orland Park in 2016, South Loop in 2017 and River East in February 2020.
In addition, under O'Keefe's leadership, UChicago Medicine maintained continuity of operations through a workforce disruption in 2019 and has managed through the COVID-19 pandemic. The organization was named an "LGBTQ Healthcare Equality Leader" by the Human Rights Campaign Foundation for five years in a row for its inclusive policies and practices related to LGBTQ patients, visitors and employees. UChicago Medicine also has seen continuous improvement in patient experience and employee engagement scores and significantly expanded telehealth capabilities.
"While these accomplishments are significant in many ways, what may be most impressive is her ability to connect with people — be it with patients, employees, nurses or faculty," Polonsky said. "Many of us have seen her walk the hallways of our Medical Center, and she will be stopped by someone who wants to chat, shake hands, take a photo, or even to share a hug. Her emotional intelligence is evident in the words shared by her colleagues in a video that we produced for her."
Colleagues have said that the only thing that could rival O'Keefe's passion for healthcare is her passion for sports. O'Keefe has been a devoted fan of many sports, particularly tennis and baseball, and is a proud supporter of the Chicago Cubs.
"It's been an honor and a privilege to work with Sharon as a colleague for close to 20 years," said Polonsky. "We have faced and overcome many challenges together in a spirit of collaboration and a shared commitment to our patients, our faculty and staff, and our community, and I feel fortunate to have been able to benefit from her wisdom, experience and insights."
News from UChicago Medicine