Skip to content
UChicago's Pritzker retains top rankings in Illinois in national survey of medical schools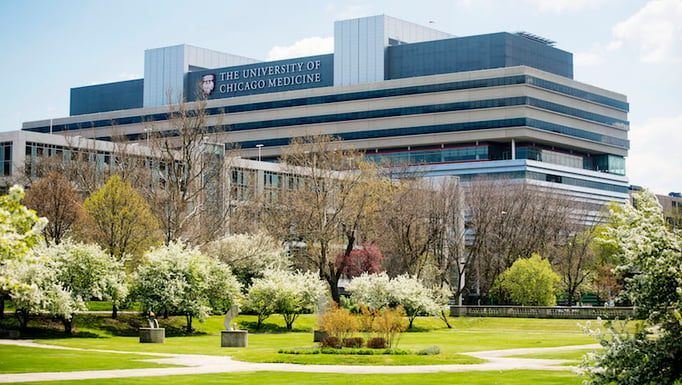 The University of Chicago Pritzker School of Medicine retained top rankings in Illinois in U.S. News & World Report's annual review of the country's top medical schools. Of the 120 accredited medical schools surveyed by U.S. News for its 2020 edition, Pritzker placed No. 16 (up from No. 18 last year) for research and No. 18 (up from No. 39) for primary care training.
Pritzker remains the highest-ranking research and primary care medical school in the state, ahead of Northwestern University's Feinberg School of Medicine (Nos. 19 and 35, respectively).
Among research-intensive schools, it tied with University of Michigan-Ann Arbor and Vanderbilt University and was just behind Yale University, Duke University and the University of Pittsburgh. In addition, Pritzker tied with the University of Pennsylvania, Johns Hopkins University and the Mayo Clinic School of Medicine as the nation's third-most selective medical school, and it ranked fourth in the country for average National Institutes of Health funding per faculty member ($312,500). For primary care, Pritzker tied with Dartmouth College (Geisel School of Medicine) and the University of Texas Southwestern Medical Center.
"The results of these rankings reflect the broad efforts and accomplishments of the faculty in the Biological Sciences Division and the quality of our students," said Kenneth Polonsky, MD, executive vice president of medical affairs at the University of Chicago and the dean of the Biological Sciences Division and Pritzker School of Medicine. "I would like to acknowledge, in particular, the contributions of Halina Brukner, MD, interim Dean for Medical Education, and the faculty and staff in the Pritzker School of Medicine, who work with such passion and commitment to ensure that our students receive an outstanding medical education."
As part of its 2020 edition, U.S. News also republished last year's results for the nation's 275 biological science programs, which are ranked every four years. The Biological Sciences Division's doctoral programs tied for No. 13 with Rockefeller University and Washington University in St. Louis. The ecology and evolution program was ranked No. 8 (down from No. 4 in 2015), and the paleontology program, which draws from the Department of Organismal Biology and Anatomy and the inter-institutional Committee on Evolutionary Biology, remained the No. 1-rated program in the country, as it has been for more than a decade.
For a full list of graduate school rankings, visit usnews.com.
News from UChicago Medicine