Skip to content
Pritzker holds virtual Match Day during COVID pandemic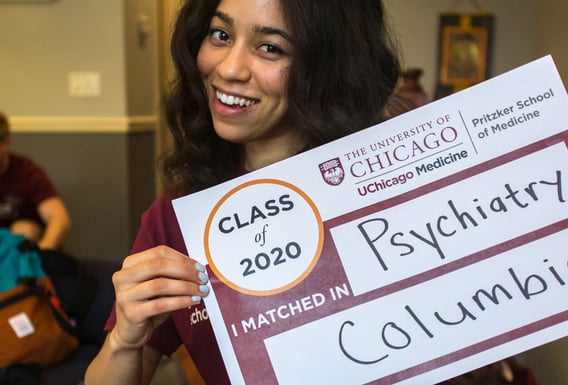 On Match Day 2020, the University of Chicago Pritzker School of Medicine's soon-to-be doctors learned where they would be going for residency by clicking on an email, not opening an envelope. And instead of celebrating their matches with hugs and high fives, the medical students shared their news via texts and social media posts.
Match Day is the day when fourth-year medical students around the country learn where they will be training for the next three to seven years. It's usually celebrated with family, friends and fanfare — not social distancing. The coronarvirus crisis changed all that.
"We all appreciated the seriousness of the COVID-19 pandemic and the importance of joining in the efforts to contain the virus by being socially distant," said fourth-year student Catherine Castro. "We found ways to virtually connect after getting our results."
Halina Brukner, MD, Dean for Medical Education, noted that "while this year's Match Day was different than those in the past, our students were able to celebrate together as a community and enjoy this pivotal moment with their classmates, loved ones, faculty and staff through the magic of technology."
The most popular specialties chosen by Pritzker's 94 students in the Class of 2020 are internal medicine (19), psychiatry (10), and anesthesiology, emergency medicine and pediatrics (6 each). Seven students will stay at University of Chicago Medicine for all or part of their training. Thirteen are going to residencies at Harvard-affiliated hospitals. Other hospitals and health systems accepting several Pritzker recruits are the University of California (7), University of Washington (5) and Northwestern University (5).
News from UChicago Medicine