Skip to content
Pritzker School of Medicine students celebrate 2023 Match Day as residency journey begins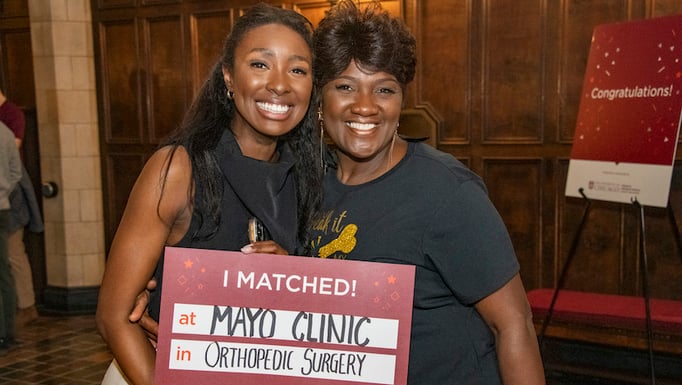 Victoria Oladipo, a member of the University of Chicago Pritzker School of Medicine class of 2023, celebrates as Match Day, when graduating medical school students find out where they will go for residency training.
Students sprung up out of their seats. They pumped their fists in the air in celebration and gave big hugs to their family and friends. Happy tears rolled down many faces.
The joyful scene played out at Ida B. Noyes Hall Friday morning during Match Day for the University of Chicago Pritzker School of Medicine's Class of 2023.
At this year's event, dozens of soon-to-be medical school graduates learned which hospitals they "matched" with for the next step in their careers.
After a few short speeches and a slideshow of fun photo memories, it was time for the big reveal: the students simultaneously opened their envelopes, revealing their matches.
"I literally was shaking, and then I busted out in tears," said Pritzker student Victoria Oladipo, who matched with Mayo Clinic. She will become the first Black female in the hospital's orthopedic surgery program.
"It's been an adrenaline rush. I'm so excited. It's like a fever dream," she said.
Alexa Marie Uribe's hands visibly shook as she showed her family her match letter, showing she'll be in Stanford's anesthesiology program. A few of Uribe's classmates rushed over, announcing they, too, got into Stanford, prompting a celebratory group hug.
"I couldn't sleep last night. I couldn't eat or drink anything this morning. I've been a wreck. But now I'm so happy!" Uribe said, removing her glasses to wipe away tears.
For Pritzker's Class of 2023, 13% of students will remain at the University of Chicago. Other hospitals with the highest number of Pritzker students matching were: Stanford University programs, the University of California system and Northwestern University programs, Duke University Medical Center and Mayo Clinic.
Among the Pritzker students, 41% matched in the Midwest. Twenty-nine percent matched in the West, 19% in the Northeast, and 9% in the South.
The top five specialties for the Class of 2023 were internal medicine (15), anesthesiology (12), psychiatry (11), emergency medicine (7) and pediatrics (7).
Seventeen students, or about 19% of the class, entered the couples match this year.
"Wherever you end up, you will make it exceptional," said H. Barrett Fromme, MD, who hyped up the class with comedy as she handed out envelopes. Fromme is a Professor of Pediatrics and Pritzker's Associate Dean, Faculty Development, who writes the Medical Student Performance Evaluations (MSPE).
Vineet Arora, MD, Pritzker's Dean for Medical Education, told the students she was so proud of what they accomplished.
"I know you will do amazing things in the future, because you are all destined for greatness and leadership," she said.
The Class of 2023 had a particularly challenging medical school experience, Arora said. They started in the fall of 2019, months before the COVID-19 pandemic hit. Their second year was largely virtual, and they had to do their summer research experiences remotely, including a few students who were scheduled to go to Wuhan, China, the site where the COVID-19 outbreak began. Things really didn't return to fullly normal until their fourth year.
"This class has been through a lot together, and I think that made them closer," Arora said.
Given the competitive landscape, Arora said she was thrilled with this year's match results.
"As our nation has a projected physician shortage, and an abundance of talented medical graduates that can fill this gap, it's more important than ever to advocate for expanding residency positions in key areas," she said.
News from UChicago Medicine