Skip to content
A 'remarkable' Match Day for Pritzker School of Medicine students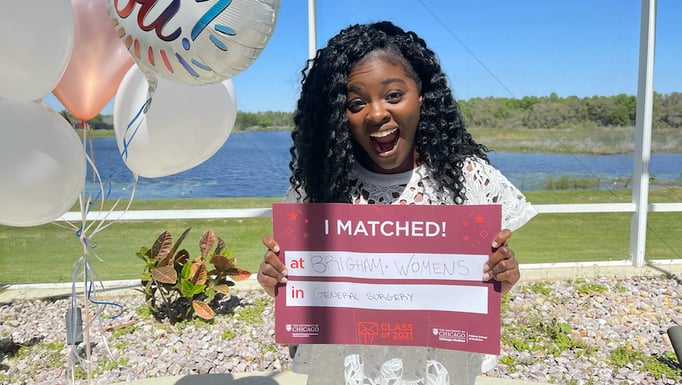 Pritzker School of Medicine student Abena Appah-Sampong is headed to the Harvard-affiliated Brigham and Women's Hospital for her surgery residency.
Members of the Pritkzer School of Medicine Class of 2021 will continue their training at leading residency programs throughout the country, following a successful, though different, Match Day.
Match Day — the day when medical students all over the country learn where they will be doing their training — was held virtually again this year due to the pandemic. Students opened emails instead of envelopes, and celebrated privately with family and friends instead of gathering in a group with all their classmates.
The big moment on March 19 followed a residency application process that, due to the pandemic, was unlike any in previous years.
"Student interactions with residency programs were exclusively virtual with no away rotations and no in-person interviews," said James Woodruff, MD, Pritzker's Dean of Students.
"Despite these challenges, the students as a class remained focused and ultimately accomplished another remarkable match," he said. "They will be attending some of the strongest academic programs in the country, joining medical teams that will provide care through what we hope will be the end of the COVID-19 pandemic. We are proud of this class of students and the work they will undertake in the coming months."
Internal medicine is the top specialty (23% of the class), followed by general surgery (12%), emergency medicine (9%), anesthesiology (8%) and otolaryngology (8%). These are followed by psychiatry (6%), dermatology (5%), family medicine (5%) and pediatrics (5%).
Eighteen students, or 23% of the class, will remain at the University of Chicago Medicine for their training. Rounding out the top three programs for Pritzker students are the University of California system (12%) and the Harvard system (8%).
Other popular institutions for the graduating class of 2021 include Northwestern University, the University of Pennsylvania, the University of Washington, Denver Health Medical Center, the University of Michigan and Duke University.
Pritzker School of Medicine
The Pritzker School of Medicine is one of few medical schools to be located physically on its University campus, offering both intellectual and social advantages to students.
Learn about Pritzker School of Medicine
News from UChicago Medicine