Skip to content
Looking back at the advances during Dean Kenneth S. Polonsky's 12-year tenure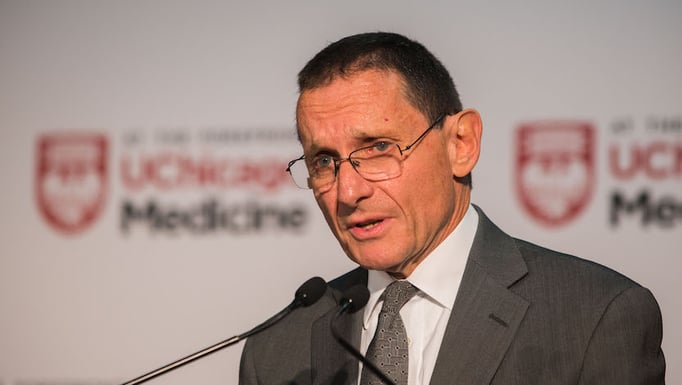 Kenneth S. Polonsky, MD, is stepping down after 12 years as Dean of the Biological Sciences Division and the Pritzker School of Medicine and Vice President of Medical Affairs for the University of Chicago.
These are some of the highlights from his tenure.
Biological Sciences Division (BSD) Highlights
During Polonsky's tenure, the BSD has invested substantially in recruiting research-intensive faculty to basic science and clinical departments and research infrastructure.
Shared research facilities and research core laboratories have been expanded and enhanced. These investments have been enabled by the strong financial performance of the BSD, fueled by external grant funding, philanthropy and through expanding clinical practice.
Research awards and expenditures have increased.
In fiscal year 2021, BSD-sponsored program awards totaled $466 million, representing more than 60% of the sponsored program awards to the University of Chicago.
A significant component of the recent increases in National Institutes of Health (NIH) funding is through large awards, including funding for the NIH HEAL Data Platform, the National Cancer Institute (NCI) Genomic Data Commons, the Medical Imaging and Data Resource Center, the Illinois Precision Medicine Consortium, and the Statistics and Data Management Center for NRG Oncology.
New centers and institutes have been created and existing centers have been strengthened, allowing for a sharper focus on strategic scientific priorities.
Neuroscience.
The Neuroscience Institute consists of 90 faculty from 16 departments spanning three divisions.
The Grossman Center for Theoretical and Computational Neuroscience fosters partnerships between theorists and experimentalists to address fundamental questions of how brain circuits generate complex human behaviors.
Cancer.
Enhanced investments have been made in research recruitment in cancer in basic science and clinical departments, and in the UChicago Medicine Comprehensive Cancer Center.
Microbiome.
The Duchossois Family Institute was established in 2017 with a $100 million gift from Janet and Craig Duchossois and The Duchossois Family Foundation. The institute focuses on investigating the microbiome with the goal of reducing susceptibility and/or enhancing resistance to a range of human diseases and inflammatory conditions.
Data science and use of big data and artificial intelligence in biology and medicine.
The Center for Translational Data Science is a world leader in the development of secure computing architecture for large-scale data and hosts all the data for NCI-supported cancer clinical trials.
At the Center for Physics of Evolving Systems, researchers are using artificial intelligence to model, test and validate the low-dimensional organizing principles that give rise to complex biological systems.
The Center for Research Informatics was established to create an infrastructure to provide faculty with access to large data sets and assistance in analysis of these data.
The Institute for Population and Precision Health uses large-scale epidemiologic and population data to develop novel approaches to prevent disease, promote health and reduce health disparities.
Education.
The new undergraduate major in neuroscience has grown substantially and is attracting outstanding students. The Pritzker School of Medicine is one of the most selective and diverse medical schools in the country. More than 35% of the students who entered in 2021 are from groups underrepresented in medicine.
The doctor-patient relationship.
The Bucksbaum Institute for Clinical Excellence, established in 2011 with a $42 million gift from Matthew and Carolyn Bucksbaum, focuses on improving the doctor-patient relationship on our campus as well as nationally and internationally.
University of Chicago Medicine Highlights
Under Dean Polonsky's leadership, UChicago Medicine has evolved from a hospital and clinical practice focused almost exclusively in Hyde Park in 2010 to a health system, with the incorporation of Ingalls Hospital and health system in 2016.
UChicago Medicine now has 10 ambulatory facilities in various locations in the Chicago area and several other practice sites.
Expansion plans include a large ambulatory facility in Crown Point, Indiana, to open in 2024 and a state-of-the-art cancer center on the Hyde Park campus to open in 2026.
The Hyde Park campus has been transformed with the opening of the Center for Care and Discovery in 2013, the new and expanded Emergency Department and parking garage, and other construction projects.
National recognition for quality and safety.
UChicago Medicine received an A grade from the industry watchdog The Leapfrog Group 21 consecutive times. UChicago Medicine also received nursing Magnet status, a highly prestigious recognition of the quality of nursing care.
Substantial attention has been given to expanding healthcare access to the South Side community. This has been accomplished through expansion of capacity and the opening of the Level 1 adult trauma center, now the busiest trauma center in the Chicago area.
UChicago Medicine has played a leading role in setting up the South Side Healthy Community Organization, a partnership with Advocate Health Care and a group of South Side community hospitals and federally qualified health centers. This $150 million initiative aims to transform healthcare on the South Side of Chicago by investing in community-based resources.
The financial position of both UChicago Medicine and the BSD is strong and has met or exceeded budget targets in each year of Polonsky's tenure. Medicine and Biological Sciences Development was extremely successful during the last campaign, raising just under $1.2 billion.
News from UChicago Medicine