Skip to content
Joseph Baron, MD, 1938-2020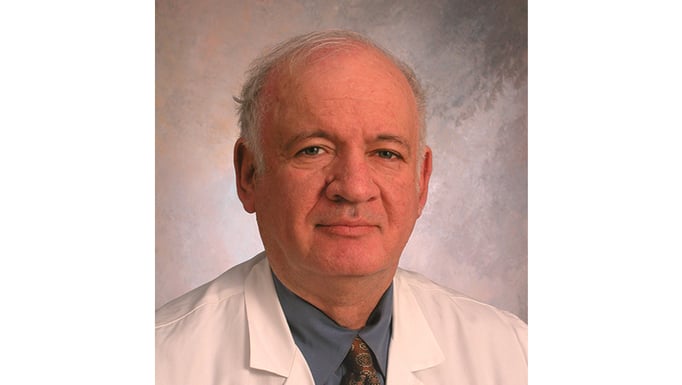 Joseph Baron, MD, a longtime and highly respected and distinguished faculty member, passed away in Boston on September 20, 2020. He was 82 years old.
Joseph Mandel Baron was born in Oak Park, Illinois, on May 10, 1938. He enrolled as an undergraduate at the University of Chicago in 1954, receiving a bachelor's degree in biochemistry in 1958 and a master's in pharmacology and medical degree in 1962.
The entirety of his subsequent career was served at UChicago, except for his time as a research associate at the National Institutes of Health from 1964 to 1966. He served as Chief Resident from 1966 to 1967, and then was appointed to faculty as an instructor in the Section of Hematology/Oncology in 1967. He was promoted to Assistant Professor in 1970 and Associate Professor with tenure in 1975. Baron retired in early 2019.
As a clinician, Baron was an expert in lymphoproliferative disorders — cutaneous lymphomas, in particular — and coagulation medicine (in bleeding and clotting disorders), as well as classic hematologic disease, including myeloproliferative disorders, hemolytic anemias and thrombocytopenic states. He served as the director of the first clinical trial of human erythropoietin in patients in 1984 in collaboration with UChicago biochemist Eugene Goldwasser and kidney specialist Adrian Katz. In addition to erythropoiesis, his research interests included thrombotic thrombocytopenic purpura, cutaneous lymphomas and malignant atrophic papulosis. He was recognized multiple times as a Chicago magazine Top Doctor and as a Best Doctor in America.
"Joe was a phenomenal clinician, inspirational teacher, and an amazing and beloved human being and friend. Many of us benefitted and learned from Joe's clinical judgment and experience as he helped us take care of patients with difficult hematological problems," said Kenneth S. Polonsky, MD, Dean and Executive Vice President for Medical Affairs at the University of Chicago. "One could not find a physician more devoted to his work and his patients than Joe. He will be deeply missed."
Baron served in several leadership roles including Acting Chief of the Section of Hematology/Oncology, Director of UChicago Medicine's Hemophilia Center, Medical Director of the Clinical Coagulation/Bone Marrow Laboratory, and Chairman of the Hospital Transfusion Committee.
He spoke at a variety of regional and national meetings and events and served as a hematology/oncology consultant and a hematology book reviewer for the Journal of the American Medical Association.
Baron was recognized for his educational contributions including the Medical Student Basic Science Award (1981) and Senior Medical Resident teaching awards (1995, 1996). In 2016, he was named as a Senior Faculty Scholar in UChicago's Bucksbaum Institute for Clinical Excellence, and he was the Department of Medicine's first recipient of the Outstanding Clinical Service Award. In 2019, he was honored with the Department's Distinguished Service Award and the University of Chicago Medical and Biological Sciences Alumni Association's Gold Key Award.
"Joe was an outstanding educator and a remarkable role model for young physicians, training hundreds of medical students, residents, fellows and faculty," said Everett E. Vokes, MD, Chair of the Department of Medicine.
Polonsky remembered the joint contributions and teamwork between Baron and his lifelong partner, Beverly Wirth Baron, MD, a retired faculty member in the Department of Pathology who served as the medical director of the Blood Bank and director of UChicago Medicine's accredited fellowship program in blood banking and transfusion medicine, which she also founded.
"Joe and Beverly could often be found late at night and on weekends working in the hospital together in service of their colleagues and our patients," Polonsky said. "They had an incredible partnership, from which we all benefitted."
He is survived by Beverly, his wife of 56 years; daughters Rebecca Baron, Miriam Barshak and Elinor Baron; sister, Rachel Zukerman; son-in-law, Jason Barshak; daughter-in-law, Sara K. de Bethune; and four grandchildren.
Donations honoring his memory may be made to a charity or cause of your choice, EHNT (Ezra-Habonim, the Niles Township Jewish Congregation, National Park Service Conservation Association, WTTW or WGBH.
News from UChicago Medicine