Skip to content
Graduate students organize to provide face masks and first aid supplies for protesters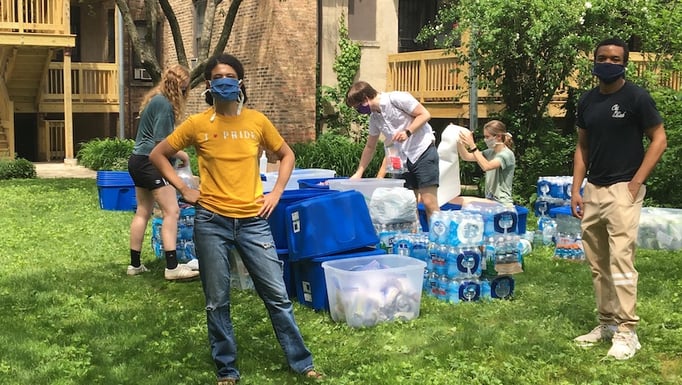 Organizers Christina Roman, left, facing camera, and DeQuantarius (DJ) Speed and their fellow graduate students pack supplies for protestors.
With the ongoing COVID-19 public health crisis and Black Lives Matter protests occurring within Chicago, keeping Chicago's South Side communities safe is at the forefront of many people's minds. University of Chicago Biological Sciences Division graduate students Christina Roman and DeQuantarius (DJ) Speed came up with a way to support the ongoing protest movements while aiding in public health and safety at the same time. Speed and Roman created "protester packs" — a volunteer-based, grassroots project to provide kits of basic supplies to those protesting in Chicago.
"We realized as UChicago students we have access to a network of powerful people and we wanted to turn that power into direct community impact and direct support for the movement to protect black lives," said Roman, a graduate student in biochemistry and molecular biology.
Roman and Speed, a graduate student in cell and molecular biology, shared the news with friends, colleagues and neighbors on social media, and received an outpouring of support. Their original goal was to create 150 to 200 individual protest packs, but in less than 48 hours, the fundraiser they launched through GoFundMe raised over $10,000 to put towards obtaining supplies. Additionally, many large organizations they reached out to for support donated supplies directly. The University of Chicago Medicine and other organizations donated thousands of facemasks to help aid their project.
By organizing a network of colleagues, friends and volunteers, the graduate students spread out the purchase of supplies throughout Chicago and the suburbs in order to avoid draining any local neighborhood of necessary items. The group of more than two dozen students is on track to supply over 1,500 individual packs, 100 medical packs and 5,000 facemasks — nearly 10 times their initial goal — for protesters this weekend.
The protest packs are being directly distributed to multiple organizations leading initiatives within Chicago, focusing primarily on the South Side community. Each personal pack contains a facemask, water, electrolyte packets, snacks and information on protester rights and resources. The students also are developing medical packs containing basic first aid supplies, such as wipes, wound dressings, hand sanitizer and antacid liquid for treatment of tear gas exposure. These medical packs will be distributed to leaders of groups of 10 people, as they are designed to cover medical needs for multiple protesters.
"We decided to focus on outfitting South Side community organizations to distribute to their members and marchers as they saw fit, since handing out individual packs at a protest would be less efficient," Speed said. "This also creates an opportunity to create connections with civil rights organizations that we did not already have."
Those who want to donate, volunteer or get packs to distribute can learn more on the group's Facebook page or GoFundMe.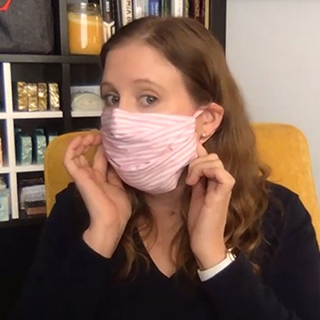 Homemade masks made of silk and cotton may boost protection
A study by University of Chicago and Argonne National Laboratory researchers found the fit of homemade masks is key to protect wearers against COVID-19.
Read the full article
News from UChicago Medicine