Skip to content
UChicago geneticist receives NIH award for innovative research by early career scientist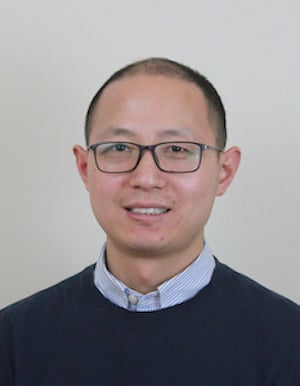 Xiaochang Zhang, PhD, an assistant professor of human genetics at the University of Chicago, has received a National Institutes of Health (NIH) Director's New Innovator Award for 2019. Established in 2007, the New Innovators Award supports unusually innovative research from early career investigators who are within 10 years of their final degree or clinical residency and have not yet received a research project grant or equivalent NIH grant.
Zhang, who is also a member of the Grossman Institute for Neuroscience, Quantitative Biology and Human Behavior, conducts research on neocortex development. His lab seeks to understand how brain cell types are specified over time, and how they change under different neurological conditions.
The National Institutes of Health awarded 93 grants overall through its High-Risk, High-Reward Research Program that will fund highly innovative biomedical or behavioral research proposed by extraordinarily creative scientists. Other examples of supported research include exploring how the brain maximizes storage capacity, developing a new approach to treating bacterial infections without the use of antibiotics, understanding the genetic rules that allow one cell type to convert to another, and uncovering a novel potent method for treating adolescent depression. The 93 awards total approximately $267 million over five years, pending available funds.
The High-Risk, High-Reward Research Program catalyzes scientific discovery by supporting highly innovative research proposals that, due to their inherent risk, may struggle in the traditional peer review process despite their transformative potential. Program applicants are encouraged to think outside-the-box and to pursue trailblazing ideas in any area of research relevant to the NIH mission.
"Each year, I look forward to seeing the creative approaches these researchers take to solve tough problems in biomedical and behavioral research," said NIH Director Francis S. Collins, M.D., Ph.D. "I am confident the 2019 cohort of awardees has the potential to advance our mission of enhancing health through their groundbreaking studies."
The High-Risk, High-Reward Research Program is part of the NIH Common Fund, which oversees programs that pursue major opportunities and gaps throughout the research enterprise that are of great importance to NIH and require collaboration across the agency to succeed. The High-Risk, High-Reward Research program manages four awards, including two aimed specifically to support researchers in the early stages of their careers.
Funding for the awards comes from the NIH Common Fund; National Center for Complementary and Integrative Health; National Institute of Biomedical Imaging and Bioengineering; National Institute of General Medical Sciences; National Institute of Mental Health; National Institute of Neurological Disorders and Stroke; National Institute on Aging; National Institute on Alcohol Abuse and Alcoholism; and National Institute on Drug Abuse.
News from UChicago Medicine