Skip to content
Barry Fields elected new Chair of UCMC Board of Trustees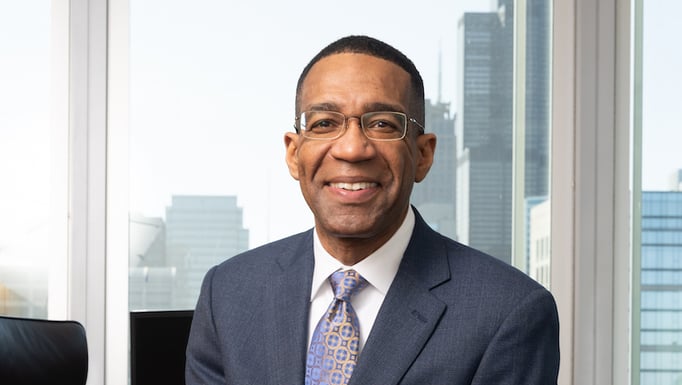 Barry Fields (Credit: Jason Smith)
Barry E. Fields, a recently retired partner in Kirkland & Ellis LLP, has been elected Chair of the University of Chicago Medical Center (UCMC) Board of Trustees. His term began May 25.
Fields has served on the UCMC Board of Trustees since May 2019 and the University of Chicago Board of Trustees since May 2022.
"Barry takes the helm of our Medical Center Board at another crucial point in UChicago Medicine's future, as we strive for even greater heights and broaden our impact regionally and nationally through our largest off-site facility and micro-hospital in Northwest Indiana, which opens next year, and our bold proposal to build the city's first freestanding cancer care and research facility on our Hyde Park campus," said Mark Anderson, MD, Dean and Executive Vice President for Medical Affairs at the University of Chicago. "These projects underscore our ongoing commitment to drive healthcare access and equity — and honor the organization's legacy of medical innovation, interdisciplinary scholarship, and rigorous research."
Fields joined Kirkland in 1992 as an associate and was a partner from 1997 until earlier this year. He has successfully represented Fortune 500 companies and large professional services firms in complex, high-profile cases involving environmental, products liability, mass tort, and commercial issues. Fields received his bachelor's degree in chemistry from Bellarmine University and a law degree from the University of Chicago. He is a member of the UChicago Law School Council and the Biological Sciences Division and the Pritzker School of Medicine Council. He is also a lecturer at the Law School.
"I am truly proud and honored to follow in the footsteps of those who have previously led the Medical Center Board," said Fields. "While the Board's leadership changes periodically, one thing remains the same: a laser focus on helping UChicago Medicine continue to provide compassionate care; develop cutting-edge treatments for medical conditions — whether common or complicated; and improve health outcomes and health equity. UChicago Medicine's expansion will provide more patients, in more locations, with the benefits of academic medicine."
Fields succeeds Brien M. O'Brien, who had served as UCMC Board Chair since 2018. O'Brien will continue to serve on the University, Medical Center, and Marine Biological Laboratory Boards of Trustees.
"We deeply appreciate Brien's insights, leadership, and business acumen, especially during a period when UChicago Medicine had to respond and adapt to one of the toughest challenges in its history, the COVID-19 crisis," said Anderson. "Not only did we collectively limit the negative impacts of the pandemic on our organization, but we also were able to invest in our programs in research and education, reinforce our commitment to the health of the community, develop plans to enhance the main medical campus, and establish new healthcare partnerships in the community and beyond."
News from UChicago Medicine