Skip to content
Image courtesy of NBC
Just for fun, Steven Bachta, MD, applied to be on NBC's "American Ninja Warrior."
He had done well in local ninja warrior competitions, but never dreamed the popular TV show — where thousands of athletes apply for a chance to master incredibly difficult obstacle courses — would choose a 41-year-old, 155-pound pediatric hospitalist with two young children.
Then he got the call.
He remembers sharing the news with his wife, Kelly Erin Riordan Bachta, MD, PhD, that he was selected to compete on Season 14. Both are graduates of the University of Pritzker School of Medicine.
"We kinda laughed and thought, 'Oh man, what are we gonna do now?'" he said. "I knew I would have to give it my all."
Bachta — nicknamed "Docta Bachta" — made it past the first round on "American Ninja Warrior," which aired on NBC in June but had an early fall in the semifinals that aired in August, knocking him out of the competition. He plans to apply again in December for the 2023 season.
"There's no guarantee I will be chosen again, but given how well I did as a 40-year-old ninja rookie, I am optimistic," he said. "The experience was so amazing. I can't even believe I made it that far and that I'm now immersed in this ninja culture that I love."
Here are the details of his wild adventure:
His 5-year-old daughter got him hooked.
The 2007 Pritzker alum had never watched the show until two years ago, when he and his daughter Sydney, then 5, stumbled upon it while flipping through TV channels. The show quickly became their favorite. One night, father and daughter went to an open gym at Ultimate Ninja. They loved it and were good at navigating the course. During the COVID-19 lockdown, they built ninja obstacles in their back yard and basement.
Bachta soon graduated to local, gym-sponsored ninja warrior competitions and Sydney became a member of Ultimate Ninja's youth team.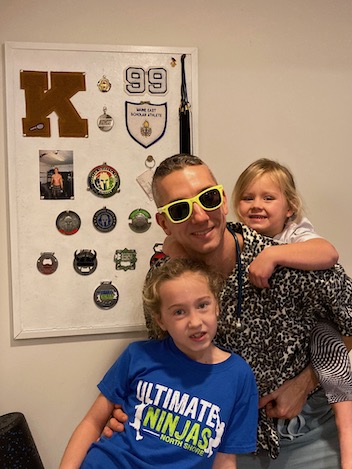 Shift work provided him time to train.
Juggling a demanding job and two daughters under age 7 made training a challenge. Since Bachta does shift work (24 hours on, 48 hours off), he was able to go to the gym while his kids were at school.
He sometimes trained at night, too, after they went to bed. This was important because the show is filmed in the evening and overnight hours, so he wanted his circadian rhythm to be in sync.
"If you want something bad enough, you find the time," he said.
A big bonus: His colleagues helped rearrange some of his shifts and both sets of grandparents filled in childcare gaps, allowing him more training time.
He didn't work out every day, but when he did, it was intense.
In preparation for the show, Bachta worked out three to four times a week, including intense, 4-hour sessions with former "American Ninja Warrior" contestants from the Chicago area. They'd mimic challenges they saw on the show, like warming up on one pull-up bar and tackling different courses with six to 10 obstacles. They'd take turns running the courses two or three times.
"It may not sound like a lot, but when you are on the course, it is full exertion and it takes everything you've got," Bachta said. "It's hard, and your body hurts. But it is also super fun!"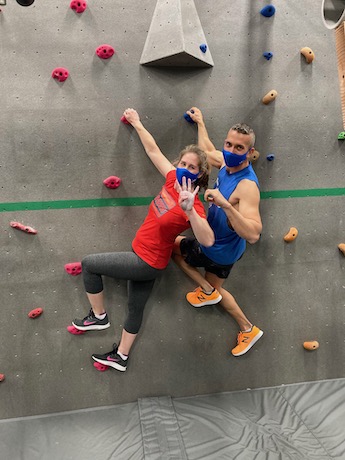 He still teaches and lectures at Pritzker.
Bachta is a clinical assistant professor and teaches third-year Pritzker medical students. He's a core curriculum lecturer during their pediatric rotation on "An Approach to Empiric Antibacterial Therapy in Pediatrics." He also coordinates the community hospital rotation for University of Chicago Comer Children's Hospital pediatric residents at NorthShore University HealthSystem, delivering noon conference lectures two to three times per year.
Everyone was cheering for him.
COVID protocols prevented him from hosting a big watch party but Bachta's friends, family and colleagues all cheered him on, including his good friends from Pritzker and his UChicago Medicine residency. People are often surprised to hear that Bachta's a ninja warrior. "I mean, how rare is it for an attending physician to be able to complete a ninja course?" he said.
There is an important life lesson in all this.
Bachta loves how the show highlights people who have overcome tremendous obstacles in life to reach this point. Plus, the sport itself teaches a valuable life lesson.
"It models life," he said. "You're gonna fall. You're gonna fail. But you have to get back up and try again. Things are going to happen in life that are hard, but how are you going to respond to them?"
Steven Bachta, MD, did his internship and residency at the UChicago Medicine. He's now a pediatric hospitalist at NorthShore University HealthSystem's Highland Park and Evanston hospitals. Follow him on Instagram at @docta.bachta.
News from UChicago Medicine