Skip to content
AMITA Health and UChicago Medicine launch cancer collaboration at AMITA Health Saint Joseph Hospital Chicago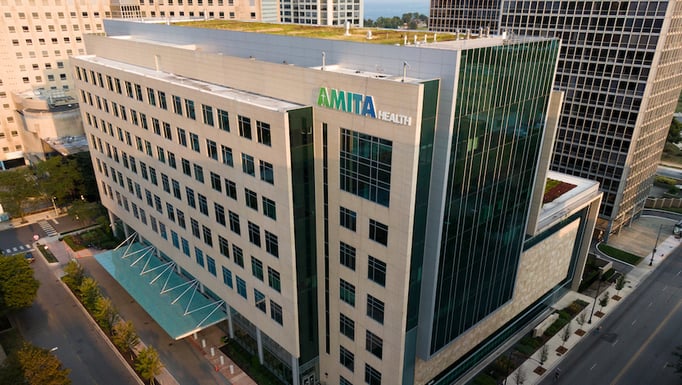 UChicago Medicine oncology physicians are available to patients at AMITA Health Saint Joseph Hospital Chicago in Lincoln Park.
AMITA Health and the University of Chicago Medicine have joined forces in a collaboration to jointly bring the South Side academic health system's specialized cancer expertise, access to advanced therapies and innovative clinical trials, and greater cancer care options to Chicago's North Side.
The new partnership, based at AMITA Saint Joseph Hospital Chicago (SJHC) in the Lincoln Park neighborhood, includes radiation and medical oncology, as well as surgical oncology and research services. Patients can now be seen by UChicago Medicine oncology physicians at the SJHC campus.
This collaboration reinforces both organizations' commitment to quality and innovation and a shared vision of increasing access for patients by providing broadened access to academic cancer care.
"AMITA Health continually seeks to improve access to the best possible care and we are excited to begin this very important partnership with the University of Chicago Medicine," said Elyse Forkosh-Cutler, Chief Strategy Officer, AMITA Health. "By bringing University of Chicago Medicine cancer services to Chicago's North Side, in partnership with AMITA Health, we will enhance patient access to academic-level oncology services for the patients and communities we are privileged to serve."
UChicago Medicine is one of only two National Cancer Institute-designated comprehensive cancer centers in Illinois, already serving as a destination for specialized cancer services, treatments and technologies.
"This partnership underscores our shared values of providing high-quality care and innovative therapies, ensuring superior outcomes and increasing access to the complex care when patients need it," said Audre Bagnall, Chief Strategy Officer at UChicago Medicine. "We are pleased that this collaboration with AMITA Health allows us to bring our cancer care to patients on the North Side."
News from UChicago Medicine