Skip to content
UChicago Medicine designated as first cavernous angioma center of excellence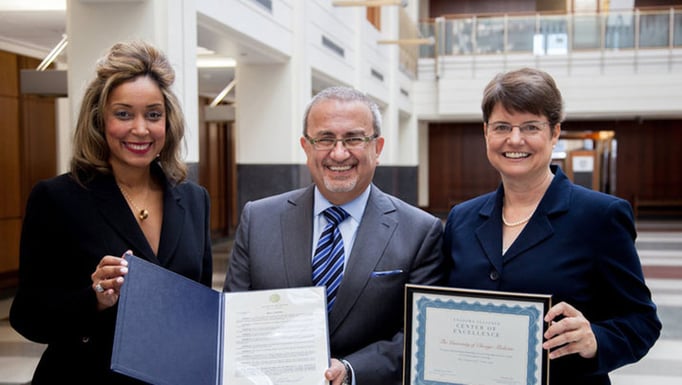 Tiffany Harris, senior corporate counsel, City of Chicago, presents the mayoral proclamation of Cavernous Angioma Awareness Day to Issam Awad, MD, and Connie Lee, president and CEO, Angioma Alliance, presents the designation making UChicago Medicine its first Center of Excellence.
Angioma Alliance, the nation's only patient advocacy nonprofit for individuals impacted by cerebral cavernous angiomas, has designated the University of Chicago Medicine as its first Clinical Center of Excellence for treatment and research into the rare disease.
In conjunction with the designation, Chicago Mayor Rahm Emanuel proclaimed Oct. 24 as Cavernous Angioma Awareness Day to raise awareness of the need for expanded research and treatment resources for this potentially fatal illness. Cavernous angiomas, also known as cerebral cavernous malformations (CCM), affect 1 in 600 people, according research published in the medical journal The Lancet. CCM are abnormally-shaped blood vessels in the brain or spine, with symptoms such as hemorrhage, seizures, motor problems, memory problems and muscle weakness.
For the past 14 years Angioma Alliance and Issam Awad, MD, director of neurovascular surgery at the University of Chicago, have worked together to serve the cavernous angioma patient community. Awad serves as Founding Chairman of the Angioma Alliance Scientific Advisory Board. He is the John Harper Seeley Professor of Neurosurgery and a leading cavernous angioma researcher. Angioma Alliance frequently refers patients to Awad's clinic. Awad will be the Medical Director of the new Cavernous Angioma Center of Excellence overseeing a multi-disciplinary team.
"My proclamation of Oct. 24 as Cavernous Angioma Awareness Day further acknowledges this partnership," says Emanuel. "I encourage the public and medical community to learn more about this devastating illness. Chicago is proud to have Dr. Awad and the University of Chicago Medicine play such a key role in researching potential treatments into CCM."
At the forefront of CCM research
Criteria for certification of Centers of Clinical Excellence were created by Angioma Alliance staff with input from other patient organizations and the CCM patient community. Angioma Alliance plans to certify seven Centers of Excellence and 20-25 Clinical Centers during the next five years. Both Centers of Excellence and Clinical Centers will offer multidisciplinary, wrap-around care for CCM patients who are often burdened with coordinating multiple appointments with different medical specialists.
"The University of Chicago has provided for more than two decades of clinical evaluation, radiology and surgery for hundreds of CCM patients, many traveling from other states and countries," Awad says. "The University has been at the forefront of research about CCM, discovering new knowledge, enhancing care and teaching physicians and trainees about its care."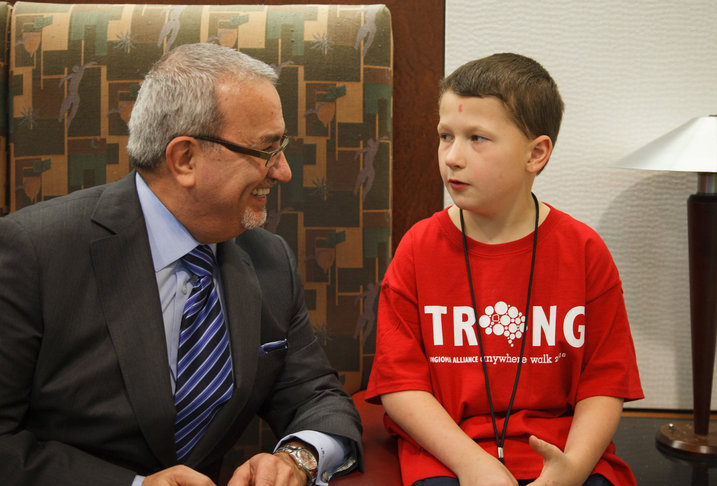 Awad's leadership has made UChicago a destination for CCM patients worldwide, including nine-year-old Aiden Hughes from Australia, who recently traveled to Chicago for his first visit with Awad. His mother, Felicity, said the visit "was like a huge weight lifted off our shoulders" now that Aiden had the additional imaging and documentation from Awad's clinic to help guide his follow up care back home.
Angioma Alliance President and CEO Connie Lee, Psy.D., expresses her enthusiasm for the certification and the Mayor's recognition. "The University of Chicago and Dr. Awad have set the bar for all future center certifications and for treatment of CCM patients. The Chicago clinic is the start of a new era of integrated treatment for CCM patients," Lee says. "Everyone impacted with cavernous angiomas appreciates Mayor Emanuel's effort to raise awareness about CCM and Angioma Alliance's mission. As more people are knowledgeable, we save lives and get closer to viable treatments."
The mayoral proclamation came about when Lee contacted Tiffany Harris, senior corporate counsel for the City of Chicago. Harris, who is also a patient with Awad, helped bring it to the mayor's attention because, as she said, "I wanted to make sure my doctor has everything he needs to find a cure."
Awad expresses his appreciation both to Angioma Alliance and for Emanuel's recognition. "We're honored by the Mayor's public acknowledgement to raise public awareness about the special needs of patients with cavernous angiomas," he says. "My partners at the University of Chicago - neurosurgeons, neurologists, geneticists, nurses and staff - are committed to deliver the best clinical care and access to novel therapies for this disease. We are committed to the discovery of new treatments and we will not rest until we identify an ultimate cure."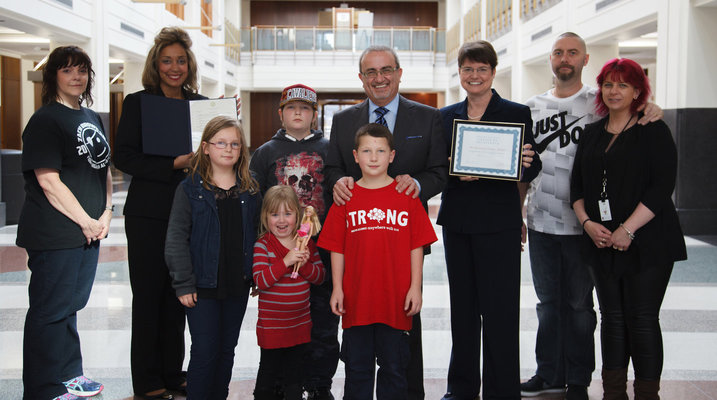 About Angioma Alliance
Angioma Alliance's mission is to inform, support and empower individuals affected by cavernous angioma and drive research for better treatments and a cure. Its mission is achieved through a variety of programs, including peer support, patient advocacy, a DNA/tissue bank to provide materials for the medical community, an Annual International Scientific Meeting and direct support of research that will lead to non-invasive cures for CCM.
Neurology & Neurosurgery Articles