Skip to content
​​New guidelines could offer more options for stroke patients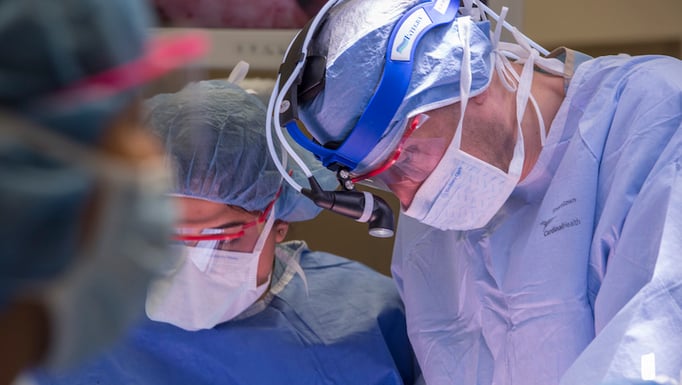 The results of two clinical trials have led to the creation of new guidelines that suggest more patients may be eligible for life-saving surgery after a stroke.

According to James Brorson, MD, a stroke expert in the Department of Neurology at the University of Chicago Medicine, this offers tremendous hope to some people who suffer an ischemic stroke in their sleep or those that live in rural areas, for whom immediate access to comprehensive stroke care is a challenge.
Acute ischemic strokes are the most common type of stroke, estimated to occur at a rate of 690,000 per year in the United States. They occur when a blood clot prevents adequate blood flow to a part of the brain, preventing oxygen and other nutrients from reaching the tissue. The chances of permanent damage increase the longer that brain tissue is deprived of blood flow, hence the phrase "time is brain" commonly endorsed by stroke experts urging rapid treatment.
To treat patients with ischemic stroke, doctors have two options: administer a clot-dissolving drug or surgically remove the clot. Determining the best course of action requires careful consideration of several factors, including the amount of time that has passed since the patient was last known to be well.
Previously, eligibility for mechanical thrombectomy, the surgical removal of a large blood clot, required patients to reach a properly equipped stroke treatment center within six hours of the onset of symptoms. The belief was that after six hours, tissue damage was too severe to be reversed.
But this rule of thumb has been challenged by two studies published earlier this year in the New England Journal of Medicine. Study scientists and clinicians applied sophisticated, automated analysis software to brain imaging scans to quickly and precisely evaluate the extent of tissue damage. Patients identified as having potentially salvageable tissue greatly benefited from mechanical thrombectomy performed within 16 hours, and even up to 24 hours, of stroke onset.
In both clinical trials, patients who received a thrombectomy within 6-16 hours (in the DEFUSE 3 study) or within 6-24 hours (in the DAWN study) of the onset of symptoms showed overall better outcomes at 90 days following treatment than the control group. For example, in the DEFUSE 3 study, 45 percent of the patients receiving the thrombectomy procedure and 17 percent of patients in the control group demonstrated functional independence, meaning any stroke-related disability was absent, slight, or moderate in severity.
The new guidelines put forth by the American Heart Association and the American Stroke Association in January recommend specific criteria for identifying which patients may benefit from the procedure outside of the six-hour window.
"It's going to be a sophisticated decision that is going to be made by the treating stroke neurologist and the neurointerventionalist looking at all of the information at hand, trying to assess how much brain tissue is salvageable" said Brorson.
While not all hospitals are "thrombectomy-capable," the UChicago Medicine is one of four comprehensive stroke centers in Chicago. To be distinguished as a comprehensive stroke center, a hospital is required to meet highly selective criteria, including having the necessary trained staff. UChicago Medicine has a highly-skilled neurointerventionalist, Gregory Christoforidis, MD, who performs thrombectomies.
According to Christoforidis, UChicago Medicine began implementing changes to its stroke therapy protocols before the new guidelines were published, because the lifesaving potential from preliminary findings in the DEFUSE 3 and DAWN studies presented at international conferences were very compelling.
Though these new guidelines are an exciting advance in the treatment of stroke, Brorson and other stroke experts continue to emphasize that time is still very important.
"A stroke evolves over time," notes Christoforidis. As time passes, "the damage to the brain will continue to grow." Once the stroke is complete, it is too late for intervention and the tissue damage may be irreversible.
Neurology & Neurosurgery Articles