Skip to content
Stroke education so easy, a fourth grader can learn it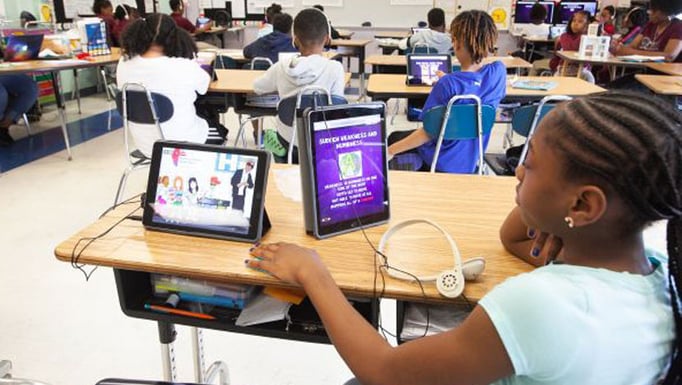 Students at the University of Chicago North Kenwood/Oakland Elementary School take the online stroke training while in class.
During one of the final weeks of school, a fourth grade class at the University of Chicago North Kenwood/Oakland Elementary School (NKO) was scheduled to take a field trip to see Hamilton: The Exhibition. But before they boarded the school bus, the children sat in front of tablets and desktop computers — clicking, rapping and learning vital stroke education information, thanks to a program called Hip Hop Stroke.
Hip Hop Stroke is an interactive online learning module designed to teach fourth and fifth graders what a stroke is, how it occurs in the body, how to recognize the symptoms and what to do when someone is having a stroke. Through colorful animation and catchy songs sung by famous rapper Doug E. Fresh, the fourth graders learn ways to prevent a stroke, like eating less, and how to respond to stroke warning signs, including calling 911 if they see someone's face droop or hear them "talk backwards."
"The majority of 911 calls for stroke are not made by the patient but by a bystander or family member," said Cedric McKoy, associate director of the University of Chicago Medicine Comprehensive Stroke Center, who is responsible for bringing the curriculum to NKO. "I thought it was critical that we educate kids about these matters."
Moiche Crawford, NKO physical education and health teacher, helped facilitate the self-guided lesson.
"Hip Hop Stroke does a good job of teaching students about stroke. It's not as scary as you think if these fourth graders can learn and use the information," she said.
"It's helping me learn about stroke, and if somebody has a stroke, I can help them," said Jemari, a student who participated in the training.
Many of the students finished the first of three modules by the time they headed to their field trip. However, according to the Hip Hop Stroke website, the knowledge they gained will last up to 15 months later.
"This program is a proven strategy for creating stroke awareness and my ultimate goal is to make it available to all of the kids on the South Side of Chicago," said McKoy. "With the rising number of strokes in the black community, we need to educate people of all ages."
Visit hiphopstroke.org to learn more about the curriculum or to view a demo.
Neurology & Neurosurgery Articles