Skip to content
Rehab and aphasia support groups offer patients chance for connection, camaraderie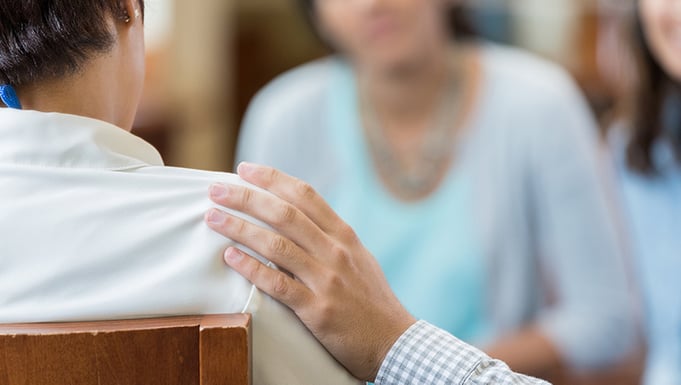 Medical support groups can help people find camaraderie with others who have similar conditions or life experiences. The Rehab and Aphasia support groups at the University of Chicago Medicine Ingalls Memorial offer an open forum for patients to share their stories, get advice and make friends.
Stacey Yoder, an inpatient therapy manager in Harvey, said that people who have had a stroke, suffered trauma, or required physical, occupational or speech therapy may feel a sense of isolation.
"After a stroke, for example, people can lose their independence when movement or cognition becomes a challenge," Yoder said. "Being around others who have lived—and are living—through that experience can bring a sense of belonging and support."
Yoder said that the Rehab Support Group meets monthly, from March through October, in the Rehab Dining Room. Topics vary from meeting to meeting and have included fall risk, adaptive equipment and more. Physicians, therapists and representatives from community organizations lead these discussions and encourage participants to share stories, experiences and advice with one another.
"People in the support group know what you've been through. No matter what, you can be yourself," Yoder said. Caregivers are also invited to attend the group.
"Living with someone post-stroke or with another condition can be a game changer for your daily routine. Having that extra support is extremely helpful," Yoder said.
People in the support group know what you've been through. No matter what, you can be yourself.
UChicago Ingalls Memorial also offers a support group for people affected by aphasia, an impairment of language affecting the production or comprehension of speech and the ability to read or write. According to the National Aphasia Association, aphasia is caused by an injury to the brain. Stroke is the most common cause, but other brain injuries can also result from head trauma, brain tumors or infections.
Speech pathologist Beth Heise facilitates the support group. "Aphasia is not an impairment in intellect or memory. It doesn't change who a person is, it changes their ability to express and understand language," Heise said. "As soon as someone with a communication disorder starts to speak in public, it can be uncomfortable and people don't know how to react."
Heise said that speakers address such topics as new communication technology or modified news stories, but the participants mostly discuss their circumstances and strategies for learning how to practice words.
Some strategies include reading out loud to children or grandchildren, singing or humming. Participants also help the community understand aphasia and how it varies. According to a 2016 awareness survey, 85 percent of adults have not heard of aphasia.
"The group members encourage each other to continue participating in life," Heise said. "Some carry cards with them in public that explain what aphasia is. One has a button that says 'I speak aphasia.' Another is an Uber driver who has a sign that says 'I have aphasia.' Our members have not let aphasia stop them."
For more information about the Rehab or Aphasia support groups offered at UChicago Medicine Ingalls Memorial, contact Beth Heise at 708-915-4232.
Neurology & Neuroscience Related Articles