Skip to content
Neurocritical care physician seeks clearer answers on how to determine brain death and what that means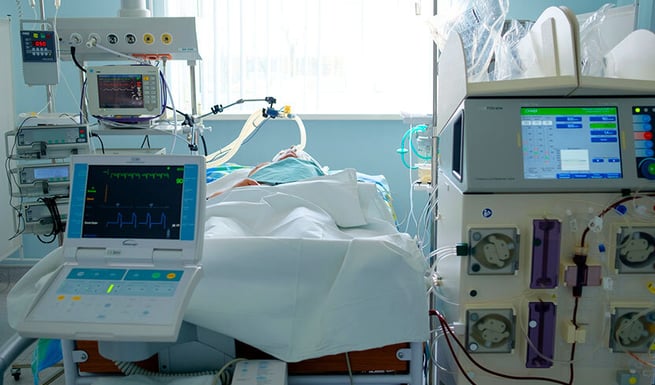 Fernando D Goldenberg, MD, FNCS, fell into neurocritical care almost by coincidence. As a young critical care physician working in his home country of Argentina, he practiced under a famous neurosurgeon whose renown drew many challenging patients to the intensive care unit of their small hospital. He found himself fascinated with the challenge of treating brain injuries.
"There's something unique to the brain — I could see that we would change the future for patients with acute brain injury, that new developments in the field would be coming soon," said Goldenberg, a neurointensivist at the University of Chicago Medicine. "Even then, years ago, when we had cases for which there weren't firmly established treatments available, I could see the prospects for new treatments in the future."
In the years since, Goldenberg has become a specialist in critical care and neurocritical care and is the Director of the Neurosciences Intensive Care Unit and Co-Director of the Comprehensive Stroke Center at UChicago Medicine. Now, he's able to provide those new treatments to his patients — and he's looking to share guidance on what to do when the treatments available aren't enough.
"The best part of my job is when I can help improve someone's outcome," said Goldenberg. "In most critical care fields, the goal is to help the patient survive. Neurocritical care is a little bit different. A number of patients in the neurointensive care unit will suffer some degree of long-term neurological disability. With these patients, not only is survival our goal, it's also about their quality of life after treatment, which is a very personal experience."
For a few patients, even the most expeditious, high-quality care might not be enough to prevent irreversible and catastrophic brain damage. In some cases, this can progress to brain death, defined as the irreversible cessation, or end, of all functions of the entire brain. Given that brain death is equivalent to death, this can become a difficult topic to navigate for both providers and patients' families.
"Part of the work that we do is to determine brain death," Goldenberg said. "Here at UChicago Medicine, neurointensivists pronounce brain death, which allows us to deliver consistent, safe and top-notch care to these patients and their families. We have a profound interest in making sure that we are certain of the diagnosis of brain death and avoid misunderstandings during this difficult process."
Goldenberg's commitment in providing consistent quality care for patients has led to his involvement in the World Brain Death Project, a global community of providers seeking to produce a consensus on criteria for the determination of brain death. In 2020, alongside colleagues around the world, Goldenberg helped write an article published in the Journal of the American Medical Association that provides new guidelines on the clinical standards for determination of brain death, with the goal of creating greater consistency on this topic around the world.
"This topic is extremely unique because you are faced with a situation where you are defining whether or not someone is dead," explained Goldenberg. "From an outside perspective, these unresponsive bodies don't look dramatically different the minute before being declared brain dead versus the moment after. Their body is still warm; the monitor that displays signs such as blood pressure or heart rate looks the same; they're still attached to the ventilator. Declaring death in these cases is a complicated task."
In years past, as part of his efforts to better clarify brain death within the medical community, Goldenberg and colleagues developed a workshop to train physicians in determination of brain death during a one-day simulation event. The need for this type of resource rapidly became apparent — the limited slots in the workshop were quickly filled, and, ultimately, Goldenberg and a team of brain death experts began to "train the trainers," teaching clinicians to lead similar workshops within their own institutions and networks.
Clearly, there was a high demand for improved guidelines on diagnosing brain death.
"The challenge is that there's some variation in the way clinicians declare patients brain dead, both in the United States and around the world," said Goldenberg. "Each state has its own legislation; each hospital and medical network have their own policies. While they all share the same fundamental concepts, the reality is that sometimes even different providers within the same institution may not agree on some minor details."
The World Brain Death Project grew out of this challenge, with the goal of unifying these criteria as much as possible, while acknowledging from the beginning that there is no consensus on every detail.
"Nothing in these guidelines is completely new," Goldenberg said. "A group of over 20 experts in the field from all over the world worked together to examine the existing publications and consensus on the topic. Until now, there was no single comprehensive document that examined the determination of brain death from all of these different angles."
The project was a challenge due to some gaps in adequate research on the topic of brain death and medical variation around the world in how brain death is diagnosed. To address these obstacles, the group broke down 13 key topics in brain-death diagnosis, including methods for testing brain function and blood flow, and recommendations on who should be considered qualified to diagnose brain death. The published document included 17 additional supplements, addressing legal and religious aspects of the topic, among others.
"This enterprise took many years to come to fruition," said Goldenberg. "It's been about five or six years since the dedicated steering committee got this project started."
The document is intended to define fundamental concepts in brain death to guide not only clinical care, but also legal challenges by providing an overview of the existing research and consensus from medical experts.
Goldenberg hopes that these guidelines will be useful for critical care providers for years to come.
"The definition of death must sustain the test of time," he said. "Under ideal circumstances, what we define as death today shouldn't be different five years down the road. We never know what new medical technology might be available a decade from now, but we really need to make the best possible effort to provide a consensus that will last. This will allow us to provide the best care possible to our neuro ICU patients, now and in the future."
Neurology & Neuroscience Related Articles