Skip to content
New multiple sclerosis treatment offers breakthrough for patients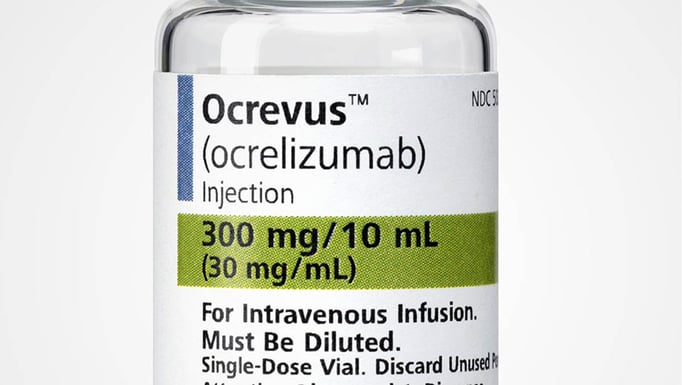 There are more than 400,000 people in the United States living with multiple sclerosis (MS), a chronic autoimmune disease of the central nervous system that can cause fatigue, difficulty with mobility and coordination, visual problems, and altered sensation. While there is no cure for MS, several advances in treatment over the past few decades have altered its course.
The FDA recently approved a new drug called ocrelizumab that looks to be a significant breakthrough. Developed by Genentech and marketed under the name Ocrevus, the new drug is the first MS treatment to significantly reduce episodes of new symptoms and worsening of physical disabilities in people with the two most common forms of MS. Better yet, patients would only have to get an intravenous injection once every six months, whereas the current standard treatments can require injections three times a week.
Anthony Reder, MD, professor of neurology at the University of Chicago Medicine, is a leading expert on MS, with years of experience developing and testing new treatments. He worked closely with Genentech in developing ocrelizumab, and managed a clinical trial site at UChicago with Adil Javed, MD, PhD, and Barry Arnason, MD. We spoke to Reder about why the new drug is such a breakthrough, how it works, and his outlook for MS treatment.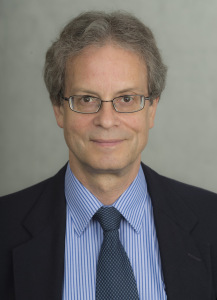 Anthony Reder, MD
UChicagoMed: Why is this new drug such a breakthrough?
Anthony Reder: We don't have a perfect drug for MS at this point. There is no cure for MS. We've been working on therapies for the past 30 years, and this is the 15th one approved by the FDA. Every therapy, including this one, is partially effective at cutting down relapses and slowing progression of MS. However, this drug is at the highest level of benefit of any drug we have, and it also has the fewest side effects. Aside from the three hours of infusion time where some people can get itching and mild reactions, there are no delayed side effects from this drug. That's a big deal for patients, their families, and those of us who treat them .
How many MS patients can benefit from this new treatment?
Most of them. We can use it for relapsing and remitting MS, and the FDA believes that it helps progressive MS too, for which no other drug has been approved.
How does it work?
The immune system is overactive in MS. B cells make antibodies which fight infections. This drug destroys some of the B cells in the blood. It doesn't destroy all of them though; it just destroys the adolescent and young adult B cells. The mature, antibody-making B cells are preserved, and the B cells in the bone marrow are preserved. So it allows regeneration of these cells if needed to fight infections, and it gets rid of this population of B cells that's right in the middle of the development pathway. Somehow, although it's still unclear why, this drug is highly effective in treating MS. We think the B cells might have another function that's unexplored. They are probably amplifying the inflammation that causes MS, and when they're gone this inflammation quiets down.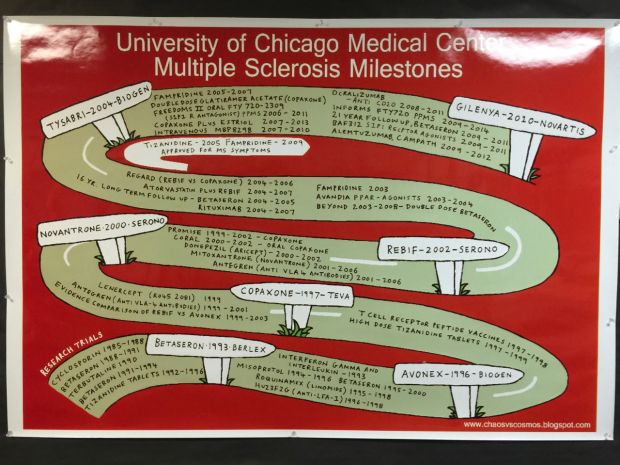 Poster in the Department of Neurology at the University of Chicago showing the evolution of multiple sclerosis treatments
What was your role in helping develop the drug?
We had a two-pronged approach here. One was setting up an infusion center 10 to 12 years ago for MS drugs, for other autoimmune diseases, and for non-chemotherapy infusions. This center has been gradually expanding for a decade. We also have a lot of experience with this family of drugs. We've been studying ocrelizumab for nine years now. We started with a phase II, dose-finding study, and we've continued to treat the patients in that study for the past nine years. We started a second trial about a year ago for people who are failing current therapies and who could switch to the new drug, before FDA approval.
Our MS group has been on multiple international committees to develop and evaluate this drug. We have been very involved with Genentech in exploring how well these drugs work, their safety profile, the implications of new therapies, and mechanisms of action of the drug.
Now that it's approved by the FDA, what's the outlook for MS patients?
We already have at least 150 people here who are ready to start this drug. It's highly effective and has minimal side effects.
My point of view is that this opens a whole new window on what causes multiple sclerosis, because B cells were ignored for the past 20 years. Now we find out one of the most effective therapies removes some of the B cells and MS gets better. This raises more questions about what causes MS and the best way to treat it.
For most patients, once an MS specialist makes the diagnosis of MS, this treatment is a very good option. It's a powerful, safe drug. It adds to the transformation in MS therapy over the past 30 years-from no therapies, frequent attacks and progression in most MS patients, to the current picture. We have now 15 drugs, our current patients often have few attacks and little progression, and who are often doing very well in life.
Neurology & Neurosurgery Articles