Skip to content
UChicago Memory Center hosts dementia-friendly cruise on the Chicago River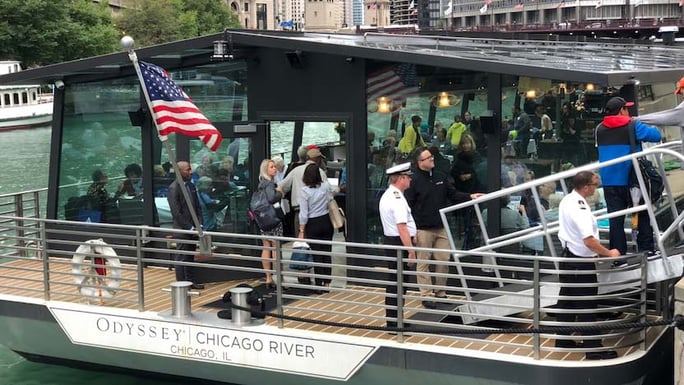 With the sound of its horn, the new glass-topped Odyssey Chicago boat embarked on a special cruise on the Chicago River on Oct. 2, 2018, for people with memory impairment, their caregivers and family members.
The first of its kind in Chicago, the cruise was organized by the University of Chicago Memory Center, which provides specialized, compassionate care for people with Alzheimer's disease, dementia and memory loss. More than 140 people attended the event, which was co-sponsored by Artis Senior Living.
The cruise was inspired by the work of Kathy Shoaf, a geriatric neurology nurse and owner of Elite Cruises and Vacations Travel, a travel service catering to the needs of people with cognitive impairment, their caregivers and family members. Staff members were specially trained to accommodate all guests and approach them with a sense of understanding for their unique needs.
The idea for the cruise was born from a conversation between Tessa McEwen, AM, LSW, a social worker at the UChicago Medicine Memory Center and Amy Keefner of Artis Senior Living, both members of the Dementia Friendly IL Subcommittee, after the two reflected on how Chicago residents might love a version of Shoaf's cruises in their very own city.
"Our patients and their care partners consistently tell us that they are seeking creative opportunities to spend their time, but it can be challenging because others may not understand, or it is not accessible," McEwen said. "This is one unique way to have both: everyone can let their hair down and simply enjoy the skyline views on this brand new vessel."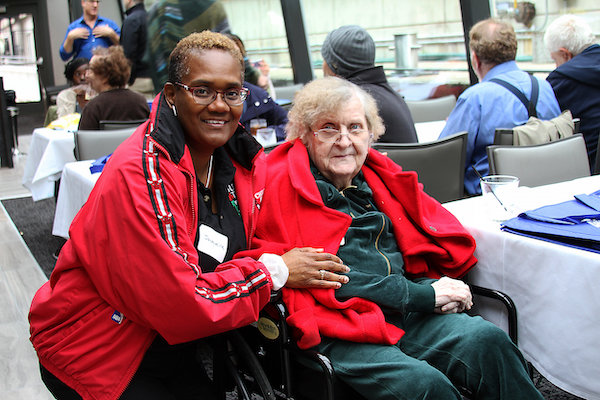 This event was open to both UChicago Medicine patients and members of the community. Artis Senior Living made it possible for the first 60 people with memory impairment to attend completely free of charge. Live entertainment on board was provided by Chuck Evans, a board-certified music therapist, and the Hyde Park Art Center donated adult coloring books to pass the time. Free transportation for guests was provided by SHARE Network Chicago (a project of the UChicago Medicine Section of Geriatrics and Palliative Medicine), the Chicago Hyde Park Village and Great Lakes Clinical Trials.
After two hours of conversation, music, refreshments and spectacular views of Chicago's downtown, the Odyssey returned to its dock by the NBC Tower.
"The cruise was fantastic," said one attendee. "It was a wonderful way for me and my husband to do something 'normal' in a safe, friendly environment. Thank you for doing this for my husband, me and everyone else. You are a blessing."