Skip to content
Complex surgery gets college athlete back in play after rare brain condition threatens his life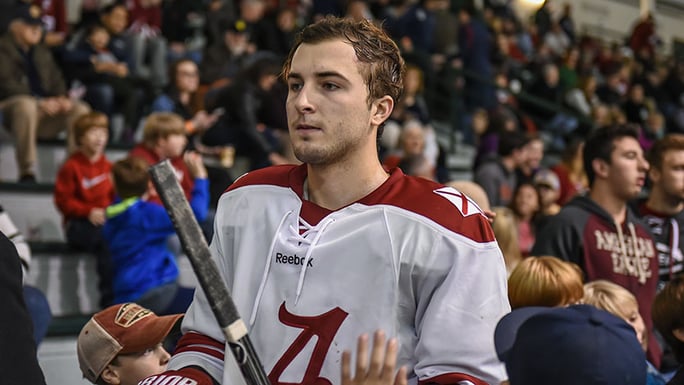 At 20 years old, Sam Messina was thriving. The University of Alabama junior was gearing up for his third season of college hockey and in the best shape of his life – until a single sneeze changed everything.
In September 2016 while eating lunch with friends, the Hinsdale, Ill., native sneezed, felt a rush of blood to his head and dropped to the ground in pain. Sam blacked out for a few moments. After regaining consciousness, his hands began to tingle and his vision blurred. He knew something was wrong and went to the local emergency room.
Doctors eventually diagnosed Sam with an arteriovenous malformation (AVM), an abnormal collection of blood vessels in his brain that he has likely had since birth. AVMs often remain undetected for years until they rupture and cause bleeding in the brain and other problems. In Sam's case, the rupture caused a small stroke that affected the visual area of his brain.
The local physicians said his AVM was inoperable and warned surgery could risk leaving Sam permanently blind. Instead, they suggested three years of radiation to gradually shrink the blood vessels. Hockey would be off the table.
Collegiate hockey player Sam Messina is back on the ice after surgery to repair his arteriovenous malformation
Sam's dad, Joe Messina, drove more than 10 hours through the night to Alabama to be by his son's side. Uncertain about the prospect of a prolonged radiation treatment, Joe and his wife decided to bring Sam back home for a second opinion. At the urging of a family friend, they sought treatment with Issam Awad, MD, director of neurovascular surgery at the University of Chicago Medicine.
With more than 30 years of experience operating on complex neurovascular conditions, Awad was unfazed by Sam's AVM, and recommended immediate surgery to remove it. He assured the Messina family surgery was actually the safer option because while radiation might shrink the AVM, it could potentially bleed again and cause lasting damage.
"A neurosurgeon out in (a community) practice might not see many of these cases. They might see two or three in a career," Awad said of the rare condition. "In our team, we see one or two a week."
Sam and his parents immediately felt at ease with Awad and said they trusted his ability to successfully remove the tangled blood vessels. The UChicago Medicine care team scheduled Sam for brain surgery the same week.
"We met Dr. Awad the first day, and by the time we got there he had read all of the reports," Joe said. "He knew everything about Sammy. He walked in, and it was like his only patient every time."
Neurology & Neurosurgery Articles