Skip to content
Knowing warning signs to prevent suicide and support loved ones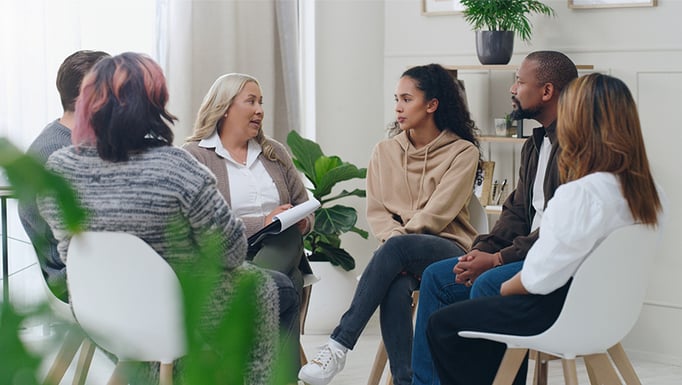 It can be hard to know what to do when someone we care about is dealing with thoughts of suicide, but there are mental health resources at local, state and national levels that people can turn to.
In 2021, 12.3 million American adults seriously considered suicide, according to CDC estimates. Suicide remains a leading cause of death in the U.S., affecting everyone regardless of race, gender, religion or economic status – although some groups are at higher risk than others. Despite the prevalence of this, many people feel ill-equipped to support friends or family struggling with thoughts of suicide.
Amanda Briick, LCPC, clinical liaison and mental health expert at the University of Chicago Medicine Ingalls Memorial Hospital, works to make sure people who need mental healthcare have access to helpful programming. In this expert Q&A, she draws on her experiences to share how everyday individuals can support loved ones affected by this serious and traumatic public health problem.
Why is it important to talk about suicide prevention?
Despite its prevalence, there's a real lack of awareness and discussion about suicide. Because of the stigma in so many societies, people struggling with thoughts of suicide or people who have been affected by it may not feel able to speak openly about their mental health. Raising awareness in our communities and creating spaces for safe, judgment-free discussion is essential for suicide prevention.
It's important to point out that while there is a link between mental health struggles and suicidal thoughts, it's not specific to people who have mental health disorders. Many suicides happen in moments of crisis when people are dealing with life struggles.
Even just recognizing the warning signs can help us save someone we love. People are often uncomfortable discussing all the details of dark thoughts they've been wrestling with. Noticing shifts in people's behaviors and recognizing things that are closely related to suicide may be the best indicators we get.
What are some of those warning signs of suicide that friends and family should be aware of?
Talking about committing suicide or being preoccupied with death
Researching ways to die
Huge feelings of guilt and shame
Talking about being a burden or having no reason to live
Feeling empty, hopeless or trapped
Feeling extremely sad or anxious
Feeling more agitated or rageful
Talking about feeling unbearable pain – emotional or physical
Issues with eating or sleeping
Drastic changes in behavior
Withdrawing from friends, family and social activities
Losing interest in school, work or hobbies
Preparing for death by writing a will, making final arrangements or giving away prized possessions
Mood swings
Taking unnecessary risks
Losing interest in personal appearance
Increased use of drugs and alcohol
Experiencing loss, disaster, conflict or abuse
What should someone do if they recognize these signs in a loved one?
I would recommend talking to that person compassionately and encouraging them to seek mental health treatment. Stigma and shame make people go into their shell because they don't know where to turn. Professionals are here to provide accessible support.
What can mental health treatment look like?
Our main priority is helping patients find ways to keep themselves safe. As therapists at UChicago Medicine Ingalls Memorial, we want to help people lean on the supports they already have and develop a safety plan that can help prevent unnecessary hospitalizations.
Growing up, no one teaches us to manage our mental health. A therapist can not only help a patient process their feelings and help them feel supported, but they can also teach them skills for coping with the stress of life and traumatic experiences and losses. We can suggest different ways to manage feelings and symptoms that are more helpful and healthy.
Anyone who experiences thoughts of suicide is not alone in what they're feeling, but it might not seem that way in the moment. It can be helpful to have someone who can validate what they're feeling and make sense of it.
What suicide prevention resources does UChicago Medicine Ingalls Memorial Hospital offer?
First and foremost, I want everyone to know they can come to us for no-cost, confidential mental health assessments and referrals. Anyone who is struggling can call and schedule an entirely free assessment with a therapist and get an opinion on next steps. After the assessment, we can help them connect with resources inside or outside of the hospital.
One of my favorite aspects of our behavioral health offerings is the variety of group programs. They're especially helpful because connection is key in overcoming mental health challenges and thoughts of suicide. We offer intensive and specialty group programs, and we make them available in as many ways as possible: morning, afternoon and evening; in person and virtually. We want to make them as accessible as possible to help people feel connected while letting them receive professional support and treatment for whatever they're facing.
Are there resources people should know about?
Absolutely. There are both national and local phone numbers people can reach out to at any time:
988 – National Suicide and Crisis Lifeline. Anyone experiencing or concerned about a mental health crisis can call or text this number to be connected with a trained crisis counselor. Available 24/7, 365 days per year.
(708) 915-6411 – Mental health hotline number for UChicago Medicine Ingalls Memorial Hospital. A trained mental health professional is available 24/7 to respond to urgent needs and offer no-cost, confidential assessments and referrals.
(708) 915-8600 – Main office number for psychology and psychiatry programs at UChicago Medicine Ingalls Memorial Hospital. People can call this number during regular business hours to schedule appointments and be referred to various resources.
In addition, the Illinois Department of Human Services started the Living Room Program, which offers comfortable, alternative spaces staffed by mental health professionals. People can go to these living rooms to process crisis events and figure out next steps.
Health and Wellness Related Articles