Skip to content
Live painting event brightens Center for Care and Discovery Sky Lobby
Watch a time-lapse video showing Audrey Ushenko as she works on the painting in the Center for Care and Discovery's Sky Lobby.
During the summer of 2018, UChicago Medicine patients, visitors and staff did a double take when passing through the Center for Care and Discovery's Sky Lobby. Working with oils on a large canvas, artist Audrey Ushenko stood painting the tranquil space and the many people who use it each day.
Ushenko is a realist figurative painter from Chicago. In each of her paintings, she "strives to put humanity of the canvas and pull viewers in through a range of emotions they can see in the paint and see in themselves." She enjoys capturing figures, faces and shapes in an array of colors and dream-like forms.
UChicago Medicine Healing Arts coordinator Monica Hork thought the Sky Lobby was a perfect fit for Ushenko's style. "We asked Audrey to portray the respite and sense of warmth and community in the lobby," said Hork, who brings fine art and music into the medical center to help humanize the medical environment and to support the healing process.
In each of her works, Ushenko says she looks for inspiration and moments of joy in many places, particularly through the individuals she meets.
"People talked to me about all kinds of things at the hospital," she said. One subject that people discussed frequently was their own art. "You'd be surprised how many medical people are artists."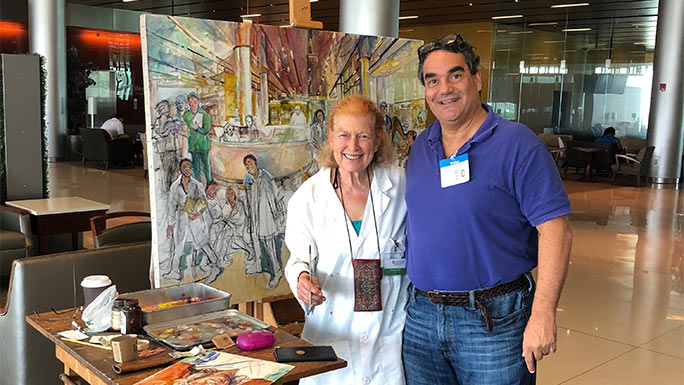 Diane Flerick, RN, BSN, a nurse in the Center for Arrhythmia Care who enjoys painting, volunteered to be a subject in the painting. While sketching Flerick, Ushenko gave her tips on techniques and paints.
Guest services ambassador Natalie Christian also posed for the painting. "Audrey really captured what goes on here," Christian said. "She brought positive energy to the lobby."
While his father was recovering from surgery, hospital visitor Michael Howard took breaks in the lobby, chatted with Ushenko and sat for a sketch. "Audrey was open and friendly to everyone," he said. "She brightened people's days."
Ushenko says "if UChicago Medicine patients, friends, family and staff found that the project relieved tensions and helped them get through whatever they had to get through, then I feel useful."
Health and Wellness Related Articles